European Poker Tour Berlin Day 5: Ben "NeverScaredB" Wilinofsky Wins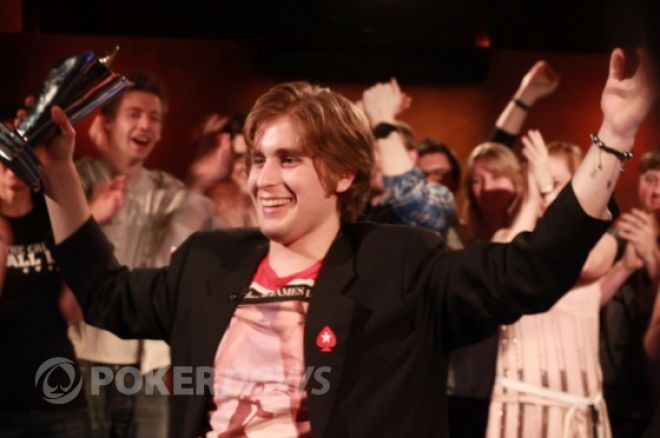 It was an extremely high-quality lineup that graced the hallowed European Poker Tour final table at the Spielbank Berlin today. Chip leader Ben "NeverScaredB" Wilinofsky was making his first live cash while EPT fixture Martin Jacobson was making his unprecedented third final table in one season — his fourth EPT final overall. Also in the mix was Team PokerStars Pro Joep van den Bijgaart and PokerNews Cup winner Darren Kramer. Ten hours later, Wilinofsky was raising the trophy as the latest member of the exclusive club of EPT winners.
At the start of play, Wilinofsky was only 200,000 ahead of Max Heinzelmann, but just a few minutes into play, Wilinofsky took possession of most of Heinzelmann's chips with bottom set on a
board to give him a massive lead with almost half the chips in play. He held onto that lead for the rest of the day.
First to hit the deck was Jonas Gutteck. The German economics student shoved from the small blind with
but smacked into big-blind Heinzelmann's
. Heinzelmann flopped a set and turned quads to make it game-over for Gutteck. He finished in 21st place here last year, but his eighth place for €66,000 this time around is his best ever EPT cash.
It was the start of a big comeback for Heinzelmann. A little later in the day, with seven players still in, he doubled up with
through Martin Jacobson's
on a
flop. Heinzelmann turned the flush and was back in the game.
Joep van den Bijgaart was the second shortest stack coming back on Day 5 and was the second player to bust out. Down to just five and a half big blinds, he went all-in from the small blind with
and was called by big-blind Wilinofsky holding
. When a king dropped on the turn, the last Team PokerStars Pro standing took seventh place for €100,000 — his best-ever live cash.
Just a few minutes after the demise of van den Bijgaart, 2008 PokerNews Cup winner Darren Kramer went down. Kramer moved in with
from the small blind over a button raise from Vadzim Kursevich holding
. Kursevich flopped a set and turned a full house to send Kramer home with €140,000 in sixth place.
The fifth-place spot was soon claimed by 25-year-old Armin Mette from Heidelberg. The economics student was playing his first EPT and met his end shoving with
from the small blind to a raise from Martin Jacobson. Ben Wilinofsky re-shoved from the big blind with
to isolate, and after the board ran out
to give Wilinofsky quads, Mette had to settle for a not-too-shabby €180,000.
Martin Jacobson is something of an EPT legend — he came second in the main events at both Vilamoura and Deauville this season and took third place at Budapest in Season 5. That precious first place continues to elude him, though, as his
in the small blind failed to out-flip Max Heinzelmann's
on the button, and he had to settle for fourth this time, picking up €230,000. He didn't seem too troubled by once again being a bridesmaid and not the bride — "It would have been worse to lose heads-up!" he laughed afterward. He's made around a €1 million at the EPT this season, and one can't help but think that it's just a matter of time before the young Swede gets to lift an EPT trophy of his own.
Vadzim Kursevich was the shortest stack as players went three-way, and he soon exited in third place. The flop read
when the chips went in and Kursevich was holding a pretty premium
for top pair, top kicker. But Ben Wilinofsky turned over
for the flopped straight, and following the absence of any miracles on the turn and river, the Belarusian pro busted out, taking €300,000 with him.
It was a very friendly affair as the last two players began their heads-up match. Wilinofsky and Heinzelmann went for dinner together, and when they returned to the feature table to decide the tournament, shook hands and hugged. This love-in was only slightly undermined by Wilinofsky who smilingly told Heinzelmann, "You are so dead!" Just for fun, they agreed to show one card every time a pot was won that had gone to a flop or further, so it was occasionally possible to catch a glimpse of the face-up cards on the live feed.
Wilinofsky started with a 70/30 chip lead, and although Heinzelmann clawed a few chips back early in the match, Wilinofsky was much more aggressive than the German and never lost the chip lead. Eventually, in the first limped pot of the heads-up match, they saw an
flop. Heinzelmann led out and then shoved to a raise from Wilinofsky, who called. Heinzelmann needed his
top pair to hold against Wilinofsky's
straight draw, but the
on the turn sealed the deal. He took home a cool €500,000 for second place.
"This is ridiculous. How does this happen to anyone?" pondered Wilinofsky as he was presented with the trophy, the Shamballa EPT bracelet and a giant check for €825,000. Indeed, this is a novel experience for the 22-year-old online pro — he's made more than a million dollars online, but this is his first live cash. "RIP legendary Hendon Mob page" he wrote on Facebook the night before the final in reference to his completely empty live results page. What a first entry it's going to be.
There are just two stops left on the EPT for this season. PokerNews will be back in the beautiful Italian city of San Remo in a few weeks and then will go straight on to Madrid after that for the Grand Final. Be sure to join us then.
As always, follow us on Twitter for up-to-the-minute news.