The Online Railbird Report: Sahamies and Hansen See Midweek Action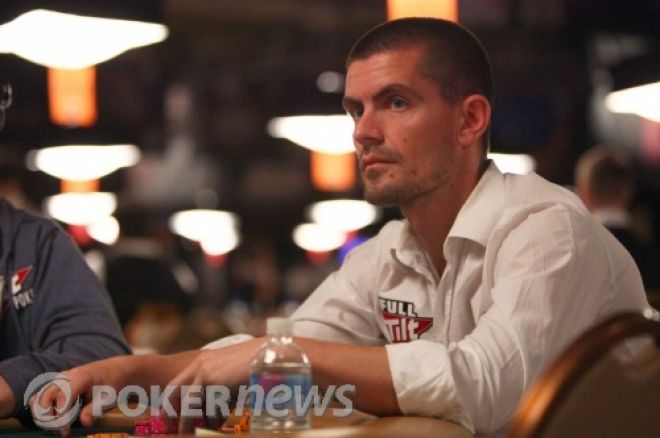 The high-stakes online action wasn't particularly hot during the midweek; nonetheless, a few players managed to score high-five-figure wins. The midweek's biggest winner was Rui Cao, who put in a single session on Full Tilt Poke, consisting of 162 hands, and profited $89,895. On the other end of the spectrum, "Esvedra" was the midweek's biggest loser after dropping $188,789 in 769 hands spread over three sessions. In addition, Ilari "Ziigmund" Sahamies and Gus Hansen were in action. Here is a look at some of the more notable hands.
Ronnyr37617 Busts Hansen with Quads
On Thursday, Hansen played three-handed against "ronnyr37617" and "DrugsOrMe" at the $300/$600 pot-limit Omaha tables on Full Tilt. In one hand, Hansen ($80,436.50) raised to $2,400 on the button and received a call from DrugsOrMe ($60,000) in the small blind. Ronnyr37617 then exercised his option in the big blind by making it $9,900. Both his opponents made the call, leading to a flop of
. Surprisingly, everyone checked and the
hit the turn. Again, everyone checked and the
spiked on the river.
Action checked to Hansen and he decided to throw out a $30,000 bet. DrugsOrMe quickly folded and ronnyr37617 woke up with a check-raise to $75,000. Hansen called off his remaining $40,536.50 but could only muck as ronnyr37617 rolled over
to take down the $170,673 pot with quad tens.
More for ronnyr37617
In the same game mentioned above, DrugsOrMe ($62,692) raised to $4,500 on the button only to have ronnyr37617 ($45,748.50) make it $4,500 to go from the small blind. Hansen ($79,090) called from the big, as did DrugsOrMe, leading to the
flop. Hansen bet $9,000 after it checked to him, DrugsOrMe called, and ronnyr37617 check-raised all in for $41,248.50. Hansen got out of the way while DrugsOrMe made the call.
ronnyr37617:

DrugsOrMe:
It was a brutal set-over-set flop, but ronnyr37617 was out in front with jacks. The turn and river were run twice, but neither the
/
on the first run nor the
/
on the second helped DrugsOrMe. Ronnyr37617 took down yet another pot, this time $104,997.
Hansen Gets Some Back
Ilari "Ziigmund" Sahamies ($52,684.50) joined Hansen ($54,390) and ronnyr37617 ($72,877) for some PLO action on Thursday. In one of their more notable hands, Sahamies raised to $2,400 on the button, Hansen made it $8,100 to go from the small blind, and both his opponents called. When the flop came down
, Hansen bet $24,600, ronnyr37617 folded, and Sahamies moved all in for $44,584.50. Hansen made the call and the cards were turned up:
Hansen:

Sahamies:
Sahamies had flopped bottom two pair but was far behind Hansen's flopped set of queens. The turn and river were run twice, but neither the
/
on the first run nor the
/
on the second helped Sahamies. Just like that, Hansen claimed a $113,469 pot.
Who's Up? Who's Down?
Week's biggest winners (4/26-4/28): Rui Cao (+$89,895), "Johnbest" (+$79,010), "FinnishNightmre" (+$76,976), "Tyme2gamb0l111" (+$60,037), Jani Vilmunen (+$52,516)
Week's biggest losers: "Esvedra" (-$188,789), "LokoIsBack" (-$129,480), "XWINK" (-$87,382), "davin77" (-$80,456)
Year-to-date winners: Gus Hansen (+$3,615,000), Daniel "jungleman12" Cates (+$1,952,000), *Gavin "gavz101" Cochrane (+$1,875,000), Matt Hawrilenko (+$1,440,000), "bixiu" (+$1,406,000), Phil Ivey (+$1,336,000), Patrik Antonius (+$1,308,000)
Year-to-date losers: Tom "durrrr" Dwan (-$2,474,000), "kagome kagome" (-$1,927,000), "fishosaurusREX" (-$1,399,000), "cadillac1944" (-$1,336,000), "UarePileous" (-$940,000), David Benefield (-$742,000)
*on PokerStars
*data obtained from HighStakesDB.com
Stay up-to-date on all the latest news by following us on Twitter and liking us on Facebook.