The Online Railbird Report: Sahamies Says He is Done, Hansen Rebound Continues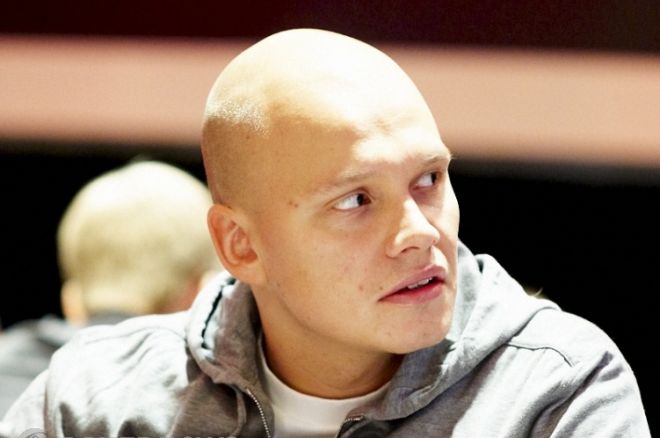 The high-stakes cash games at Full Tilt Poker and PokerStars will no doubt be missing some key players and familiar faces, but that hasn't stopped many other regulars and notable players from taking to the virtual felt the last few days. Ilari "Ziigmund" Sahamies, "NoPasaran", and Gus Hansen played on, and while NoPasaran and Hansen found success, it was quite the opposite for Sahamies. In an interview with Pokerisivut, he said he is finished with Full Tilt Poker and PokerStars. Where will he be playing from now on? Only live and European websites, he says. Will he be true to his word? We'll see, but considering his bad luck on Full Tilt over the past few days, one certainly could not blame him.
Sahamies Loses, Says He is Done
Playing $200/$400 pot-limit Omaha with NoPasaran, Samahies found himself on the losing end of the biggest pot played over the last few days. He had the button and opened to $1,200. When NoPasaran three-bet to $3,600, Sahamies called to see the flop come down
. A check from NoPasaran led to a pot-sized $7,200 bet from Sahamies, but a quick raise to $28,800 was NoPasaran's response. Sahamies stuck in another reraise to $93,600 and when it was over, the nearly $102,000 that NoPasaran began the hand with was in the middle, creating a $200K+ pot.
Sahamies:
- (middle set)
NoPasaran:
- (top set, inside straight draw, flush draw)
Bad luck for Sahamies, not only running into the one hand that currently had him demolished, but being up against so many draws, as well. They ran it twice, but no miracle cards came for him. The first run delivered the
and
to lock up the first half for NoPasaran with a flush while the second run brought the
and
to give NoPasaran the better full house and the entire $202,990 pot.
Another six-figure pot between the two went the way of NoPasaran. With the button, NoPasaran opened to $1,200. Sahamies made it $3,600 to play from the big blind, NoPasaran called, and an
flop followed. Sahamies' $6,000 bet was called, landing the
on the turn. Another bet, this one for $19,200, was made by Sahamies, but NoPasaran answered with a raise to $48,000. Sahamies called all-in for about $25,000 with
for top set and a Broadway draw, while NoPasaran was drawing to straights and a flush with
. They ran it twice and it was bad news for the Finn. The
on the first river followed by the
on the second made flushes for NoPasaran to steal the entire $106,793 pot.
Hansen on the Rebound
What a difference one week makes. After seeing his 2011 profit dip below $3 million, Gus Hansen flipped the switch back in his favor and is up more than $4 million again.
Playing against "ronnyr37617" at $300/$600 pot-limit Omaha, Hansen found success on Monday. On the button, Hansen opened with a pot-sized raise. A reraise of the pot by ronnyr37617 from the big blind led to a Hansen call and a
flop. A rare thing occurred next as both players opted to check. The
hit the turn and ronnyr37617 checked it once again. Hansen put an end to the passive play and bet $12,600. A call from ronnyr37617 brought the
on the river and a third check. Hansen bet his remaining $31,000 roughly and was paid off by his opponent. It was only the nuts for Hansen, turning over
, winning the pot worth $100,383.
Who's Up? Who's Down?
Week's biggest winners (4/15-4/18): Gus Hansen (+$604,000), NoPasaran (+$259,000), Wreed Platzak (+$134,000), *Ben "Sauce123" Sulsky (+$131,000)
Week's biggest losers: Patrik Antonius (-$223,000), Lance84 (-$159,000), Ilari "Ziigmund" Sahamies (-$136,000), *Ilari "Ilari FIN" Sahamies (-$88,000)
Year-to-date winners: Gus Hansen (+$4,316,000), Daniel "jungleman12" Cates (+$1,952,000), *Gavin "gavz101" Cochrane (+$1,919,000), Matt Hawrilenko (+$1,440,000), bixiu (+$1,406,000), Phil Ivey (+$1,336,000)
Year-to-date losers: Tom "durrrr" Dwan (-$2,474,000), kagome kagome (-$1,919,000), fishosaurusREX (-$1,399,000), cadillac1944 (-$1,336,000), UarePileous (-$944,000), David Benefield (-$742,000)
*on PokerStars
*data obtained from HighStakesDB.com
Stay up-to-date on all the latest news by following us on Twitter and liking us on Facebook.