The Online Railbird Report: Palmer vs. Dwan, Hansen's Profit Dissipating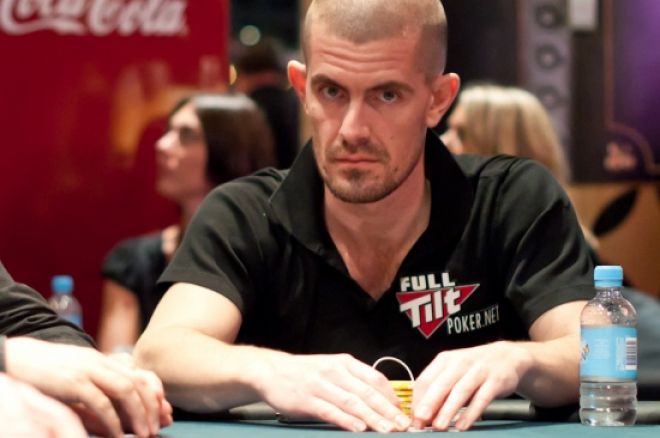 The big guns have been at it the last few days at the Full Tilt Poker high-stakes cash games. Tom "durrrr" Dwan and Scott "URnotINdanger2" Palmer battled at $300/$600 pot-limit Omaha and there were several six-figure pots between the two. Gus Hansen logged what we believe to be the most time on the virtual felt since Friday, but his 2011 profit has continued to slip away.
Palmer vs Dwan
1. Dwan had the button and raised pot. Palmer three-bet the pot from the big blind and when Dwan called, the flop came down
. Palmer's $7,200 bet was called by Dwan, leading to the
turn. Another bet came from Palmer, this time for $21,000. Dwan popped it to $90,000 and upon seeing Palmer reraise all-in, Dwan called off his remaining $10,800 roughly with
for the second nuts with a flush draw. Unfortunately, Palmer tabled the nuts with
. Although he was still live with a diamond draw, Dwan missed on not one but two rivers as it was run twice. The
followed by the
brought no flush for Dwan and sent the $228,000 pot Palmer's way.
2. Palmer took another solid pot with the same preflop action, bringing out a
flop. It changed up post-flop when Palmer checked, prompting Dwan to bet $7,200. A Palmer call delivered the
turn, which Palmer again checked. Dwan bet $17,600, still unable to shake Palmer who called to see the
river. It looked like a good card for Palmer as he shoved for just shy of $50,000. Dwan called but saw the bad news when Palmer tabled
for the top full house on board to win the $161,000 pot.
3. Dwan was also on the wining end of some big pots. It was more of the same, opening with a pot-sized raise and Palmer three-betting the pot. A
flop hit the board after Dwan called. Palmer continued the pressure and bet $7,200, quickly getting called by Dwan. The
turn slowed Palmer down and he checked, leading to Dwan firing $19,200 at the pot. Palmer called and checked when the
landed on the river. Dwan moved in for $59,630, finding a call from Palmer. The $184,000 pot was Dwan's when he showed
for a full house.
Hansen Bleeding Profit
Playing heads-up with Dwan at $300/$600 pot-limit Omaha, Gus Hansen wasn't able to end his recent losing streak. In one example of a hand, Dwan opened to $1,800 on the button and Hansen potted it. Dwan called and a
hit the board. The Dane bet $11,400, but Dwan came over the top with a pot-sized raise. Hansen stuck in his remaining $43,000 and Dwan called with the best hand at the time,
for top set. Hansen was behind — well behind — with
. They ran it twice with the first run bringing an
turn and
river, making an already beat Hansen a meaningless full house. The second run fell
then
, once again making a drawing dead Hansen a nice, yet meaningless, straight on the river. Ship the $121,000 pot to Dwan.
Who's Up? Who's Down?
Week's biggest winners (4/8-4/11): FakeSky (+$386,000), Seb86 (+$307,000), Patrik Antonius (+$282,000), Scott "URnotINdanger2" Palmer (+$238,000)
Week's biggest losers: world1969 (-$418,000), Abe "EazyPeazy" Mosseri (-$371,000), Tom "durrrr" Dwan (-$288,000), kagome kagome (-$270,000), Gus Hansen (-$174,000)
Year-to-date winners: Gus Hansen (+$2.945,000), Daniel "jungleman12" Cates (+$2,000,000), *Gavin "gavz101" Cochrane (+$1,789,000), Matt Hawrilenko (+$1,760,000), bixiu (+$1,425,000), Phil Ivey (+$1,329,000)
Year-to-date losers: Tom "durrrr" Dwan (-$2,474,000), "kagome kagome" (-$1,889,000), fishosaurusREX (-$1,399,000), "cadillac1944" (-$1,336,000), UarePileous (-$977,000)
*on PokerStars
*data obtained from HighStakesDB.com
If you have the skills, we have $55,000 in added prizes. The PokerNews Skills Challenge at Full Tilt Poker is a series of money-added tournaments every Wednesday night, which culminate in a $20,000 Freeroll. Also, don't forget to follow us on Twitter and like us on Facebook.