The Online Railbird Report: Galfond and Hansen Battle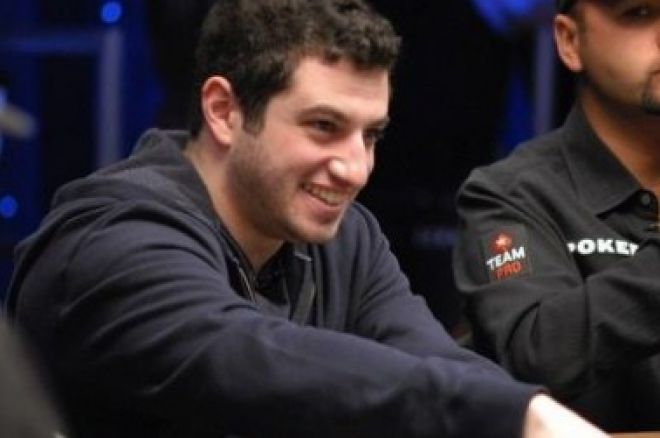 The action at the Full Tilt Poker high-stakes cash-game tables over the last few days had its share of six-figure pots. In fact, Gus Hansen and Phil "OMGClayAiken" Galfond played in a session on Monday that had several. The biggest winner and loser from the last few days came from the playing of the "durrrr Challange," as Daniel "jungleman12" Cates booked another winning session against Tom "durrrr" Dwan.
Hansen and Galfond Battle
Playing $300/$600 pot-limit Omaha, Hansen raised to $1,800 on the button. Galfond reraised to $5,400, but Hansen went the four-bet route, making it $16,200. Galfond called and checked when the
flop appeared. A pot-sized bet of $32,400 was Hansen's next move, but Galfond reraised with the bigger stack. Hansen called all in for another $29,000-ish and tabled
for an overpair of kings, as well as an open-ended straight draw. Galfond showed
for just top pair and looked to improve. They ran it twice, but there was no help anywhere for Galfond. The
popped off on the turn of the first run and locked up half the pot for Hansen with a straight. The second run brought the
turn followed by the
river, neither of which helped Galfond. Ship the $155,592 pot to Denmark.
The Great Dane has been pretty invincible lately, although Galfond also managed to win some big pots. The preflop action played out exactly the same as the first hand with a
flop hitting the board. Galfond led out for $13,800, only to see Hansen raise the pot an additional $60,000. With just more than $44,000 behind, Galfond called all in.
Galfond:
- top pair, flush draw
Hansen:
- overpair of aces
It wasn't the best spot for Hansen — just under 43 percent to win the hand. They ran it twice and Galfond quickly earned the first half of the pot as the
fell to make an unbeatable flush. It was a similar story on the second run with the
popping off on the turn, giving Galfond trips and leaving Hansen only two outs to chop. The
wasn't what the doctor ordered for Hansen, who watched the $148,378 pot head Galfond's way.
The next biggest hand between the two also went Galfond's way. Hansen kicked off the action with a min-raise to $1,200 on the button. Galfond made it $3,600 to go from the big blind. A call from Hansen delivered a
flop, at which Galfond bet $4,200, and Hansen tagged along to see the
turn fall. It was more of the same on the turn with Hansen calling $10,800 from his opponent, resulting in the
river. Galfond checked this time and Hansen took the opportunity to bet $24,000, but Galfond responded with a cagey min-raise to $48,000. Hansen called, but mucked when Galfond tabled
for a full house, winning the $133,200 pot.
Hansen Against "NoPasaran"
"NoPasaran" has not made much noise since a winning session against the mysterious "XWINK" a few week ago but has mixed it up with Hansen a bit since Friday. The two battled at $300/$600 PLO. In one hand, on the button, NoPasaran min-raised to $1,200. Hansen called, and when the flop came down
, he led out $2,400. Not taking too kindly to that, NoPasaran popped it to $7,800. A call from Hansen led to the
turn and he fired again, this time for $18,000. Apparently NoPasaran doesn't like it when someone bets into him because he raised again, making it $72,000 to play.
Hansen called all in for about $30,000 and revealed
for top two pair (three pair, even). NoPasaran showed
for the same and inferior two pair in Hansen's hand, but did have outs to win the pot with a flush. They ran it twice and on the first run, NoPasaran got there with the
river. However, that spade gave Hansen a full house and half the pot. The
river on the second run sealed the second half for Hansen, as well, to win the $114,188 pot.
Who's Up? Who's Down?
Week's biggest winners (3/25-3/28): Daniel "jungleman12" Cates (+$291,000), Seb86 (+$239,000), Rui Cao (+$235,000), kagome kagome (+119,000) *Justin "ZeeJustin" Bonomo (+$113,000)
Week's biggest losers: Tom "durrrr" Dwan(-$546,000), Niki Jedlicka (-$153,000), Patrik Antonius (-$142,000), *Ilari "Ilari FIN" Sahamies (-$109,000)
Year-to-date winners: Gus Hansen (+$4,593,000), Daniel "jungleman12" Cates (+$1,920,000) *Gavin "gavz101" Cochrane ($1,800,000), Matt Hawrilenko (+$1,604,000), Abe "EazyPeazy" Mosseri (+$1,258,000), Phil Ivey (+$1,186,000)
Year-to-date losers: Tom "durrrr" Dwan (-$1,914,000), kagome kagome (-$1,738,000), fishosaurusREX (-$1,296,000), UarePileous (-$977,000), cadillac1944 (-$939,000)
*on PokerStars
*data obtained from HighStakesDB.com
If you have the skills, we have $55,000 in added prizes. The PokerNews Skills Challenge at Full Tilt Poker is a series of money-added tournaments every Wednesday night, which culminate in a $20,000 Freeroll. Also, don't forget to follow us on Twitter and like us on Facebook.