Is it Possible for a Poker Room to Succeed with Electronic Poker Tables?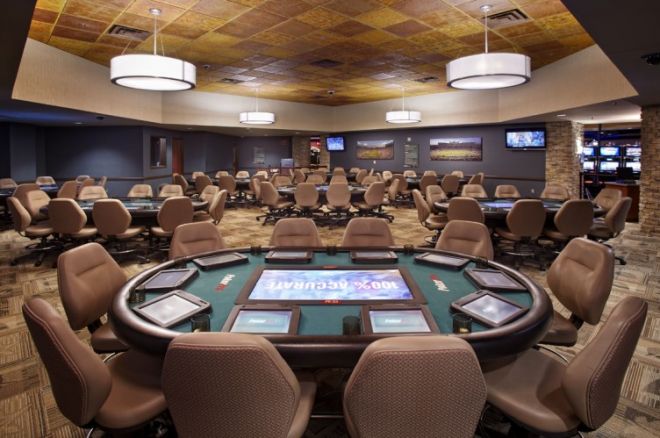 My home state of Wisconsin has been a hotbed for controversy as of late, most notably involving Governor Scott Walker and 14 democratic senators. What many people don't know is that there is another hot topic being debated in the state, one directly related to poker. A few months ago Ho-Chunk Gaming Madison, formerly known as Dejope Gaming, in Madison, Wisc., opened a poker room featuring, exclusively, electronic poker tables.
But there is an issue with the state that lies in whether such tables fall under Class 2 or Class 3 gaming (the former is permissible in the state while the latter is not), an issue that is being addressed by a mediator and was touched upon in an earlier article. While electronic poker tables seem like a feasible idea, past attempts to use them have often ended in disaster.
Let me begin by saying that before I ever played on an electronic poker table, I had made up my mind that I was not going to like what they had to offer. Based on what I'd heard over the years, such tables had failed in every room in which they were introduced. If you recall, back in 2009, the Excalibur Casino constructed the first all-electronic poker room in Las Vegas, complete with 12 PokerPro tables constructed by PokerTek. While it was state-of-the-art room and a revolutionary attempt to change the Las Vegas poker landscape, it eventually closed less than a year later.
At that time, Lynn Holt, VP of marketing for Excalibur, said: "While our experience was successful, we ultimately found that live poker games more accurately reflect the interactive poker experience customers have come to expect when they make their way to the excitement of the Las Vegas Strip." With that, electronic poker essentially disappeared from Sin City.
In fact, with the exception of cruise ships, where they make the most financial sense, electronic poker tables seemed to be on the fast track to becoming obsolete. Fast forward to this last Thanksgiving when Ho-Chunk Madison opened its new room featuring electronic poker tables. Like the Excalibur, the room used PokerTek's PokerPro tables, but unlike them, the new room has consistently thrived since its introduction.
For those who may not be familiar with how these tables work, take a look at what Ho-Chunk Madison says on its website.
"EPoker is 'Live' poker, played on an automated poker table that allows up to ten players to compete against each other in a variety of player-banked poker games . . . Players at ePoker tables do not play against the computer or gaming establishment; they play against each other. EPoker tables are similar in appearance to traditional poker tables however they do not require a human dealer, cards or chips. The tables have colorful, animated, graphic representations of actual playing cards, chips and dealer buttons."
Essentially electronic poker is a mix between live poker and online poker that combines the face-to-face element of the former with the functionality and ease of the latter. While it sounds like a winning combination, history suggested that it fails to "accurately reflect the interactive poker experience customers have come to expect." In other words, people just didn't enjoy them as much as a regular game.
Nonetheless, Madison rejected the stigma and somehow proved the naysayers wrong. How could this be? How did they make it work when no one else could? My best guess is simple: electronic poker tables succeed when it does not face competition, which is evidenced by their success on cruise ships. Shawn Bauer, Poker Room Supervisor at Ho-Chunk Gaming Madison, recognizes the lack of legal poker options in Madison, a fact that he concedes likely contributes to their early success.
"Until now, Poker in Madison was taking place in backroom card parlors and bars with no regulation and no guarantees on safety or game integrity. Are we trying to force out all other poker in Madison? We are not. We welcome our role as a fledgling portion of Madison poker. We in the Ho-Chunk Gaming-Madison Poker Room are simply giving our poker community an option. Considering the accuracy, safety, professionalism, and integrity of our room, we feel we offer a very desirable product. Judging by our steady growth, I can say with confidence that I am not alone in this assessment."
I decided to take a trip to Madison to try out the new room for myself and must admit I came to recognize the benefits of playing on an electronic table. First, they provide players with more hands per hour than any live setting I've ever encountered. In fact, I thought it was close to being on par with online poker when it came to the pace of the game (probably a few strokes back but certainly faster than a traditional game). This was driven, in part, because electronic tables maximize time (no shuffle, pots pushed instantaneously, etc.) and never make a mistake.
"The fact is, one of ePoker's strengths is that there is almost no room for mistakes occurring during games. A live dealer, however skilled, will eventually make a mistake. Some of the more common mistakes that we avoid entirely are: premature exposure of cards, misdeals, mistaken mucking of cards, poor judgment in pushing a pot, making mistakes in secondary and tertiary pots, etc, etc.," according Bauer.
Indeed, the entire time I was there, the machines performed flawlessly. I got to see a ton of hands in a short time, which reminded me a lot of playing online, but I also got the brick-and-mortar feel. I can't say that I'd play on an electronic poker table over a traditional one, but it was certainly a nice change of pace and something I'd be willing to play again, especially if I wanted to get in a lot of action in a short time. My sentiments were echoed by Tyrell Rosemeyer, a 20-year-old junior at UW-Madison and regular at the new room, who told the Capital Times: "It's so fast, I can play two or three hours and get in as many hands as I could playing five hours somewhere else."
In Madison, it seems that a lack of options has inspired players to give electronic poker a fair shake, which has resulted in overwhelming support and enthusiasm. While the state attempts to shut the room down, all projections indicate that the electronic tables will continue to flourish. They still have the glitz and glamor that accompanies something new, but with a lack of options in Madison, that appeal will likely remain strong, resulting in the opposite outcome the Excalibur experienced. Personally, my experience opened my mind to the fact that, while it may not be the future of the game, there seems to be a place for electronic poker tables in the industry after all — provided the conditions are right!
PokerTek Electronic Poker Table Locations
| Location | Casino |
| --- | --- |
| Tuolumne, CA | Black Oak Casino |
| Reno, NV | Silver Legacy Resort Casino |
| French Lick, IN | French Lick Resort & Casino |
| Anderson, IN | Hoosier Park Racing & Casino |
| Shelbyville, IN | Indiana Live! Casino |
| Council Bluffs, IA | Ameristar Casino |
| Davenport, IA | Rhythm City Casino |
| New Buffalo, MI | Four Winds Casino Resort |
| Madison, WI | Ho-Chunk Gaming |
| Hot Springs, AR | Oaklawn Gaming & Racing |
| West Memphis, AR | Southland Park Gaming & Racing |
| Cherokee, NC | Harrah's Cherokee Casino |
Have you ever played on an ePoker table? Use the comments section below to let us know what you think. In the meantime, be sure to follow us on Twitter and like us on Facebook.