PokerNews Interview: Josh Cranfill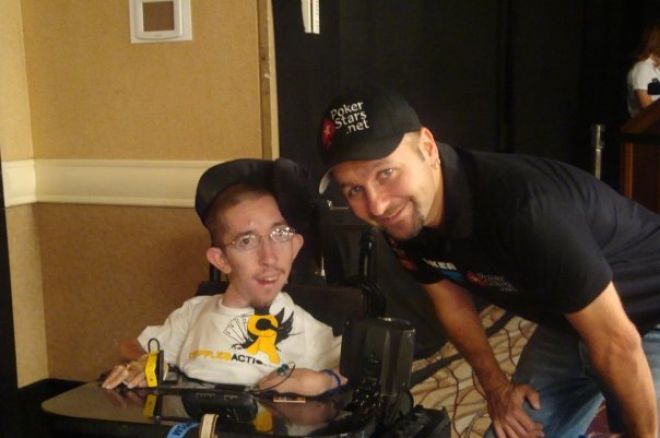 At 14 months old, Josh Cranfill was diagnosed with Werdnig-Hoffman Disease, a form of Spinal Muscular Atrophy. It is a degenerative muscle disease that weakens the muscles in the body until they eventually die. Poker is, unquestionably, Cranfill's favorite hobby, but since the U.S Department of Justice shut down online poker, it's become extremely difficult for him to play.
Cranfill is confined to an electric wheelchair, which limits his mobility, and lives in Burlington, North Carolina, a small college town located a long way from any brick-and-mortar casino. He can play in home games, but the houses or buildings must be handicap-accessible and he needs an assistant to get him there and help him play.
We were fortunate enough to catch up with Cranfill and talk to him about the current state of online poker and how it affects the handicapped community.
Can you explain how your condition limits you from traveling and playing live poker?
I am confined to an electric wheel chair, so I am dependent on someone to assist me at the table. My assistant, usually my dad, shows me my cards and throws in my chips - in essence, he is my hands while I verbalize all my action. I am very limited on playing live because I am always dependent on someone else. In order for me to play live poker, many factors have to be worked out including finding a game, working around my assistant's schedule and managing the demands of my muscle disease.
Online poker is a perfect fit for me. With assistive technological devices, I am able to independently operate a computer, which allows me to not have to rely on anyone else. While everyone is at work, I'm able to play online and continue to play the game I love.
What does poker mean to you?
Poker means a great deal to me. I have always been a competitive person, but due to my muscle disease, I couldn't compete against others in traditional sports. Poker changed that for me. You can be the biggest, most athletic player, be the strongest person at the table, but when you sit down at a poker table, everyone is even. It is my mind against yours. Poker acts as an even playing field for me that I have never had before. Knowledge is a powerful thing and poker gives me the opportunity to compete.
Poker also gives me a sense of acceptance. When I start playing with new people, they always have their speculations because I don't look like the "average poker player." After they find out that I know what I'm doing, their initial reaction turns from speculation to respect as a poker player.
What was your first reaction to Black Friday?
My first reaction to Black Friday was that of shock. I have always felt like there was a grey area with online poker, but I didn't think it would happen this soon. After the initial shock of the event, I started realizing how Black Friday would affect me personally. Due to my difficulties traveling to play live poker and living a state with no casinos, online poker was my only way of crafting my game and making money. Now with online poker not an option, I think my game is going to take a major hit just for the fact that I will be seeing fewer hands and with the variance of our game, it is going to be extremely hard for me to make a profit.
When do you think this situation will get sorted out?
Unfortunately, I think it is going to take quite a while for all the dust to settle for online poker to be up and running again. Like any government issue, things have to follow a process and it takes time. Legalizing poker will be an issue because of the negative publicity that the mainstream media has projected. Gambling has had a negative image since its creation and overcoming that image will be a tough process. I also think that if and when online poker is legalized and regulated there will be a new, big business for casinos. Instead of having the sites we knew, it will be run by casinos with the names HarrahsOnlinePoker.com or CeasersOnlinePoker.com.
Do you have money floating in limbo?
Fortunately, I cashed out a few weeks before Black Friday and withdrew most of my money. I only had about $300 online. Some of my friends took a hit a lot worse than I did, so I was lucky.
Without online poker, how do you plan to play?
Without online poker, it puts me in a bad situation. In order for me to continue to improve, I am going to find underground games in my area, but it will not be the same. Only seeing about 40 hands an hour three to four days a week is going to be a lot different than seeing 1,500 hands an hour online five days a week. I am really struggling with the idea of how much my game is going to take a hit from the lack of action.
Do you know other players with similar difficulties playing live?
Being disabled myself, I know many disabled people that are in the same situation I am in now without online poker. Some of them have Muscular Dystrophy, Cerebral Palsy, and Spina Bifida, some of which are home bound and cannot even travel to play live poker. Most of these people are very good poker players and can compete with anybody. Now ever since Black Friday they have been completely taken out of the game.
What would you like the mainstream media to know about poker?
I would like the mainstream media to understand that poker is just like any other sport. Some people play basketball, or football - we play poker. Most of the time when you hear something in the media about poker - from non-poker players - the connotation is negative. When poker is played the right way and in the right environment, there is nothing negative about it. Poker is definitely a game of skill and people need to understand that it is a craft just like any other sport.
In 2009 you had an opportunity to travel to the World Series of Poker. How was that experience?
It was great. I met many professional poker players including Doyle Brunson, Johnny Chan, Scotty Nguyen, Howard Lederer, and Daniel Negreanu. I have also met some of the up-and-coming stars of our game such as Jason Somerville, Josh Brikis, Phil Galfond, and I recently met Dwyte Pilgrim. I have to say, everyone that I have met thus far have been complete professionals, most of which have took the time to offer guidance and answer questions so that I may improve my game.
Will we see you in Vegas again this summer?
Unfortunately, I'm not going to be able to make it to Vegas for the WSOP this year. Outside of poker, I am the vice president of the North Carolina Electric Wheelchair Hockey Association (www.ncpowerhockey.com), a non-profit organization that offers the sport of hockey to those who have physical disabilities and are confined to an electric wheelchair. While running the organization I also coach a team, and we will be competing in Philadelphia this summer. I plan on going back to Vegas in 2012 to get back into the events.
Be sure to follow us on Twitter for up-to-the-minute news.