World Series of Poker Circuit Caesars Palace Day 2: Johnson Leads by a Nose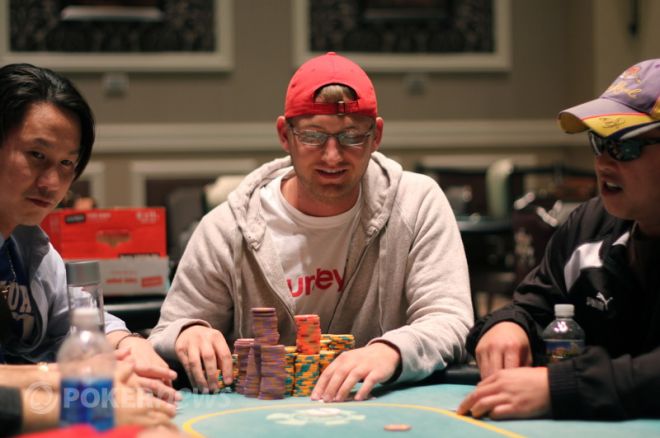 Coming into Day 2 of the 2011 World Series of Poker Circuit Caesars Palace Main Event, Cody Slaubaugh had a commanding lead. Yet by the time the day was done, Slaubaugh was long eliminated and the new player at the top of the heap was Chris Johnson (1,600,000). He leads the 10 players who will return on Saturday to play out the conclusion of the tournament. Hot on his heels are Alex Santiago, Adam Hui and Brian England. Each is within 200,000 chips (seven big blinds) of the lead.
John Kulish was the story for the first half of the day. Every time he had a big hand, he seemed to get maximum value. It started for Kulish in the first level of the day when Duy Tran decided to five-bet shove
for 55 big blinds right into Kulish's pocket aces after Kulish made a large four-bet. Kulish used those chips to steadily build throughout the day until a seven-figure pot against Johnson near the end of the day vaulted Kulish to the top.
Johnson had already built his stack to 1.2 million by that point and flopped middle set on a
flop. He somehow managed to just check-call large bets from Kulish after Kulish turned Broadway with the
and the river didn't pair the board. Kulish faded a bit at the end of the day and will begin Day 3 in fifth place with an average stack.
Despite losing that massive pot to Kulish, Johnson didn't lose his resolve. He kept his aggression high and battled back to knock out Bo Pathammavong and Stepan Dzhigarkhanyan. Although he trailed England coming into the 10-handed final table, Johnson dragged a few pots at the very end of the day to clinch the overnight lead.
Of the 84 players who came back for Day 2, 54 made the money. Notables who busted without cashing included Steve Billirakis, who got tagged twice by Lance Oliver; David Pham, whose exit came at the hand of J.J. Liu; and Chad Brown, who hung on with a short stack for a few levels but came up just short.
Recognizable players with better luck included Liu (12th place), David Williams (22nd), Amanda Baker (35th), Erica Schoenberg (38th), David Levi (42nd), Jimmy Fricke (44th), and Day 1 leader Slaubaugh, who had a miserable Day 2 and slid all the way to a 47th-place, minimum-cash finish.
On Saturday the remaining 10 players will return at 1200 PDT (1900 GMT) to fight it out for the $153,599 top prize. Blake Kelso may want to pay attention to what happens at the final table. He's currently leading the race for Casino Champion and an automatic entry into the $1,000,000 National Freeroll, but Hui and Kulish can both overtake him.
When the final 10 players return, this will be the final table lineup.
| Seat | Player | Chips |
| --- | --- | --- |
| 1 | James Martini | 922,000 |
| 2 | Chris Johnson | 1,600,000 |
| 3 | Alex Santiago | 1,478,000 |
| 4 | Jon Seaman | 617,000 |
| 5 | John Kulish | 1,168,000 |
| 6 | Brian England | 1,390,000 |
| 7 | Dave Stann | 510,000 |
| 8 | Matthew Leecy | 470,000 |
| 9 | Derrick Kuenzel | 486,000 |
| 10 | Adam Hui | 1,393,000 |
Johnson has a small leg up on the field, but as Slaubaugh's Day 2 demonstrates, anything can happen between the beginning of the day and the end of the day. Be sure to follow our Live Reporting Team for all of the action from the final table.
If you love poker, be sure to follow us on Twitter and like us on Facebook for up-to-the-minute poker news.