World Poker Tour on FSN: The WPT Celebrity Invitational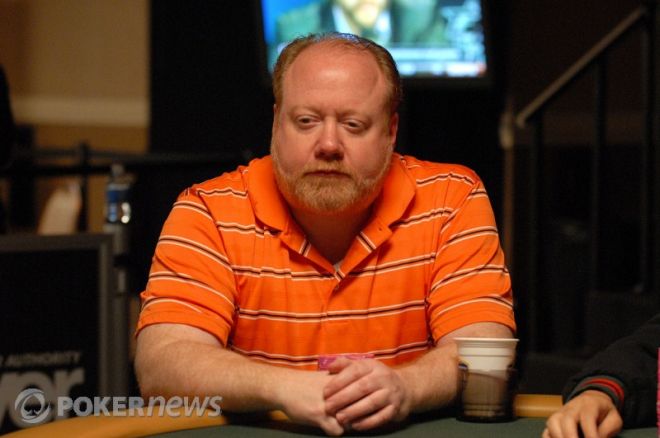 FSN continued its broadcast of the World Poker Tour's ninth season with the WPT Celebrity Invitational from the Commerce Casino in Los Angeles, California. The episode began with a recap of the tournament leading up to the final table, including appearances by a number of celebrities including Camryn Manheim, Billy Burke, Lou Diamond Phillips, Chaka Khan, Bruce Buffer, Randy Couture, Hope Dworaczyk, and Shannon Elizabeth, just to name a few.
Celebrities and amateurs weren't the only players in attendance. In fact, a number of pros comprised the 482-player field (412 rebuys) including Chino Rheem, Michael Mizrachi, McLean Karr, Mike Sexton, Jeff Madsen, Faraz Jaka, Mike Matusow, and Phil Laak. While all were there for a good time, they were also there to support a great cause. The event was held to benefit Chrysalis, a nonprofit organization that helps economically disadvantaged and homeless people become self-sufficient through employment opportunities.
Here is how the final table, the only players to get paid in the Invitational, looked at the top of the broadcast.
Final Table
Seat 1: Dinara Khaziyeva - 670,000
Seat 2: Damon Schramm - 865,000
Seat 3: George Rechnitzer - 660,000
Seat 4: Dan Heimiller - 700,000
Seat 5: Davidi Kitai - 845,000
Seat 6: Almira Skripchenko - 710,000
First Hand: With blinds at 20,000/40,000 with a 5,000 ante, and an average chip stack of just over 700,000, the action was expected to be fast and furious. In the first hand, Dan Heimillier limped with
from the cutoff and Dinara Khaziyeva checked her option in the big blind with
. The
flop gave Khaziyeva top pair and she quickly bet 40,000. Heimiller called with his open-ended straight draw, and the
hit the turn. Both players checked as they did when the
peeled off on the river. Khaziyeva's top pair held and she took down the modest pot.
Khaziyeva Crippled: After winning the first pot, Khaziyeva raised to 105,000 holding
and received a call from the
of Almira Skripchenko in the big blind. Amazingly, the flop fell
and gave both players two pair. Obviously it was going to be a big pot. Skripchenko checked, Khaziyeva bet 130,000, Skripchenko check-raised all-in for 555,000, and Khaziyeva made the call.
Skripchenko was in bad shape and needed a nine to stay alive. Wouldn't you know it, the
spiked on the turn and the crowd was in complete shock. The
river changed nothing, and Skripchenko doubled to 1.37 million while Khaziyeva was left with just 90,000.
Khaziyeva Eliminated in Sixth Place: In the very next hand, action folded to Skripchenko in the small blind and she moved all in. Khaziyeva called off her short stack and the cards were turned up.
Khaziyeva:

Skripchenko:
The board ran out uneventfully -
, and Khaziyeva was eliminated in sixth place for $5,000.
Heimiller Doubles Through Schramm: Heimiller raised to 100,000 with
only to have Schramm reraise to 200,000 with
. Heimiller moved all-in for 660,000 total, and Schramm thought about it for a moment before making the call. Heimiller was a favorite in the hand and needed to dodge a ten, which is exactly what he did as the board ran out
. Heimiller doubled to 1,345,000 while Schramm was left with the extreme short stack.
The Raw Deal: Tony Dunst took to his popular segment, The Raw Deal, to discuss the differences between a charity event and a regular tournament. He highlighted a fast and shallow structure, more preflop all-ins, greater luck factor, and a decreased edge. Dunst seemed to know what he was talking about, considering that he fell victim to these same factors.
Schramm Out in Fifth Place: After Heimiller raised to 80,000 with
, Schramm moved all-in for his last 100,000 with
. Heimiller quickly called the additional 20,000 and Schramm laughed at his bad luck. The board ran out
and Schramm finished in fifth place, taking home $10,000 for his efforts.
Coin Flip Results in a New Chip Leader: Heimiller opened for 120,000 with
only to have Kitai move all in for 915,000 with
. Heimiller made the call and it was off to the races. The crowd and players were on their feet as the flop fell
, vaulting Kitai into the lead. The
changed nothing, and neither did the
river. Just like that, Heimiller lost half his stack, and Kitai took the chip lead with 1,925,000.
To Be Continued . . . : FSN's broadcast of the WPT Invitational will continue next Sunday with the final four players, and we can guarantee that George Rechnitzer will play a hand. That said, be sure to either check your local listings or visit PokerNews for the recap.
Past WPT Invitational Winners
| Season | Player | Earnings |
| --- | --- | --- |
| 1 | Layne Flack | $100,000 |
| 2 | Phil Laak | $100,000 |
| 3 | Alex Brenes | $100,000 |
| 4 | Barry Greenstein | $100,000 |
| 5 | Adam Weinraub | $100,000 |
| 6 | Van Nguyen | $100,000 |
| 7 | Freddy Deeb | $100,000 |
| 8 | Leron Washington | $100,000 |
| 9 | ??? | $100,000 |
If you love poker, be sure to follow us on Twitter and like us on Facebook for up-to-the-minute poker news.