World Poker Tour L.A. Poker Classic Day 4: Rajkumar Leads Final 18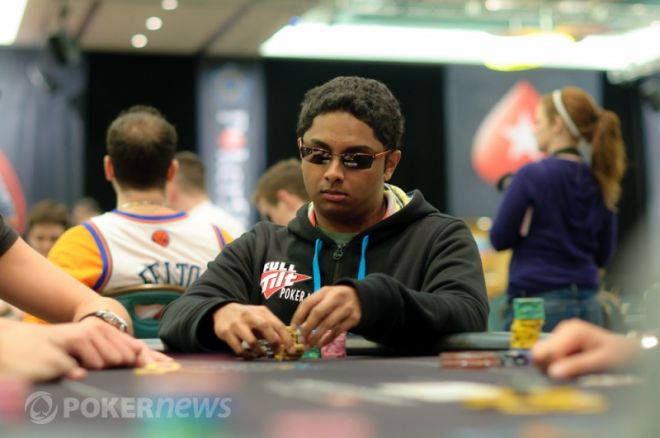 Everyone returning to action for Day 4 of the 2011 World Poker Tour L.A. Poker Classic Main Event on Monday was already guaranteed a payday of $22,230 as Day 3 had ended with the bursting of the money bubble. With only 63 players remaining, the plan for the day was to play down to the final 18. That was accomplished in Level 23 after the elimination of Nikolay Evdakov in 19th place. Leading the way is 2008 WPT Borgata champion Vivek Rajkumar who boasts a field-leading stack of 3,231,000 in chips.
When play began for the day, Jason DeWitt was leading the pack as the only player with a seven-figure chip stack. DeWitt kept his upward climb going as he built to 1,916,000 by day's end. One of the largest pots won by DeWitt came when he made a flush holding the
against Shannon Shorr. The board read
on the river, and there were over 300,000 chips already in the pot. DeWitt fired 200,000 and Shorr made the call but mucked when he saw the king-high flush.
Some of the players who managed to make it to Day 4 and into the money, but who won't be returning for Day 5, are Michael "The Grinder" Mizrachi (48th), Mike Sowers (36th), Daniel Alaei (35th), Joe Hachem (33rd) and Lauren Kling (29th).
Kling got the last of her money in preflop against Steve Gross. She had raised to 26,000 from middle position before Gross three-bet to 65,000 from the big blind. Kling moved all in for approximately 150,000 and Gross made the quick call. He held the
and Kling held the
. A board of
was no help for Kling and she took home $37,260 in prize money for her finish.
Not everything was easy for Rajkumar, who ended the day at the top of the pack. During Level 22, he was all-in with his tournament life on the line against James Carroll. Even though Rajkumar held pocket kings to Carroll's pocket tens and was in the lead, anything could happen with five community cards to come. After a board of
though, Rajkumar's kings held up and he doubled to 1,800,000.
The war wasn't over there between Carroll and Rajkumar as they tangled a few more times including another massive pot that saw Rajkumar vault to 2,500,000 in chips.
Carroll opened with a raise to 36,000 with the blinds at 8,000/16,000 with a 2,000 ante. He was under the gun and action moved to Rajkumar in middle position, who three-bet to 98,000. When play folded back around to Carroll, he four-bet to 199,000. Rajkumar made the call.
The two players saw the flop come down
and Carroll checked. Rajkumar bet 155,000 and Carroll made the call to see the
fall on the turn. Carroll checked again and this time Rajkumar upped his bet to 485,000. Once more, Carroll made the call. The river completed the board with the
and Carroll checked. Rajkumar moved all in for 924,000 and Carroll went into the tank. According to the World Poker Tour Live Update Team, here's what happened:
"After five minutes in the tank, Carroll apologizes to the table and suggests that someone should call the clock. Without missing a beat, Tournament Director Matt Savage tells Carroll he has one minute to act.
"Carroll asks who called the clock and everyone looks at Savage. Savage laughs as he himself mistakenly called the clock on Carroll, thinking Carroll called the clock on himself. Carroll gets his time back, and still uneasy with his decision, pleads for someone to call the clock on him, this time with binding consequences.
"Another three minutes goes by and Carroll then says, 'Go ahead and call the clock... call it.' Several players and spectators gasp, thinking Carroll called the all-in bet, when in fact he was really initiating the clock to be called rather than the hand."
Eventually, Carroll would fold his hand and Rajkumar scooped the massive 2,500,000-chip pot to take the chip lead.
Other notables who made it through to Day 5 are Kathy Liebert, Jason Senti, Darryll Fish, Shannon Shorr, David "Bakes" Baker, Allen Cunningham and Carlos Mortensen. They'll all be in the field on Tuesday to work toward their overall goal of winning the 2011 WPT LAPC Main Event and $1,654,120.
Final 18 Chip Counts:
| Place | Player | Chips |
| --- | --- | --- |
| 1 | Vivek Rajkumar | 3,231,000 |
| 2 | Gregory Brooks | 2,326,000 |
| 3 | Jason DeWitt | 1,916,000 |
| 4 | Matt Berkey | 1,614,000 |
| 5 | Amir Lehavot | 1,595,000 |
| 6 | Carlos Mortensen | 1,467,000 |
| 7 | James Carroll | 1,270,000 |
| 8 | Allen Cunningham | 1,079,000 |
| 9 | Steve Gross | 964,000 |
| 10 | Brandon Crawford | 935,000 |
| 11 | David "Bakes" Baker | 736,000 |
| 12 | Shannon Shorr | 690,000 |
| 13 | Jesse Yaginuma | 595,000 |
| 14 | Darryll Fish | 584,000 |
| 15 | Jason Senti | 533,000 |
| 16 | James Dowdy | 363,000 |
| 17 | Kathy Liebert | 304,000 |
| 18 | Matt Marafioti | 210,000 |
Making it to the final 18 means everyone left has locked up at least $50,340. Play will resume on Tuesday at noon local time at the Commerce Casino in Commerce, California. Be sure to check back on PokerNews for the recap.
Right now not only can you get a free $50 bankroll from PartyPoker and PokerNews, you will also get a free month at PokerNews Strategy. Hurry as this is a limited offer, but the great thing is you do not even need to make a deposit at any stage, just go to our PartyPoker Free $50 Page and follow the walk-through.