2011 WSOP: The Importance of the Casino Employees Event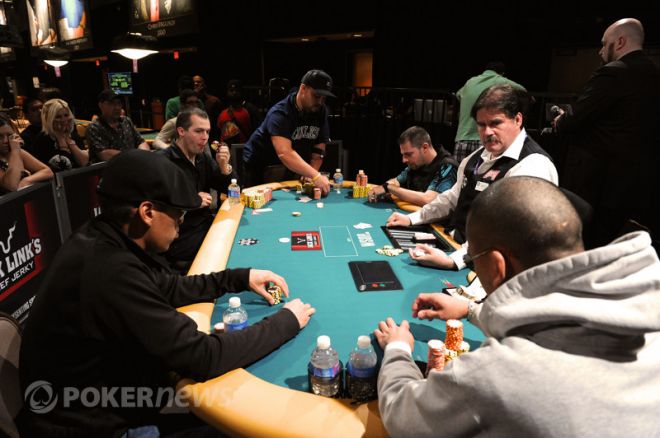 When I say "World Series of Poker," what initially comes to mind? The Main Event? The $50,000 Poker Player's Championship? Marquee names like Phil Ivey (he's gone), Phil Hellmuth, Doyle Brunson or Daniel Negreanu? Most poker fans will respond with the following, but there are a select few who would argue that the first event of the WSOP is the most important. For dealers, floor staff members, chip runners, and even ambassadors like Jean-Robert Bellande, the $500 Casino Employees Event is far and away the highlight of the WSOP.
This year's winner was Sean Drake, a part-time poker dealer from Folsom, California. Drake bested a field of 850 runners and took home $82,292 and a gold bracelet.
"I didn't think it would mean anything at first," Drake told PokerNews after the win. "But then I wanted that bracelet as soon as they put it on the table. That's the only thing I was gunning for."
The first tournament I ever reported on for PokerNews was the 2009 Casino Employees event. Admittedly I was pretty upset at the beginning of Day 1 – all of my co-workers were in the other room covering the Poker Player's Championship and I was stuck watching people I'd never heard of play poker. But as the tournament progressed, I started to see how important it was to the dealers. It was like their own little home game where arguing was allowed and berating was encouraged. The competition and competence levels were astronomical — these guys were good — and they wanted to prove it to one another.
Hoai Pham, a dealer at the Village Club Casino in Chula Vista, California, went on to win, and later told me, "This event is very important for the dealers — everybody plays solid and is very skilled."
The first Employees Event was held in 2000, and it was then called the "Dealers Championship" because only dealers could play. The following year, the rules changed and any casino employee was welcome to participate. Likewise, the original game was limit hold'em, but that changed in 2004 thanks to Mr. Chris Moneymaker and the poker boom. Chris Gros, a poker dealer at Caesars Las Vegas, won the biggest Employees Event in 2006. He bested a field of 1,232 players at took home $127,496.
Each year, employees from all over the U.S. flock to the Rio to battle for bragging rights, Benjamins, and a gold bracelet. WPT tournament director Matt Savage and former WSOP tournament director Jack McClelland usually always attend, and this year WSOP vice president Ty Stewart tried his hand but busted during the first day.
"This is a great opportunity to get out here and have some fun," Jordan Dhooghe, a dealer at the Downstream Casino in Quawpaw, Oklahoma, told us. "It's also a great chance to make some money and it's a bracelet event."
"It's nice to get out and play other dealers," Thanh Ngo, an employee at the Roman Casino in Seattle, Washington, added. "It's a challenge, and to have an opportunity to win a bracelet is very exciting."
It's very easy to overlook the Casino Employees Event, especially when the $25,000 Heads-Up World Championship is running concurrently, but even if we as media members or fans look past it, the employees themselves are going to cherish this opportunity. Additionally, no matter what the buy in is or how much the first place prize is, the bracelet is the same — and so too is the pride that comes with wearing it.
Be sure to follow us on Twitter for up-to-the-minute news.