The Nightly Turbo: Online Poker Traffic, PokerStars' Saturday Tourneys, and More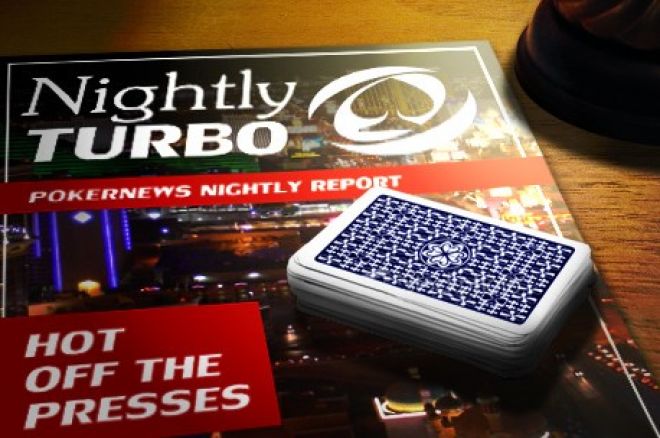 How are you going to get over the midweek hump? By checking out the top poker news stories of the day, that's how. Keep reading to find out the latest online poker traffic report, the new line of tournaments from PokerStars, and more.
In Case You Missed It
Sometimes people take shots at tournaments just moments after they've learned how to play (cough cough Matt Perrins). Not all of us are as lucky as Perrins, so we need a little help. That's where our strategy articles come into play. Want to learn a bit on Omaha hi-low 8 or better? Check out what Darryll Fish has to say.
On Tuesday, three bracelets were handed out at the 2011 World Series of Poker. Find out which player accomplished poker's Triple Crown feat in our daily WSOP recap.
Sands Ltd. has been slapped with two new lawsuits. If you'd like to find out more about them, and the casino quest in the Catskills, you'll have to check out Inside Gaming.
Traffic Report
For the past four weeks, online poker traffic has seen decreases. Last week's report is a little different. Online poker traffic is up 1 percent in the last week and seven of the top ten sites and networks on PokerScout have shown increases in traffic.
According to PokerScout, Full Tilt Poker saw a 0.8 percent increase in traffic. PartyPoker saw a 3 percent gain in traffic. The site has boasted almost a 6 percent gain since the beginning of June.
While some go up, others must fall. The Merge Gaming Network fell 7.5 percent last week, making it the third straight week that the network has seen a decrease in traffic.
As for year-over-year numbers, the Cereus Network has seen a 96 percent decrease in traffic. Full Tilt Poker is down 39 percent year-over-year, and PokerStars decreased by 27 percent.
Want to check out more numbers and statistics? Head on over to PokerScout.com.
New Tournament Schedule on PokerStars
If you read the title of this and thought, "OMG my Sundays," have no fear, your Sundays are safe. Saturdays, however, are a different story. PokerStars is launching a new schedule of tournaments on Saturdays. Seven different tournaments are on the new Saturday schedule, ranging from $2.22 to $55 in buy-ins. Guaranteed prize pools range from $20,000 to $60,000.
The new Saturday lineup kicks off on June 25, and to celebrate the launch, PokerStars has a "no lose" offer for players. If you register for one of the events and bust before the money, you'll get a free ticket to try the tournament again another day.
Sound too good to be true? It almost is. The offer is limited to one ticket per player and is applicable to the highest-value tournament the player failed to cash in. Oh, and it must be used by July 16.
Saturday Lineup
| Time | Tournament | Game | Buy-In | Guarantee |
| --- | --- | --- | --- | --- |
| 0700 ET (1300 CET) | Saturday 6-Max | NLH 6-max | $22 | $20,000 |
| 0800 ET (1400 CET) | Saturday Micro | NLH | $3.30 | $20,000 |
| 0900 ET (1500 CET) | Saturday Omaha | PLO | $55 | $30,000 |
| 1000 ET (1600 CET) | Saturday Eliminator | NLH Knockout | $27 | $40,000 |
| 1100 ET (1700 CET) | Saturday Splash | NLH 3x Turbo | $2.22+R | $50,000 |
| 1530 ET (2130 CET) | Saturday Duel | NLH Heads Up | $11 | $20,000 |
| 1900 ET (0100 CET) | Saturday Speedway | NLH Turbo | $33 | $60,000 |
If you want to know more, head on over to the PokerStars Blog.
Meet Team RISE
RISE Poker has announced its new pro roster. Maria Ho, Scotty Nguyen, Dani Stern, and Jean-Robert Bellande will make up Team RISE. They will be sporting the RISE logo at major land-based tournaments and playing in weekly tournaments on RISE Poker.
"As some of the game's most recognizable and entertaining personalities, Scotty, Maria, Jean-Robert and Dani have exactly what we're looking for — legit game at the tables as well as genuine mainstream appeal," said Steve "Chops" Preiss, RISE Poker executive vice president of business development. "Our RISE Poker community are going to have a lot of fun competing against and connecting with these pros."
If you want to know more, check out RisePoker.com.
The Court Erred
While we're sure that the lawsuit Clonie Gowen has against Tiltware is the last thing on its mind, the company has been dealt another blow. Last week, the U.S. Ninth Circuit Court of Appeals ruled that U.S. District Judge Robert Clive Jones was wrong in dismissing Gowen's breach-of-contract claim against Tiltware.
The court also ruled that the district court was also wrong in dismissing the fraud and negligent misrepresentation claims that Gowen has against Raymond Bitar and Howard Lederer.The circuit court did side with Judge Jones on the dismissal of Gowen's claims against other poker companies and high-profile professionals that are tied to Full Tilt Poker.
We're no legal analysts, so we can't break this down for you. If you want more, you can get it at LasVegasSun.com.
It's a Trailer Park Now
Lynn Gilmartin caught up with Daniel Negreanu to check out his WSOP crib — his trailer. How else would a poker player with a massive bankroll blow some of it?
Be sure to follow us on Twitter for up-to-the-minute news.