The Nightly Turbo: GoDaddy Becomes Official WSOP Sponsor, WPT Regional in Reno, and More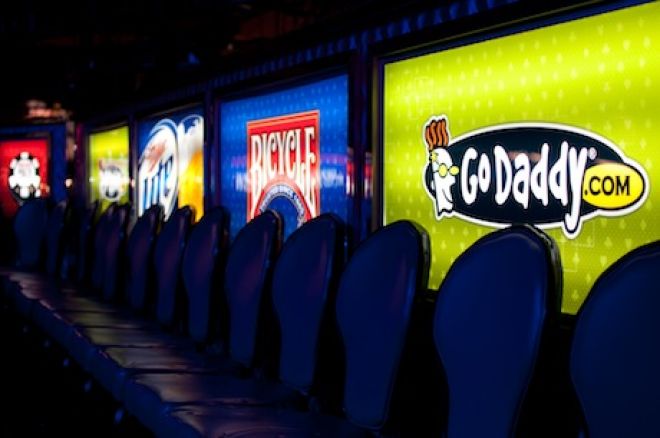 Want to catch up on the day's top poker stories? Read on to figure out who has become an official sponsor of the World Series of Poker, where the World Poker Tour Regional is headed next, and more.
In Case You Missed It
Randy "nanonoko" Lew has plenty of events lined up on his 2011 WSOP schedule. We talked to him about an event he already played to get some WSOP strategy tips.
On Day 8 of the 2011 World Series of Poker, an event kicked off, one reached the money bubble, and another woman reached a final table. That was the short version of the recap. Catch up on the longer version in the WSOP Day 8 recap.
We know you're focused on the goings on at the Rio at the moment. We are, too. But there's no reason you shouldn't be caught up on the rest of the gaming news.Read the latest Inside Gaming for more.
The PokerNews Podcast streams live Monday through Friday beginning at 1100 PDT. If you're on a poker player's schedule, that could mean that you missed it. On Wednesday, we caught up with Matt Savage to talk about hard stop times, marked cards, and more.
GoDaddy Official
The World Series of Poker announced on Wednesday that GoDaddy.com has signed on as an official sponsor of the 2011 WSOP.
"When you talk about GoDaddy.com, you are talking about some of the best marketers in the world, who are thoughtful about their platforms and selective in their promotional partnerships," said WSOP Executive Director Ty Stewart.  "We know GoDaddy.com has a fun and edgy style and we welcome them into the greatest poker spectacle on the planet, which shares its personality."
The GoDaddy.com brand will be seen just below the community cards in the middle of the felt throughout the tournament action on the televised tables.
"We like this poker sponsorship because so many of the fans are passionate, loyal and interested in the Internet," Bob Parsons, GoDaddy CEO and founder said. "We're all in, baby!"
Check out the press release on WSOP.com.
Bust a Man in Reno
The World Poker Tour recently announced that it secured a partnership with the Atlantis Casino Resort Spa to host a WPT Regional event in Reno. The event kicks off Sept. 16 and runs through Sept. 25. The WPT Regional Western Poker Challenge will get under way on Sept. 24.
"Atlantis runs one of Reno's best poker rooms," said Adam Pliska, President of World Poker Tour. "Pros and amateurs alike continually tell us about the quality of play found here. We are excited to hold Reno's first ever WPT Regional event at Atlantis."
The $2,500 buy-in event will run for two days. Not only will players get to partake in the various tournaments being held, but WPT Boot Camp will also hold an event from Sept. 19 through 21.
"The World Poker Tour is a leader in the ever expanding poker community and Atlantis is thrilled to host a WPT Regional event," said David Farahi, executive director of gaming operations for Atlantis. "Atlantis is committed to being on the forefront of the poker world's expansion and to provide northern Nevada with the best poker experiences."
Find out more about the Regional event at WorldPokerTour.com and sign up for the Boot Camp at WPTBootCamp.com.
Detained
Ira Rubin, one of the 11 defendants indicted in April in the online poker seizures was detained on Wednesday. Rubin has a criminal history that dates to 1970 and also had an outstanding warrant for his arrest for contempt of court for a civil case that was brought on by the Federal Trade Commission.
"I think I have no choice but to detain the defendant," said U.S. Magistrate Judge James L. Cott in Manhattan.
On the day of the indictments in April, it's said that Rubin chartered a plane from Costa Rica to Guatemala. He was taken into custody in Guatemala and brought back to the U.S.
"My client wants to address the charges here. He will stay in the U.S. and would like to face the charges here," Stuart D. Meissner, Rubin's lawyer said.
Meissner also said that many of the allegations that have been made by prosecutors are inaccurate and the evidence against Rubin is questionable.
The Wall Street Journal has more.
Adams Speaks
Brandon Adams posted a blog entry on Wednesday regarding his decision to continue to wear his Full Tilt Poker patch. He also addresses a paragraph in Jesse May's recent blog.
Adams says, "I expect to wear a Full Tilt patch during most of the Series. I'll do this not because Full Tilt tells me to (indeed, Full Tilt sent out an email to US pros that leaves all US deals in an ambiguous standing) and not because I have a self-interest in doing so....I'll wear a patch more out of loyalty, because I know and like the Full Tilt guys, and I trust them to do the right thing. Along with everyone else in poker, I'm devastated by the fact that the poker world is being ripped apart, and I'm horrified by the fact that Full Tilt hasn't been able to meet its obligations in the short-term."
He goes on to say that he will be wearing the Full Tilt patch out of fear. "My fear is simply that, if Full Tilt can't hold it together, poker will enter a dark phase. It's notable that since Moneymaker's win in 2003 and the launch of the golden age of poker, there have been relatively few instances of violence in the poker world."
If you want to read his entire blog, you can at MacroEconomicWoes.com.
Winner Winner
Kristy Arnett caught up with Amir Lehavot shortly after he received his bracelet for his win in Event #7, $10,000 Pot-Limit Hold'em. Find out what he had to say about his run in the tournament and what he has up next on his schedule.
Why don't you do something to make your life easier. Follow us on Twitter for up-to-the-minute news.