The Nightly Turbo: Full Tilt Announcement, World Poker Tour Spanish Championship, and More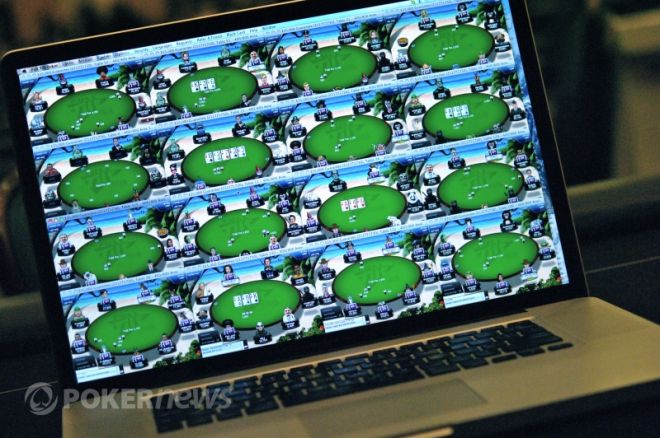 The 42nd Annual World Series of Poker may be under way, but there's still plenty of other news you need to catch up on. Full Tilt Poker made an announcement Monday and you're probably wondering what it said, so we're going to tell you. On top of that, you can check out the results from the World Poker Tour Spanish Championship, and more.
In Case You Missed It
Mike McDonald will be playing his first World Series of Poker this year, so of course he's one of our players to watch. Find out more about the man they call Timex in the Rookie Roundup.
Wondering what's going on in the gaming world? Find out in the latest Inside Gaming.
Sometimes, we like to look into our crystal ball, and make predictions - some bold, others, not so much. What better event to make predictions about than the WSOP? Here are our staff predictions for the WSOP.
We'll be live streaming the PokerNews Podcast every day from inside the Rio at the World Series of Poker. If you didn't get a chance to hear it live, don't worry, you can catch up on it by downloading the podcast.
Full Tilt Poker Announcement
Full Tilt Poker made an announcement on Monday, but we're not sure how many of you heard it - so here we go. The announcement was posted on TwoPlusTwo by FTPDoug.
"We acknowledge that our lack of communication reflects poorly on us, and rightfully so. We have been too optimistic in estimating how long it would take to sort through the issues we have faced since Black Friday. And as frustrating as the delays have been for us, we recognize that it cannot compare to the frustration you have been feeling."
There was another paragraph discussing speculation and rumors, but it's long, so the gist is, "they are unsubstantiated." As for when you're getting your money, there is still no "specific timeframe." According to the statement, the company is not bankrupt, but is "raising capital to ensure that U.S. players are paid out in full as quickly as possible." As for why the Full Tilt Pros are staying silent, well, it's not their choice, "they are constrained by the pending legal actions."
That's the short of it. Want to read the long of it? Head on over to TwoPlusTwo.
World Poker Tour Spanish Championship
Over the weekend, Season X of the World Poker Tour crowned its first champion. Lukas Berglund became the youngest ever WPT champion by taking down the WPT Spanish Championship.
"I graduate from high school this week," Berglund said. "You could say I have now got the money to have a party! It really all fell into place at the final table, I felt like it was going to be my day and, importantly, I caught cards at the right time. Some of the early stages of the tournament were a struggle as I didn't pick up aces once until day three. I am looking forward to working on my game in Europe over the coming months as live poker is a new experience for me."
Berglund, who will be 19 in July, pocketed €206,000, plus a $25,500 seat to the WPT World Championship next May in Las Vegas. Yes, you're right, he can't play - so they gave him European WPT buy-ins instead.
WPT Spanish Championship Results
1. Lukas Berglund - €206,000
2. Romain Matteoli - €118,000
3. Frederic Bussot - €64,000
4. Jorge Duffour - €47,000
5. Guillem Usero - €40,000
6. Alexander Sidorin - €33,500
7. Artur Koren - €27,000
8. Markus Ristola - €20,200
Want to find out more? You can, on the PartyPoker Blog.
New Time - Double Guarantees
If you're one of the non-U.S. players who can still play online, keep reading. Beginning June 5, all the PokerStars Sunday Majors tournament schedule will be moved to earlier times. And to celebrate the move, PokerStars is doubling many of its guarantees.
New Times (With doubled guarantee)
| Time | Event | Guarantee |
| --- | --- | --- |
| 0800 EDT (1400 CEST) | $109 Sunday Kickoff | $150K Guaranteed |
| 1100 EDT (1700 CEST) | $215 Sunday Warm-Up | $1M Guaranteed |
| 1200 EDT (1800 CEST) | $109+R Sunday Rebuy | $400K Guaranteed |
| 1330 EDT (1930 CEST) | $11 Sunday Storm | $400K Guaranteed |
| 1430 EDT (2030 CEST) | $215 Sunday Million | $2M Guaranteed |
| 1530 EDT (2130 CEST) | $530 Sunday 500 | $500K Guaranteed |
| 1630 EDT (2230 CEST) | $215 Sunday 2nd Chance | $250K Guaranteed |
| 1830 EDT (0030 CEST) | $215 Sunday Supersonic | $80K Guaranteed |
There are also value-added satellites running through June 5 to win tickets to the above tournaments.
If you want to know more, head on over to PokerStars.com.
Asia Pacific Poker Tour Season 5
The fifth season of the PokerStars Asia Pacific Poker Tour kicks off soon. Three events from the schedule have been released. The first one kicks off on July 29 in Melbourne, Australia. The AUD$5,000 event will be hosted by Crown Casino and will have a 500-player cap.
Next up is APPT Queenstown Snowfest in New Zealand, which runs from August 23 to 28 and has a 210-player cap. Then the tour is off to Macau from November 23 to 27. Also on the schedule is APPT Philippines, but the date and venue are yet to be determined.
To find out more about the APPT, head on over to APPT.com.
Havabet?
We know you're going to make a bet or two (or ten) at the World Series of Poker this summer, and sometimes, its hard to keep track of who you're betting against, or how much you're up. We came across a website that might help you out, and figured we should show it to you. We're in a giving mood. It doesn't happen often.
Havabet.com is a social betting app that lets you know which events your friends want to bet on, keeps tabs on how much you're up, and helps you collect and settle with your victims friends easily.
Go ahead. Check it out. You know you want to. Havabet.com.
Welcome to the Rio!
The 2011 World Series of Poker is under way and we're sure you're dying for a look around the Rio. Sarah Grant, Kristy Arnett, and Lynn Gilmartin are happy to oblige that request, so check out the video below.
Are you following us on Twitter yet?