The Nightly Turbo: Online Poker Traffic Report, U.S. Attorney General on Poker, and More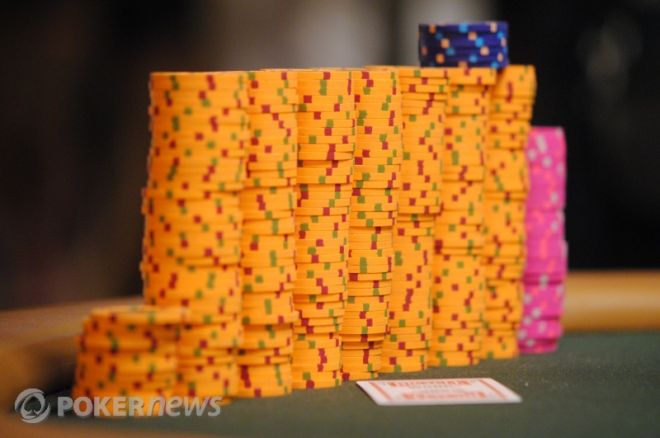 There might be conspiracy theories floating around that the U.S. poker indictments are connected to the Osama bin Laden raid, but we're not much for conspiracy theories here. We like the facts and that's what we're going to give you. Read on to find out how the three indicted poker sites are faring, what the U.S. Attorney General thinks about the indicted poker sites, and more.
In Case You Missed It
The World Poker Tour Seminole Hard Rock Showdown crowned a winner Monday night. In the end, it was Taylor von Kriegenbergh who outlasted the 433-player field to take home the title and $1.1 million first-place prize. Find out how he did it in our recap of the WPT final table.
Tuesday morning, Federated Sports + Gaming announced the roster for its inaugural poker league. Who made the cut? Check out the FS+G roster for yourself.
The gaming world was buzzing last week with everything from a royal Vegas wedding to companies selling off properties. Find out all about it in the latest edition of Inside Gaming.
The online high-stakes cash games didn't see as much action as normal this weekend, but there were players who made nice profits. One of them was Rui Cao. The Online Railbird Report has more.
On Tuesday, Rupert Elder was the last man standing at the PokerStars European Poker Tour San Remo.For the scoop on how he navigated the final table to take home the title and €930,000 first-place prize, check out our EPT recap.
Soon after FS+G announced its lineup of members, we sat down with Jeffrey Pollack and Annie Duke to discuss the list, criteria for qualification, and Black Friday. Here's what the two had to say.
Traffic Report
Another weekend has passed since the U.S. Department of Justice indicted three of the world's top online poker sites. According to PokerScout, Full Tilt Poker and PokerStars are holding pretty close to the same number as last week, but the Cereus Network is still experiencing significant drop-offs.
In the third weekend since Black Friday, PokerStars saw an increase of 2 percent in traffic, while Full Tilt Poker decreased 4 percent. The Cereus Network saw a 30 percent drop in traffic, however. The net change in traffic from the past weekend versus the weekend before Black Friday for PokerStars is a decrease of 26 percent. Full Tilt Poker decreased 38 percent, while the Cereus Network has decreased a whopping 76 percent.
The Merge Network is the site that seems to be benefiting from the Black Friday fallout as it has seen a 69 percent increase since the weekend before Black Friday up to now. On the European front, PartyPoker has seen a 10 percent rise in traffic in the same period.
If you'd like to check out the traffic reports for all the online poker sites, head on over to PokerScout.com.
Chance or Skill?
On Tuesday, U.S. Attorney General Eric Holder was in attendance at a House Judiciary Committee hearing that addressed the recent indictments of online poker's Big Three.
During the hearing Holder said that he believed that the recent poker indictments were "appropriate." When asked whether he thought poker was a game of skill or chance; however, he said he did not know and that it was "beyond his capabilities" to "weigh in on an issue that is fundamentally connected to the Department of Justice's position that online poker violates U.S. law."
Holder was also asked about Phil Ivey and whether he believed that he was "just lucky or the world's greatest player," and Holder responded, "I am not sure I know who Phil Ivey is, but I am sure there is some degree of skill that is involved, some degree, I am not a poker player myself."
Find out more at Forbes.com.
Cashing Out
Last week, we told you that Full Tilt Poker had announced that it would be making an announcement regarding cash-outs "early next week." It seems as though that's been pushed back to May 9 — or has it?
According to a post in the TwoPlusTwo forum, a Black Card member emailed support and was told that Full Tilt Poker would have a further update during the week of May 9. Another poster in the same thread said he emailed Black Card Support and received a response that said that there would be further updates later this week.
This looks to be a wait-and-see situation.
Closed Due to Flooding
On May 2, the Horseshoe Southern Indiana casino reopened after being closed for about a week because of Ohio River flooding. Just over a day after reopening, an email was sent out by Mike Stratton, vice president of marketing at Horseshoe Southern Indiana, saying that the casino would close again, Tuesday.
According to the Courier-Journal, new patrons were not allowed in beginning at 1400 EDT.
"We recently received a new river forecast on which the decision to close was made. The same forecast shows that we will only be closed for approximately 48 hours, likely opening again on Thursday afternoon," said the email.
Calling the Clock: Ben Wilinofsky
While at the PokerStars European Poker Tour San Remo, Laura Cornelius decided to call the clock on 2011 EPT Berlin winner Ben Wilinofsky. Why did he hide in a refrigerator? Find out in the video below.
If you aren't following us on Twitter, we don't know what to say, except follow us on Twitter. How else are you planning on getting up-to-the-minute news?