Inside Gaming: Pinnacle Makes Bold Jump to Vietnam, 888 Wins Italian License, and More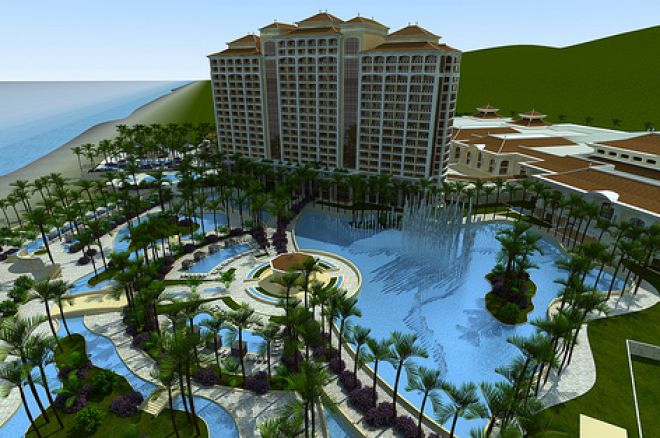 The World Series of Poker is under way, but the rest of the gaming world doesn't get the summer off to hang out at the Rio. Last week was full of interesting announcements. Local-focused Pinnacle Entertainment surprised everyone with a foray into the Asian gaming market. 888 is going to have trouble topping the announcement of its deal with Caesars, but at least it's Italian online gaming license means one poker site is expanding this week instead of closing down. And the Station Casinos bankruptcy drama is getting closer to a conclusion as a federal judge approved a deal to give Aliante Station to creditors. Get the details here.
Pinnacle Branches Out with Investment in Vietnamese Development
Pinnacle Entertainment, a Las Vegas casino operating company, has always focused on the domestic locals market, primarily in the country's smaller gaming markets. It operates several properties in Louisiana and St. Louis, so the gaming industry was a little surprised when Pinnacle announced on Thursday that it is investing $95 million in a Strip project. Vietnam's Ho Tram Strip, that is. The 400-acre beachfront complex is expected to include five luxury resorts, only two of which will have casinos. The gaming properties are being marketed to foreign gamblers in the hopes of boosting Vietnam's tourism industry and mirroring the success of other Asian gaming destinations.
Pinnacle is buying 26 percent of the company developing the Ho Tram Strip and plans to build a hotel and casino there alongside one being developed by MGM Resorts International for an expected 2013 opening. There is no scheduled date for the opening, or the groundbreaking, on the Pinnacle property. The company's management license stretches to 2058.
Investors and stock analysts were blindsided by Pinnacle's international move. The company's stock on the New York stock exchange barely reacted to the announcement. Some analysts suggested the scope of Pinnacle's investment isn't large enough to trigger an immediate investor response. By comparison, the company is building a $357 million hotel-casino in Baton Rouge, Louisiana. While the news of a development in Asia is a significant step in a new direction for Pinnacle, it is still only a $95 million risk.
"Our investment and long-term management agreement bring meaningful strategic diversification and potentially very significant returns on invested capital," Pinnacle CEO Anthony Sanfilippo said. "The phenomenal success and continued strong growth of destination integrated resort and gaming facilities in Asian markets are indicative of the demand for quality gaming entertainment options in Asia."
Read what Wall Street analysts think about the move in the Las Vegas Review Journal.
888 Secures Italian Gaming License
While many online gaming sites are dealing with a reduction in their customer bases, 888 Holdings is about to expand its reach. The Israeli-based company will now legally be able to accept poker and casino-game wagers from Italian residents after earning the necessary license to operate there. The company announced last week that it passed the certification process of the Amministrazione Autonoma die Monopoli di Stato, the Italian gaming regulatory authority, to market its poker and casino sites and those of its independent division Dragonfish to Italians.
Itai Friedberg, 888's COO, said in a press release, "We aim to present the Italian players with a world-class, fully localized gaming experience by leveraging on our 14 years of online casino excellence. We welcome new opportunities to grow our market share as Italy becomes increasingly active."
Just before Black Friday, Caesars Entertainment announced a deal with 888 Holdings to develop Caesars' European-facing online poker product and to prepare for a potential U.S. launch should American online poker laws change in the near future.
Station Casinos to Offload Aliante Station
Station Casinos Inc. was granted court permission last week to hand ownership of the Aliante Station casino, one of its 18 properties, to lenders as part of the company's bankruptcy reorganization plan. Aliante Station, a 40-acre property in Reno, Nevada, cost $662 million to build but will go to creditors owed $378 million. TPG Capital and Apollo Global Management LLC, private-equity firms who purchased Station debt at a discount, will be among the biggest holders of Aliante as part of the deal.
While creditors would own the property, Station Casino's owners, the Fertitta family, will continue to operate the casino, which includes 2,000 slot machines, 35 table games, a poker room, a race and sports book, and a 200-seat bingo parlor. There are also six restaurants, a pool and day-club, a sizable fitness center, a 16-screen movie theater, and 14,000 square feet of convention space.
Station Casinos, which declared bankruptcy in July 2011, has also tried to sell Green Valley Ranch to a group of investors including the Fertitta family and Colony Capital, but several creditors have challenged the sale in court. Federal Judge Gregg Zive approved the Aliante Station sale in a hearing last week but has yet to rule on the Green Valley Ranch deal.

Get more details from Bloomberg.
Be sure to follow us on Twitter to stay up to date.
*Photo courtesy of Vietnam Real Estate