The Nightly Turbo: Tony G Talks, PokerStars Returns Over $100 Million, and More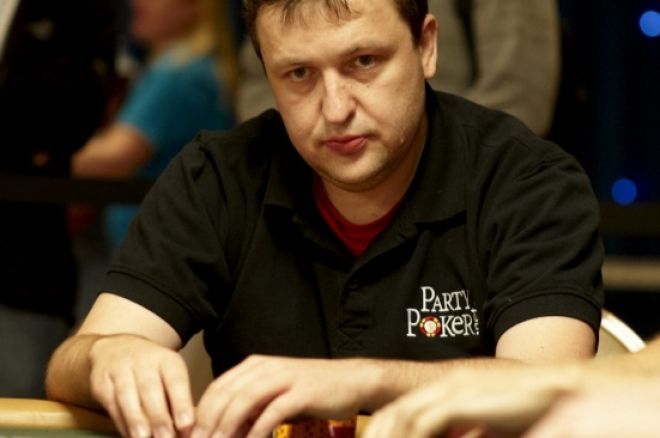 We've made it to the weekend and it's way too nice outside for you to be searching for the top poker news stories of the day. Here they are, in all their glory. Tony G went on ESPN's podcast, the Poker Edge recently to discuss Black Friday. We'll tell you what he had to say, tell you how much PokerStars has returned to U.S. players, and more in this edition of the Nightly Turbo.
In Case You Missed It
We recently contacted the Alderney Gambling Control Commission and Kahnawake Gaming Commission to get their reactions on Full Tilt Poker and Absolute Poker's indictments by the U.S. Department of Justice. Here's what representatives from both commissions had to say.
The online high-stakes cash game action has been quiet recently, but quiet or not, there were losers and winners. Patrik Antonius had a bad week. Find out how much he dropped by reading The Online Railbird Report.
We've released our second World Series of Poker rookie pick. Check out the Rookie Roundup to find out why we think Taylor von Kriegenbergh will have a good Series.
The World Series of Poker held its media conference call on Wednesday. We've had some time to mull over what was said, and came up with our Five Thoughts about the call.
The G Talks
PokerNews' Tony G was on ESPN's podcast, the Poker Edge recently. The G discussed Black Friday with hosts Andrew Feldman and Gary Wise.
"Isn't it more important for a gaming board or someone that regulates someone to ensure that players get paid? Isn't that why you want to be regulated? Because as a player then there's no difference for you then," he said during the podcast. The three discussed the gaming commissions, and Full Tilt Poker.
When Tony was asked about his prediction on the return of player funds and how it will affect the WSOP he said, "If Full Tilt Poker money isn't paid to players by the World Series of Poker, it'll be really bad. Players will be ashamed to show their faces. I for one will probably not play. There would probably be too much work to do. It would be too big of a problem. There doesn't seem to be a firm timeline. I hope there's a plan that we don't know about that's going to come to fruition."
There's plenty more where that came from, and while we looked for an embed code, there doesn't seem to be one (or we couldn't find it). Check out the Poker Edge for more.
$100 Million and More to Come
It was announced Friday that PokerStars has returned over $100 million to online poker players in the United States. The return of player funds stems from an agreement that was reached between the U.S. Department of Justice and PokerStars on April 20. PokerStars is continuing to process service requests so more cash-outs for U.S. customers are in the pipeline, as well.
If you're a U.S. player looking for answers regarding PokerStars, check out the FAQ page that has been set up.
World Poker Tour World Poker Championship
The final stop on Season IX of the World Poker Tour kicks off on Saturday. The $25,000 buy-in World Poker Tour World Poker Championship will run from May 14 through 20 at the Bellagio in Las Vegas. Last year, 195 players entered, creating a prize pool of $4.7 million. The field was stacked with the best players in the game, and in the end, David Williams defeated Eric Baldwin to take home the $1,530,537 first-place prize.
This year, the WPT has also added a Super High Roller event with a $100,000 buy-in. Erik Seidel, Tony G, Sam Trickett, and Dan Shak have already confirmed that they will take part in this event. The Super High Roller will make history as the highest buy-in televised event in the U.S.
To find out more head on over to WorldPokerTour.com.
Brunson Out
According to Gambling911, Doyle Brunson has left DoylesRoom.com.
In a statement issued on Friday, Brunson said, "Reluctantly, I have decided to terminate my endorsement contract with DoylesRoom.com. It pains me to leave at this time. I have aspirations of reentering the online poker business when the United States government passes legislation, that officially legalizes online poker sites. DoylesRoom management has decided to continue to serve U.S. customers. Although they believe they have the right to market the name DoylesRoom and to use my name and likeness for a period of time, I have asked them not to. Good luck. Shuffle up and deal."
While he's an avid tweeter, at the time of writing, Brunson had not tweeted this announcement himself. However, earlier on Friday he tweeted, "Doyle Gets Facelift: Upgrades DoylesRoom Software. RT He has needed a facelift for quite some time, but we haven't had heart to tell him."
And the Winners Are...
The PokerStars European Poker Tour held its season-ending awards ceremony Thursday night in Madrid. The event, hosted by Liv Boeree and Joe Hachem, handed out eight awards.
Taking the top honors of EPT Player of the Year was Fernando Brito. He took the lead in the POY race in London and held on to it through the end of the season, racking up 1,600 points.
"We can only sing victory when it's achieved, so I didn't believe I had won until yesterday when I cashed in the Grand Final Main Event. I am very thankful to my family and friends – I couldn't have done this without them. Now I'm going to try to do it again next season," Brito said.
EPT Season 7 Award Winners
EPT Omaha Player of the Year: Dario Alioto
EPT Mixed Game Player of the Year: Matthew Ashton
EPT Heads-Up Player of the Year: Diogo Veiga
EPT Country of the Year: Ireland
EPT Online Qualifier of the Year: Martin Jacobson
EPT Achievement of the Year: Max Heinzelmann
EPT Players' Choice: Max Heinzelmann
EPT Player of the Year: Fernando Brito
Find out more in the PokerStars Blog.
SCOOP Update
Since our last PokerStars Spring Championship of Online Poker update, three winners have been crowned - all in Event #11.
Event #11 was a pot-limit Omaha heads-up affair. In the $22 buy-in Low installment, saw 3,124 players enter. There was a $40,000 guarantee for this event, but you can obviously see that was met and exceeded. At the final table, "YouPayMyF458" tried to make a deal with his opponent, "gasi555," but was unsuccessful. No big deal for YouPayMyF458, he ended up taking down the entire event, good for $10,621 and of course a snazzy new watch.
In the $215 buy-in variant of Event #11, 638 players took their seats in hopes of winning the title. A $127,600 prize pool was created and first place would take home a whopping $25,520. Who took that money home? It was "uri013" who bested"Liquid_PLO" for the win.
The High installment of Event #11 boasted a $2,100 buy-in and attracted 127 players. In the end, "Sir_winalot9" outlasted Alexander "joiso" Kostritsyn, who also place second in Event #10 High. Sir_winalot9 received $76,200 for the win, and Kostritsyn banked $45,720.
This was the short and sweet version, if you want all the action, check it out on the PokerStars Blog.
The Micros: Episode 5
The fifth episode of The Micros has been released. We thought their inspiration came from a hand we reported from the 2011 Aussie Millions - we were wrong. But you could see how we got kind of confused.
Follow us on Twitter. There's no reason not to.