World Poker Tour on FSN: The L.A. Poker Classic Part I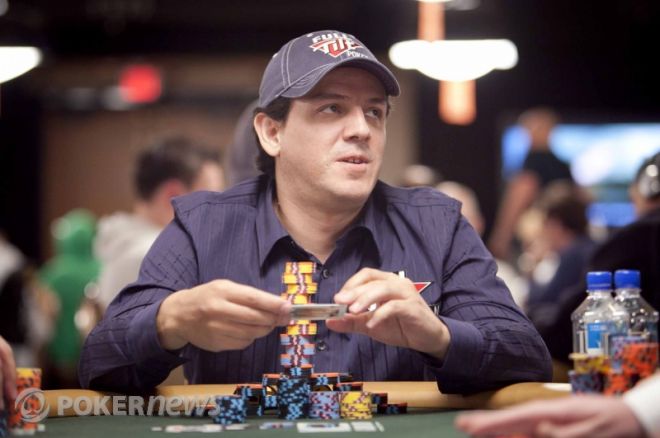 FSN continued its broadcast of the World Poker Tour's ninth season with Part I of the L.A. Poker Classic. This particular event dates back to the WPT's first season and boasts a laundry list of notable winners including Gus Hansen, Antonio Esfandiari, Michael Mizrachi, and Phil Ivey. This year, 681 players descended on the Commerce Casino in Los Angeles, California, to compete for their share of a $6,537,600 prize pool, the largest of Season IX up to that point.
The broadcast began with the usual preview of the early days of the tournament. Some of the pros who were in attendance were Erick Lindgren, Jason Mercier, Gavin Griffin, and Maria Ho; however, it was Mike Baxter who emerged as the Day 1 chip leader with 507 player remaining. Day 2 saw a number of eliminations including Esfandiari and Faraz Jaka, ultimately ending with just 238 players. On Day 3, the march to the money began, and ended when Hoyt Corkins was eliminated as the "bubble boy" in 64th place.
Some of the players who managed to make the money included Tim West, Joe Hachem, Allen Cunningham, Shannon Shorr, Kathy Liebert, and Darryll Fish. From there, the race was on to the final table. The unfortunate final-table bubble boy ended up being David "Bakes" Baker, who was eliminated after his pocket kings were downed by Vivek Rajkumar's ace-ten.
Here is how the final table stacked up at the top of the broadcast.
WPT L.A. Poker Classic Final Table
Seat 1: Vivek Rajkumar
Seat 2: Darryll Fish
Seat 3: Gregory Brooks
Seat 4: Amir Lehavot
Seat 5: Steve Gross
Seat 6: Carlos Mortensen
First Hand: With the blinds at 25,000/50,000 with a 5,000 ante, Vivek Rajkumar was first to act and looked down at the voluptuous
. He opted for a raise to 125,000 and action folded to 23-year-old Gregory Brooks, who looked down at
. He decided to put in the three-bet to 315,000, which was soon four-bet to 655,000 by Steve Gross after he picked up
.
Action was back on Rajkumar and he simply moved all-in for 5,380,000. Brooks called all-in for 2,260,00 and Gross reluctantly folded after committing half his chips. Brooks was a 70 percent favorite to win the hand, which is exactly what he did as the board ran out
. Interestingly, Gross would have flopped a set and tripled had he made the call.
Seven-Deuce???: Vivek Rajkumar looked down at another pocket pair, this time
, and raised to 125,000. Darryll Fish was next to act and decided to three-bet to 305,000 with
. When action reached Amir Lehavot, he looked down at
and four-bet to 705,000. It was enough to get the job done as both Rajkumar and Fish gave up on the hand.
Gross Double: On both the button and the short stack, 25-year-old Steve Gross moved all-in holding
and was called by Vivek Rajkumar in the big blind, holding
. While Gross was behind, the
flop paired his king and vaulted him into the lead. The
turn meant that Gross just needed to dodge an ace and ten on the river in order to double. The dealer burned and slowly revealed the
, which prompted Gross to shoot from his chair in celebration as he doubled to 1,005,000.
The Great Carlos Mortensen: After Gregory Brooks raised to 110,000 with
, Carlos Mortensen limped from the button with
, followed by Vivek Rajkumar's
in the small blind. The flop came down
and Rajkumar checked to Brooks, who continuation bet 260,000. Mortensen wasn't having any of it and decided to call behind while Rajkumar got out of the way.
The
turn gave Brooks a gut-shot straight draw and he fired out 560,000. Mortensen thought long and hard before laying down the best hand. Host Mike Sexton was impressed with Brooks' play and gave him a lot of credit for bluffing the "Great Carlos Mortensen," a title aptly earned as his résumé is a laundry list of accomplishments including being the all-time WPT money winner, tied with Gus Hansen for most WPT titles with three, and the only player to win both the World Series of Poker Main Event and the WPT World Championship.
Darryll Fish Eliminated in Sixth Place: Carlos Mortensen raised to 150,000 from the button only to have Darryll Fish move all-in for 1,230,000 from the small blind. Mortensen made the quick call and found that he was in a dominating position.
Fish:

Mortensen:
Fish only had a 16 percent chance of winning, but that number dropped to 10 percent when the flop fell
. The
turn left Fish looking for a ten on the river, but when the
peeled off, he was eliminated from the LAPC in sixth place for $235,250.
The Raw Deal: Tony Dunst decided to take to his popular segment, The Raw Deal, to analyze Darryll Fish and his three failed bluff attempts. Dunst concluded that the bluffs weren't that bad, they were just ill timed.
Action Turn: Gregory Brooks opened for 125,000 with the
only to be reraised to 325,000 by Amir Lehavot, who held
. Brooks made the call and then checked the
flop. Lehavot did the same and the
spiked on the turn. That card gave Brooks a well-disguised set and he led out for 560,000. Lehavot called with two pair and watched as the
was put out on the river. Brooks bet a healthy 1.74 million and Lehavot called. Ship the 5.39 million pot to Brooks.
Steve Gross Eliminated in Fifth Place: Action folded to Steve Gross on the button and he moved all-in for his last 540,000. Carlos Mortensen folded in the small blind, but Vivek Rajkumar decided to make the call from the big.
Rajkumar:

Gross:
It was another race situation as the flop fell
, giving Gross a gut-shot straight draw. The
appeared on the turn, giving Gross a double gut-shot straight draw and a flush draw, Rajkumar shook his head in disbelief as if to say, "How can I possibly dodge all those outs?" That question was soon answered as the
rolled off on the river, eliminating Gross in fifth place ($304,000).
Tune in Next Week: FSN will continue its broadcast of the WPT Season IX L.A. Poker Classic next Sunday as the remaining four players look to capture the LAPC title. Be sure to check your local listings.
Past WPT L.A. Poker Classic Winners
| Season | Player | Earnings |
| --- | --- | --- |
| 1 | Gus Hansen | $532,490 |
| 2 | Antonio Esfandiari | $1,399,135 |
| 3 | Michael Miazrachi | $1,859,909 |
| 4 | Alan Goehring | $2,391,550 |
| 5 | Eric Hershler | $2,429,970 |
| 6 | Phil Ivey | $1,596,100 |
| 7 | Cornel Cimpan | $1,686,760 |
| 8 | Andras Koroknai | $1,788,001 |
| 9 | ??? | $1,654,120 |
If you love poker, be sure to follow us on Twitter and like us on Facebook for up-to-the-minute poker news.