Shades at the Table: The Great Debate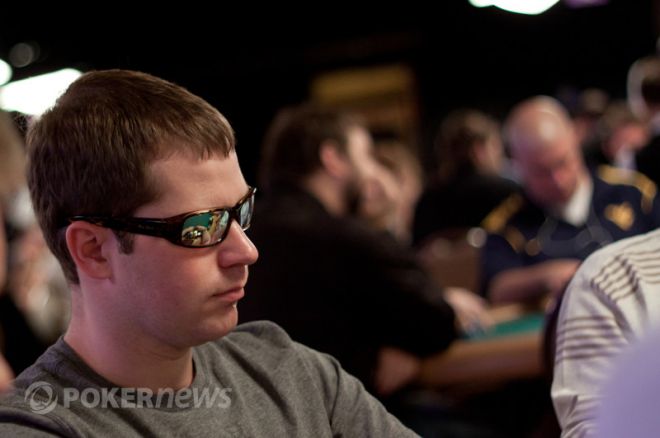 Ever since Chris Moneymaker wore a pair of Oakley shades on his way to defeating Sammy Farha in the 2003 World Series of Poker Main Event, followed by Greg Raymer's patented holographic lizard-eye shades in 2004, it seemed like poker amateurs all over had to have a pair of sunglasses to improve their game. However, the fad in poker eyewear has created a debate that has heated up in recent years; more specifically, whether or not sunglasses are good for the game.
Many of poker's top pros, most notably Daniel Negreanu and Doyle Brunson, feel that sunglasses take away from the game, especially when it concerns televised poker. When PokerStars premiered the Big Game (which can now be seen on PokerStars TV), it was announced that players would not be allowed to wear sunglasses on the show because it took away from the entertainment value. This prompted many to speculate about whether the rest of the poker world, like the WSOP, would follow in its footsteps. While the debate has simmered as of late, it seems the WSOP made its position known by announcing, prior to this year's Series, that Blue Shark Optics (BSO) would be the "Official Poker Eyewear of the World Series of Poker."
"In today's era, poker and sunglasses go together like peanut butter and jelly," said Ty Stewart, the WSOP's executive director, in the initial press release. "But we've never seen a company as committed to the specific needs of poker players as Blue Shark. We look forward to helping more players discover their great product."
By endorsing BSO as its official poker eyewear, the WSOP clearly doesn't have any qualms about sunglasses in poker; although, BSO isn't your traditional pair of sunglasses. Instead, the company prides itself on designing eyewear that blocks the eyes while allowing in enough light to combat the darkness that has come to be associated with card rooms. In other words, the perfect pair of shades for poker.
According to the BSO website: "In 2006 we began our quest with one mission in mind: Create the ultimate in poker eye wear. After almost 5 years of seemingly endless research and testing cycles, we have finally created a product that the poker community has fully embraced."
"We devoted a great deal of time, resources, and energy to this process because our company is not willing to bring into the market an inferior product that does not work. And we are not willing to do that because our reputation as the leader of authentic poker eyewear cannot be compromised, refuted, or challenged. The poker player deserves the best. And, with modesty ever-present, we are the best."
It really comes as no surprise that BSO was able to secure a strategic partnership with the WSOP, after all, they've been present at the Rio for years. Aside from the general poker fan, a number of poker professionals swear by BSO and consistently don Blue Shark Optics shades including Hoyt Corkins, Humberto Brenes, Young Phan, Kathy Liebert, and Jonathan Little. Needless to say, some pros advocate the wearing of sunglasses in poker. PokerNews recently caught up with a few players to ask their opinion on sunglasses in tournaments, and whether their prohibition would have a negative or positive impact the game.
During the $5,000 Pot-Limit Omaha/Six-Handed event, Little told PokerNews: "I think in general sunglasses are good for the game. They give players more confidence to play, they're able to show up and play their own game. I know if I had to play at a table with a bunch of Phil Iveys, I just wouldn't play unless I could wear sunglasses because I would not feel confident enough in my abilities. So it gives players the ability to play better [poker]."
Frank Wiese, author of Eat Professional Poker Players Alive, was another player willing to offer an opinion. When asked about his feelings on sunglasses at the poker table, Wiese point to a chapter in his new book, Beware of the River!, that was devoted solely to the topic. In it he says: "Knowing that your eyes are protected, and eye-tells are not given to your opponents, creates a sense of security that is very important to your overall psychological preparedness. In other words, you can concentrate more on the game by knowing full well that your eyes are protected."
Of course, not everyone is so keen on poker eyewear. As previously mentioned, Negreanu is an opponent of wearing sunglasses in poker. In fact, it was one year ago that he wrote in his blog: "If anyone wants to start a petition to ban them in any form of poker whether it's tournaments, cash games, or televised events I'd do whatever I could to help . . . You should always be uncomfortable playing high stakes poker against someone wearing sunglasses. I'm not making this up, it's just a fact. Banning sunglasses helps to protect the integrity of the game against cheating. For that reason alone, they should be completely outlawed from poker."
While you can find players on each side of the sunglasses debate, the vast majority lie somewhere in between. We recently caught up with Jason Koon and David Benefield as they both made deep runs in Event #46: $10,000 No-Limit Hold'em/Six Handed.
When asked whether or not he felt shades have a place in poker, Benefield responded: "Personally, I like to look into someone's eyes. With sunglasses, players feel protected and more comfortable. However, I think players should be able to wear them if they want. I don't wear them, though."
Koon echoed those sentiments: "I don't think it really matters. I don't wear them because I think I'd look like a douche."
Whether or not you wear sunglasses at the poker table, it seems that they are here to stay — at least when at the World Series of Poker.
For live updates from the 2011 WSOP, be sure to follow our live updates from each of the 58 events. In the meantime, be sure to follow us on Twitter and like us on Facebook.
Executive Editor US, PokerNews Podcast co-host & 2013 WSOP Bracelet Winner.