Five Thoughts: We're Going Streaking!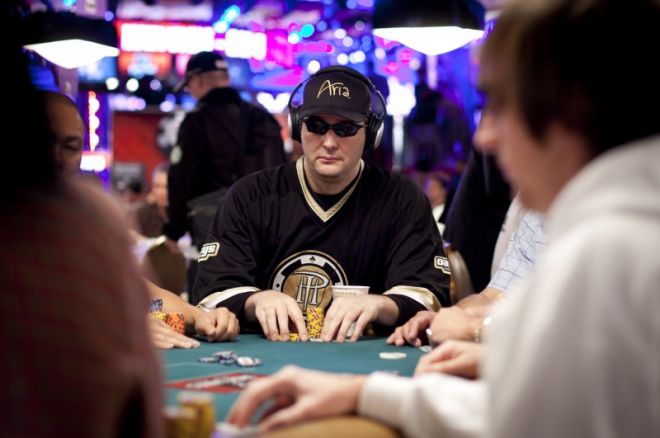 Last week, the World Poker Tour announced changes for Season X, Parx Casino concluded its first poker series, Jamie Gold started a new poker site, Phil Hellmuth spoke on iGaming, and our very own Kristy Arnett went streaking. Let that last one sink in for a moment.
1. The WPT is all in
The World Poker Tour is entering its tenth season, and last week a conference call was held to discuss changes in the tour. Perhaps the most noteworthy change is that all WPT final tables will stream live, and the host will be Tony Dunst. Dunst joined the WPT team last year as the host of the Raw Deal segment, and plans to seek out players at each tour stop to join him in the booth and do color commentary – something that was very successful during the WSOP live streams this summer. This is a great addition by the WPT because it gives hardcore fans another reason to follow the tour, while the casual fan is unaffected and will still enjoy the edited version that will air on FSN at a later date.
There are a few new faces to the production team. Ali Nejad joins the team as the live announcer at the final table, and Mica Javier and Melissa Fisher will join the lovely Royal Flush Girls. There is also a new Royal Flush Bar on set where VIP players will be able to sweat the final table. All of these additions on the production side of the tour show that the WPT is all-in this season, and for good reason. Ratings were up 35 percent during Season IX, and with other televised poker shows reeling from Black Friday this is the WPT's chance to ascend to the top and battle the WSOP.
2. Let's take a walk in the Parx
Parx Casino in Bensalem, Pennsylvania, recently hosted it's first tournament series. It attracted notables like Michael Mizrachi, Mike Matusow, Tristan Wade, Mike Sica, Will Failla, Matt Glantz and Matt Stout. McLean Karr ended up shipping the $2,000 Parx Open Poker Classic Main Event, defeating fellow pro "King" Dan Smith heads-up to take home $74,725. Smith banked $51,969 for second. Just before the tournament took place, Parx was added to the Season X WPT schedule as part of a three-year agreement.
This is a great venue, and another great addition by the WPT. Parx is less than a half-hour from Philadelphia, a city that hosts teams in the four major professional sports and offers great tourist attractions, bars and hotels. Unlike the venues in Atlantic City, Parx is also close to a major airport (PHL), making it accessible to all players – even those traveling from Europe. There is a need for more exciting tour stops in North America to compete with the exotic locations that the EPT, LAPT and APPT boast. Parx may not be exotic per say, but it's a step in the right direction and will be a success for the WPT.
3. All that glitters is not Gold
Just days after an announcement that the Poker Pro Network will be closing to American customers, former PPN Pro Jamie Gold introduced his own poker site – www.FreeGoldPoker.com. According to a press release at CasinoCityTimes.com, the site will be hosted on the ZEN Entertainment Network and will offer $100,000 in prize pools each month. Gold was a guest on the PokerNews Podcast when he signed with PPN in April, and told us that, "Poker can save the world" – maybe this is the first step toward fulfilling his philanthropic dreams.
Despite being one of the more polarizing figures in poker, Gold really believes that poker is a viable engine through which the world can be changed for the better. He doesn't care if you think he luck-boxed the 2006 Main Event or that he scammed Crispin Leyser out of $6 million, he just wants to make an impact on the world with the heaps of money he's been blessed with. Perhaps this is the first step: giving back to the poker community for everything it has given him. He states in the press release that, "This is an amazing opportunity for me to create a fun, accessible and unique experience for the poker community." His site is entering the market during a turbulent time, so it will be interesting to see if it lasts longer than Gold did with PPN.
4. Hellmuth is our leader
Phil Hellmuth spoke with the Washington Post this past week concerning iGaming, and appropriately deemed it an inadequate litmus test. "I think there's so few people [in D.C.], 600,000, that you might not achieve critical mass for players on the site under those conditions," he told the Washington Post. Intrastate regulation is the tiniest of steps toward legalization, especially if it's in the District, and we are in desperate need of anything that helps us in the fight for national regulation. It's great to see that Hellmuth is out in front of the issue though – he will be a very important player in the fight for online poker.
With Full Tilt Poker in shambles, and its Team Pros basically excommunicated from the game, Hellmuth is who we must turn to. Despite being depicted as a brat, bully and a narcissist, he is the most recognizable and most trustworthy face in all of American poker. If we are to ever emerge from this dark period victorious, it will be because someone like Hellmuth worked with lawmakers or members of the super committee. We need a voice, and even though Hellmuth's can be cringeworthy, he can help change the landscape of American poker forever.
5. Eat your hearts out TwoPlusTwo
Ladies and gentlemen, Kristy Arnett!
Follow us on Twitter for up-to-the-minute news.