World Poker Tour on FSN: Bay 101 Shooting Star - Part II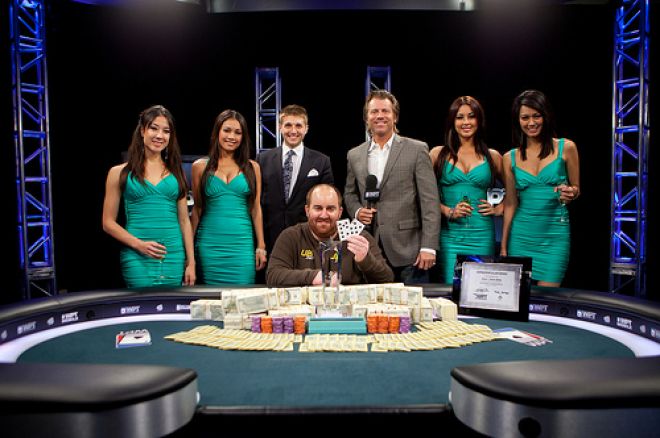 The World Poker Tour Season IX continued on Sunday when FSN aired Part II of the Bay 101 Shooting Star. The tournament, which was held March 14-18, 2011, drew 415 entrants and created a prize pool of $3,942,500. The Bay 101 is a popular stop on the WPT circuit because of its signature $5,000 bounties on each "Shooting Star," which is a title applied to numerous poker pros.
Part I of the Bay 101 Shooting Star aired last week on FSN and saw host Mike Sexton in action at his first WPT final table. The support Sexton received from both fans and the WPT family was incredible, but, unfortunately, an unlucky river card sent him home is sixth place ($148,000).
Sexton was followed out the door by local pro Casey McCarrel who got his short stack in holding
and was ahead of the
of Steven Kelly. Unfortunately, the
delivered a ten and gave Kelly the lead, which he held as both the
turn and
river blanked. McCarrel earned $221,800 for his fifth-place finish.
Here is how things stacked up at the top of this week's broadcast.
WPT Bay 101 Shooting Star Final Table
Seat 1: Mike Matusow (1,802,000)
Seat 2: -empty-
Seat 3: Alan Sternberg (3,722,000)
Seat 4: Vivek Rajkumar (2,374,000)
Seat 5: Steven Kelly (4,554,000)
Seat 6: -empty-
First Hand: The blinds were still at 15,000/30,000 with a 5,000 ante when Mike "The Mouth" Matusow raised to 70,000 under the gun holding
. Alan Sternberg called from the button with
and it was heads up to the
flop. Matusow was first and quickly continuation-bet 85,000, which Sternberg also called.
Matusow proceeded to check the
turn, Sternberg bet 125,000, and "The Mouth" woke up with a check-raise to 325,000. Sternberg thought for a few moments before splashing in the call. When the
harmlessly appeared on the river, Matusow continued his bluff with a 500,000 bet.
"I don't believe this," Sternberg said with suspicion. "You could be buffing with the better hand than I have." Sternberg talked it out before calling down his opponent, winning the 2,025,000 pot in the process.
"Was that the blowup?" Vivek Rajkumar mockingly asked. "I think that was it."
Big Stacks Collide: In the next hand, the blinds were up to 20,000/40,000 with a 5,000 ante and Steven Kelly raised to 100,000 with
. Alan Sternberg called from the small blind with
, which gave him an open-ended straight draw on the
flop. Nonetheless, he checked and let Kelly do the betting, which he did to the tune of 120,000. Sternberg made the call and hit his straight when the
hit the turn, which also paired Kelly.
Sternberg checked, Kelly bet 260,000, and Sternberg check-raised to 650,000. Surprisingly, Kelly opted to three-bet to 1,190,000, which was unfortunate considering he was drawing dead. Sternberg went ahead and moved all-in with the nuts, and Kelly quickly folded, allowing his opponent to run away with the chip lead.
Matusow Doubles: Mike Matusow moved all-in preflop for his last 750,000 and received a call from Steven Kelly. Matusow was ahead with
against the
and stayed there as the board ran out
. Matusow was proving himself to be one "Shooting Star" that was hard to shoot down.
Five Questions: In this week's episode, Kimberly Lansing sat down with the online superstar Daniel "jungleman12" Cates. They talked about Cates' transition to the live tournament scene, swings, and the evolution of his game. "I feel like I've been adjusting pretty well, but I haven't won one," Cates said when talking about live tournaments and his first WPT event.
Vivek Rajkumar Eliminated in Fourth Place: Vivek Rajkumar looked down at
and decided to make a stand for his last 720,000. Steven Kelly was next to act in the small blind and moved all-in after peeking down at
. Mike Matusow, who was in the big blind, picked up the same hand as Kelly, but chose to let his
go.
"That's great for me," Kelly said after seeing Rajkumar's inferior hand. Indeed, Kelly was a 70 percent favorite to win, a percentage that climbed to 81 percent when the flop fell
. The
turn changed nothing, and neither did the
river. Kelly took down the 1.6 million pot while Rajkumar was eliminated in fourth place for $295,800. Not too shabby after having made back-to-back WPT final tables (Los Angeles Poker Classic & Bay 101 Shooting Star).
Mike Matusow Eliminated in Third Place: Alan Sternberg raised to 180,000 from the button only to have Mike Matusow move all in for 1.2 million. Sternberg made the call, much to Matusow's dismay.
Sternberg:

Matusow:
Matusow's aggression got the better of him; he was just a 29 percent favorite to win the hand, which dropped to 9 percent after the flop came down
. "I need a diamond," Matusow said. Sure enough, the
hit the turn to give him a flush draw. Any diamond on the river would give him the win, but it was not meant to be as the
blanked. Matusow was eliminated in third place for $369,800 while Sternberg collected the last $5,000 "Shooting Star" bounty.
Heads-Up Play: Steven Kelly (6,310,000) began heads-up play with a slight chip lead over Alan Sternberg (6,150,000), but it was clearly anyone's game. The blinds were at 40,000/80,000 with a 10,000 ante when Sternberg raised to 200,000 with
on the first heads-up hand. Kelly couldn't know his
was way behind, because if he had, he probably wouldn't have three-bet to 560,000.
Sternberg ended up making the call and the watched an interesting flop of
fall. Kelly had flopped an open-ended straight draw and led out for 470,000. Sternberg, who had hit a pair of eights, called and watched the dealer burn and turn the
. Again Kelly bet, this time 1.1 million, and Sternberg came along for the ride. The
missed Kelly and he slowed down with a check. Sternberg checked behind and his eights were enough to take down the 4.26 million pot.
The Raw Deal: With Tony Dunst in the booth in place of Mike Sexton, someone was needed to fill in for his popular segment. This week WPT producers got 11-time World Series of Poker bracelet winner Phil Hellmuth to talk about Mike Matusow's big bluff at the top of the broadcast. Hellmuth sided with Matusow and felt the bluff was a good play, regardless of the result.
Sternberg Takes Down the Bay 101 Shooting Star: After making a big, successful bluff, Alan Sternberg had increased his chip lead to 10,060,000 to Steven Kelly's 2,400,000. In what would be the final hand, Kelly raised to 240,000 and Sternberg raised enough to almost put Kelly all in. Kelly put in the rest and the cards were turned up.
Sternberg:

Kelly:
Kelly was a 61 percent favorite to double in the hand, which increased to 78 percent after the
flop. The
turn left Sternberg drawing to one of the two remaining eights in the deck, which had just a 5 percent chance of actually happening. When the
spiked on the river, the crowd was in disbelief. Kelly had been two outed to finish runner-up while Sternberg became the WPT Bay 101 Shooting Star Champion!
"That's got to be the biggest suck-out of his life," Tony Dunst said as the episode came to a close.
Tune in Next Week: Next Sunday FSN will air another all-new Season IX WPT episode, so be sure to check your local listing. If you happen to miss it, don't forget you can read the recap right here on PokerNews.
Past WPT Bay 101 Shooting Star Winners
| Season | Player | Earnings |
| --- | --- | --- |
| 2 | Phil Gordon | $360,000 |
| 3 | Danny Nguyen | $1,025,000 |
| 4 | Nam Le | $1,198,300 |
| 5 | Ted Forrest | $1,100,000 |
| 6 | Brandon Cantu | $1,000,000 |
| 7 | Steve Brecher | $1,025,500 |
| 8 | McLean Karr | $878,500 |
| 9 | Alan Sternberg | $1,039,000 |
If you love poker, be sure to follow
us on Twitter and like us on Facebook for up-to-the-minute poker news.
*Photo courtesy of WorldPokerTour.com
Executive Editor US, PokerNews Podcast co-host & 2013 WSOP Bracelet Winner.