PokerNews Interview: Catching Up with the World Poker Tour's Tony Dunst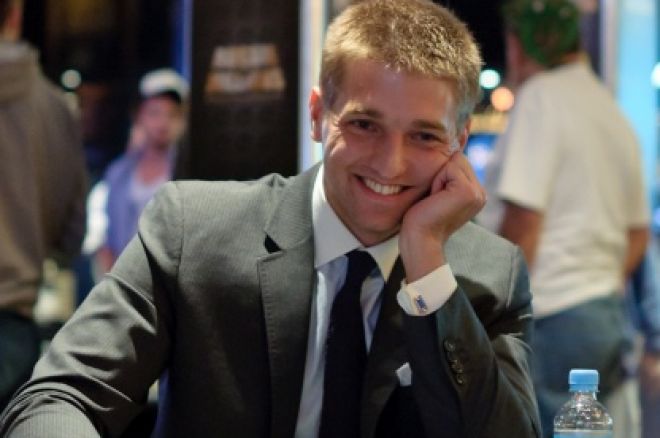 You may recognize Tony Dunst from his deep run in this last year's World Series of Poker Main Event, where he finished in 50th place for $168,556, and as the host of the World Poker Tour's popular segment, The Raw Deal. Known for his quick wit, charm, and sense of style (he is rarely spotted not wearing a suit and tie), Dunst has amassed $707,522 in career earnings. PokerNews recently had the opportunity to sit down and talk with him about his WPT gig, Mike Sexton's recent final-table appearance, and a few odds and ends.
Last Sunday you tweeted that someone had hacked your Full Tilt account. What can you tell us about that and did it cause you any serious trouble?
Well, the account had had its password changed before I woke up. Luckily, we directed the attention of Full Tilt Poker security to it pretty quickly. Lucky Chewy [Andrew Lichtenberger] has a line to the higher-ups, and I emailed security from a number of different angles so [the hackers] weren't able to get any money. I've got some people over here looking at it right now, and they've determined it was most likely a result of my Gmail being hacked. We regained control of my account, so I didn't lose any money and nothing too bad happened, but I'm concerned enough that I'm going to be way more careful in the future.
Back in October you were selected as the host for the World Poker Tour's segment, The Raw Deal. How has that being going so far?
I've had a great time with it thus far. Hopefully, people are happy with the segments themselves. Feedback, for the most part, has been positive. The WPT themselves seem quite happy with the product. From what I've heard on the Internet, it has generally been positive, and I really enjoy having a creative outlet on top of just playing poker.
Mike Sexton recently made his first WPT final table. What was the atmosphere like with the WPT family?
Everyone was really, really excited for him and when he got knocked out in sixth, I don't think I've ever imagined that Vince Van Patten could be that devastated by someone else getting knocked out of a poker tournament. He was just so traumatized. Kim [Lansing] was just thrilled for him. Everybody just wanted to see him make a deep run, especially since he's been hosting for so long and if he were to take down one of the events it'd be a great, great story for them, but they were still very happy with the result.
What was it like filling in for Sexton in the broadcast booth?
It was a lot of fun, but it was a very, very long day because I flew back from Vegas at the start of that day, like six in the morning or something, but I still had a ton of fun doing it. It was interesting to kind of take my spin on what live commentary could and should sound like. You don't actually get to see the hole cards while you're commentating on the table, so you kind of have to make guesses about what people are doing and why, while trying to fill that in with hours upon hours of banter between yourself and Vince. You know, a lot of it will get edited down, but still it was one of the more honest days of work I've put in in awhile.
Did you do the entire final table, or did Sexton come back into the booth once he busted?
I did the entire final table.
As the host of the WPT's Raw Deal, you're known for pure bluntness and telling it how it is. We're going to ask your opinion on some recent happenings in the poker world and you just give us your raw reaction. How do you feel about Erik Seidel's start to 2011?
Erik is straight up amazing. A great poker player, class act, and it basically couldn't happen to a nicer guy. I'm sure he is running pretty good too to have all this happen, but there is no doubt that Erik Seidel is a total badass.
Full Tilt Poker recently announced a series of high buy-in tournaments known as the Onyx Cup. Do you think this is a good thing for poker at this point in time?
The $100,000 buy-ins that have gone on recently have certainly been popular, but obviously this has got an appeal for a very limited market, considering the buy-ins. Whether it makes for good TV or not is hard to say, so the jury is kind of out on that one. I certainly wasn't excited when I heard the idea, and obviously I'm not going to participate at all. I just thought, OK, they're going to make this series out of the fact that there is about 20-30 guys you can get together and play super-high buy-in stuff.
Over the past few years, you've maintained a detailed blog of your poker travels, personal life, and experiences. One of the most memorable was a story you reiterated about David "Devilfish" Ulliott, one that subsequently was taken down because it apparently pissed the Fish off something terrible. Do you find that some of the things you write and say stir the pot so to speak?
Sometimes. That was the only time anybody who had read it had ever really brought it to me in a way that was unpleasant, but I don't feel like I am a guy who incites much controversy. I'm sure people have varied opinions on how I'm viewed, but I don't think I say enough things about other people in my blog these days that could really stir things up. I also feel that, for a long time, up until this WPT job I essentially was irrelevant in the industry, and still not really relevant to this day, but particularly before I don't think people really cared what I was saying about them.
What's with the diet we've been reading about on your blog recently?
I generally do this after the World Series every year where I diet really strictly and try to get down to a very lean body mass. I work out a lot, play a lot of poker, and try to make sure that coming into the next World Series I'm in my peak physical and mental shape, feeling really good about my poker game at that time. The idea of putting the diet on myself prevents me from going out, and accepting a lot of forced limitations helps me stay on task.
Last year we saw you win the Doyle Brunson Beer Pong Championship prior to the World Series of Poker. How much fun was that and can we expect a title defense this year?
So much fun, words can't describe. I'm bordering on guaranteeing it. I'm debating whether I want to guarantee. Yes, I'm going to guarantee it. I guarantee a title defense.
Finally, what are your plans for the rest of 2011?
I have none through the World Series. Basically work really hard up until that point and then see where life takes me after the summer.
Want to take your PokerNews experience to the next level? Be sure to follow us on Twitter and like us on Facebook today.
Executive Editor US, PokerNews Podcast co-host & 2013 WSOP Bracelet Winner.