Stay Stacked: On the Grind with "On the Mac"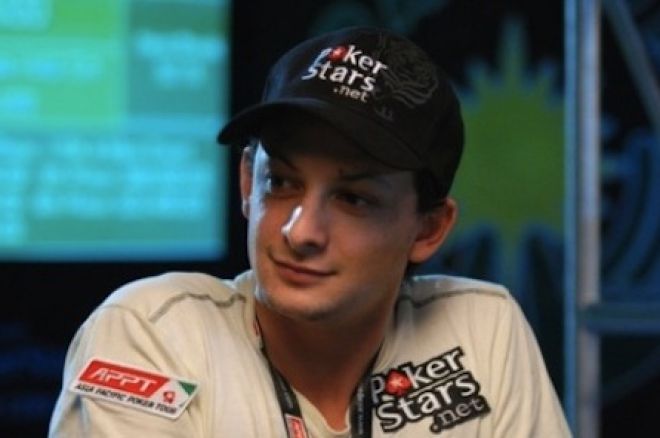 While in Queenstown, New Zealand, for the PokerStars.net Asia Pacific Poker Tour Snowfest, I spoke with Australian poker pro Jesse "On the Mac" McKenzie, who is currently second in the ANZPT Player of the Year race and also recently took down the PokerStars Sunday Million for a very nice US$179,679. I discovered that not only is McKenzie a successful poker player, but he's also a former member of the New South Wales Institute of Sport and used to compete nationally in lawn bowls. Through his experience there, he was given all sorts of training on how to maintain a healthy diet and lifestyle, not only at home, but also while on the road, and he has carried those lessons into his poker-playing lifestyle.
To follow up our chat, I caught up with him on Skype when he was in between hands while playing online, to seek out some more tips. Jesse was, at the time, still in a Queenstown hotel room. Before he started his grind, he went out for lunch with friends who had opted for pints of beer, but instead, Jesse ordered juice. He said the guys started to call him soft, but then "I got over it, counted my money and booked my massage!" Words of a confident man who takes his sessions seriously, and it pays.
What would you usually be doing in your five-minute breaks if you weren't talking to me?
I do sit-ups and prone braces, which came from my introductory gym routine at the NSW Institute of Sport. You can do these braces front and sideways. Then I incorporate push-ups into the routine, some sit-ups, stretching and some breathing exercises.
How do you adjust when you're staying in hotels compared to playing at home?
I used to try to stay in serviced apartments with kitchens, but now that PokerStars awards packages at hotels, I try to order healthy room-service options. I buy healthy snacks like bananas and plenty of water. I try not to use energy drinks, but, for a 14-hour session, like when I was deep in the PokerStars Sunday Millions, I did pull out a can of Red Bull — that's for emergency use only. I was tanking a bit and had tried juices and breathing to keep my energy levels up, but it was a bit of an emergency.
Tell me more about that session and how you stayed focused.
I locked myself in a room to concentrate, made sure I kept moving muscles, squats and lunges. I try to stretch out my hip flexors, since it is a weakness of mine from lawn bowls. We used to work on flexibility, core strength and aerobic fitness. It is a similar thing to poker—consistency over time and long days. I have worked on being able to switch my concentration on and off and I think eating well, exercising, and having a good routine and sleep pattern is key to consistency. I find to be consistent, you need balance in life.
When you are away from home and you're stocking up your mini-fridge, what are the core things you buy?
Bananas, berries, nuts, almonds, cashews, water, and protein bars. I love ordering milkshakes from room service, too, real fruit smoothies if I can.
How about meals?
If I have a kitchen, I try to cook up some chicken and rice, or noodles. Pasta is also great. My mum is Filipina, so I grew up eating everything with rice. She would always have a bowl of rice in the fridge, and I would mix it with any leftovers, it really is a healthy choice. I moved more to brown recently which took a while to acquire the taste for. Also steamed vegetables — if you can combine rice, chicken and vegetables, you really can't go wrong. I like fish, too, but it's usually harder to get, but salmon is great. I snack on sushi a fair bit. It is really hard while traveling.
Funny that I just cracked open a can of smoked salmon and mixed it in with some rice and veggies — a fitting lunch for this conversation, I think!
Yes! Brain food!
How about after a long day on the grind, how to you de-stress?
Sometimes at night when my mind is racing after sessions, I listen to a deep sleep meditation clip from YouTube. I usually count to 10 and focus entirely on my breathing, focus on my body and sense where there is tightness or tension. When I play live, I do something similar, I try to take 10 seconds before each decision and breath it out when I have tough decisions. Then, before bed, if I feel extra tired stressed or something is on my mind, I use a technique called PMR, or Progressive Muscular Relaxation.
(PMR involves the tensing and relaxing of muscle groups over the legs, abdomen, chest, arms and face. With the eyes closed and in a sequential pattern, a tension in a given muscle group is purposefully done for approximately 10 seconds and then released for 20 seconds before continuing with the next muscle group. Source: Wikipedia)
Follow us on Twitter for up-to-the-minute news and ways to stay healthy while on the grind.