The Nightly Turbo: Was Full Tilt Sold, Nevada Internet Poker Regulations, and More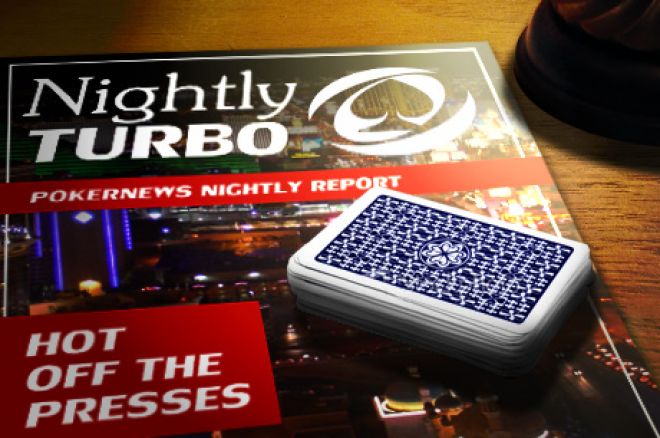 It wouldn't be a typical day around here if there wasn't a story on Full Tilt Poker to report — even if it is just a rumor. We've got the latest buzz surrounding the company, and we'll tell you what the Nevada Gaming Control Board has to say about Internet poker in the state, and more.
In Case You Missed It
On Monday, a champion was crowned at the PokerStars Australia New Zealand Poker Tour Melbourne. Lee Nelson emerged victorious, confirming his nickname — "Final Table."
After 23 days and 62 events, the 2011 PokerStars World Championship of Online Poker is officially over. If you missed any of the live coverage of the Main Event, or want the short and sweet version, check out our WCOOP recap.
Last week, the poker world was inundated with Full Tilt Poker news. In our latest Five Thoughts piece, we take a look everything related to Full Tilt Poker from last week.
Since the inception of the World Series of Poker November Nine, the success of the players during their "off months" is tracked closely. Does winning a major title in the off months correlate to a better run in November?
The days until the 2011 November Nine are dwindling and we're always curious to find out how the members of the prestigious Final Table are spending their time. We recently talked to Martin Staszko to find out how he's preparing for poker's biggest stage.
The Rumor Mill Churns
Tuesday morning while perusing the Internet for the top poker news stories of the day, we stumbled upon a piece on HighStakesDB that made us stop — "Full Tilt Poker Has Been Sold?"
According to HighStakesDB, TwoPlusTwo Pokercast host Adam Schwartz tweeted earlier on Tuesday that the sale of Full Tilt Poker was allegedly complete.
Heard a rumor the the FTP sale to the French investors was done. <crosses fingers and obigitory ONETIMEDEALER> #justarumordontforget

— Adam Schwartz (@PokercastAdam)
Shortly thereafter, Schwartz posted in the FTP Discussion Thread on TwoPlusTwo.
"I was told by what I feel <and most of you would too btw> is a very reputable source. This person doesn't want me to say their name. Obviously I wouldn't have said it if someone sitting next to me in the $1/2 game told me. If some of you are unhappy that i tweeted it, what can I say, I felt it was worthy of some confidence."
Schwartz is backing this story though, saying he heard from a trusted source, and replying to a tweet asking if he thought it was true, by saying, "I would be very surprised if it wasn't. Someone very close to the negotiations would have had to lie to him."
Is it true? We don't know. We reached out to Full Tilt Poker and have heard nothing back (not that we were really holding our breath). As always, if we hear anything, you all will be the first to know.
HighStakesDB.com has more.
Added to the Schedule
PokerStars has added a deepstack event to the European Poker Tour Prague schedule. According to the PokerStars Blog, the €300 + €30 buy-in, €30,000 guarantee event that was added to the schedule will double as the Eureka Poker Tour Grand Final.
If you thought that Season 1 of the Eureka Poker Tour was looking to add another stop, Romania, you would have been correct, but tax issues stopped those plans.
Last season's EPT Prague attracted 563 entrants, and in the end, Roberto Romanello emerged victorious and pocketed €640,000.
Read more on at PokerStarsBlog.com.
Gaming Control Board at Ease
On Monday, the Gaming Control Board in Nevada listened to public input regarding proposed gambling regulations — which also includes Internet poker. According to the Las Vegas Review-Journal, discussions were "peaceful." Maybe it was the feng shui in the room, or Internet poker isn't that touchy of a subject.
"I think we have a solid foundation for regulations," said control board chairman Mark Lipparelli.
Anthony Cabot, a gaming attorney, suggested "the regulations carry some type of language that they could not be used for intrastate wagering until a federal ban on Internet gambling is lifted or there is a clarification from the U.S. Department of Justice."
Cabot also asked that "gaming customer would have the 'seamless ability' to transfer gaming funds between a casino account and an interactive gaming account, if they were operated by the same company."
Read more at LVRJ.com.
For the Sports Fans
On Tuesday, DraftDay.com was launched. DraftDay, a daily fantasy sports website, is the brainchild of poker pros Taylor Caby and Andrew Wiggins.
"Taylor and I started tossing around the idea of a fantasy sports website years ago, but the timing was never right," said Wiggins. "After I won my MLB league last season, I took it as a sign that we needed to push the idea toward reality. DraftDay is a unique fantasy sports experience that you won't find anywhere else. There's no season long commitment and there's always a draft available."
DraftDay allows sports fans to test their fantasy sports skills and offers daily games for fantasy football, baseball, basketball, and hockey. Buy-ins range from freerolls to $500.
"There is a social aspect to fantasy sports that you also find in poker. It's competitive, stats driven and an adrenaline rush. It's also a great way to make a hobby into something really profitable," said Wiggins.
"There's nothing better than sweating out a ballgame knowing one or two key plays can earn you money and bragging rights," Caby said.
Read the press release for more.
PSA: Watch the WSOP
ESPN's coverage of the 2011 World Series of Poker Main Event continues this week with Day-6 action. It all kicks off at 10 p.m. EDT with the final 142 players in the race for the final table. There's also a feature on doppelgangers this week where pros like Jean-Robert Bellande, Daniel Negreanu, and Jason Mercier will tell you who they've been told they look like.
Follow PokerNews on Twitter for up-to-the-minute news.