The Nightly Turbo: ESPN Inside Deal from the World Series of Poker, PokerStars Update, and More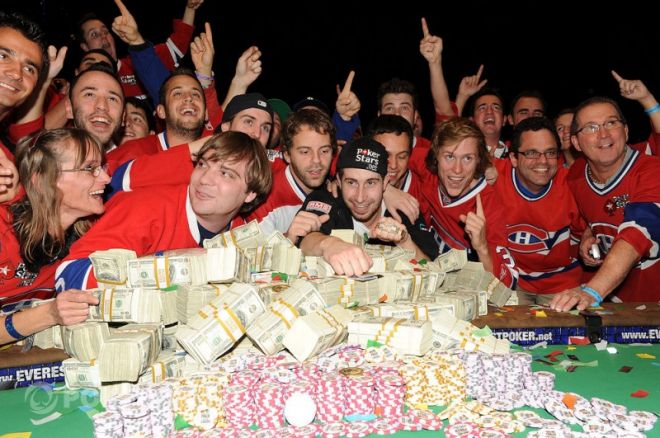 The big story of the day is who won the 2010 World Series of Poker, but there are plenty of other things going on too. The ESPN Inside Deal team was at the Rio for all the 2010 WSOP action, and we've got the newest episode of the Inside Deal for you to check out. Also, we'll tell you all about the new updates to the PokerStars software, and much more, in tonight's Nightly Turbo.
In Case You Missed It
Wondering what's going on in the gaming industry outside of poker? Inside Gaming has you covered.
The online action didn't stop over the weekend because the 2010 World Series of Poker Main Event Final Table was going on. This was the first week in a while that Gus Hansen was quiet on the high-stakes scene. Read the Online Railbird report to see who stole the spotlight from Hansen.
We know there are plenty of math and statistics lovers out there, so we crunched some numbers about the 2010 WSOP Main Event Final Table. Numbers, Facts, and Stats will give you an idea of how the Final Table played out from nine players to two.
After months of waiting, the 2010 WSOP Main Event champion has been crowned. If you didn't follow the action Monday night, you'll need to check out this recap to find out how it all went down.
Inside Deal from the Penn & Teller Theater
Laura Lane, Bernard Lee, and Andrew Feldman stuck around the Penn & Teller Theater Monday night to bring you the latest episode of ESPN's Inside Deal, recapping the heads-up part of the 2010 World Series of Poker Main Event Final Table.
They discussed what Jonathan Duhamel's win means for Canada and talked to John Racener about his finish. And take a look at what's next for the 2010 November Niners.
Speaking of the 2010 WSOP Main Event Final Table, don't forget to watch the conclusion of it all tonight at 10:00 p.m. EST on ESPN!
Lemme Upgrade You
PokerStars has released numerous new updates for its software so be on the lookout for the "Update new software" box when you load your favorite online poker site.
A "Find Seat" button is being introduced. What does it do? Well, when you select a full ring game table, clicking the "Find Seat" button will allow you to take a seat at another table of the exact same type as the one you're already seated at. This button will be rolled out slowly, so if you don't get it with the update, be patient, it's coming your way soon.
Bet slider options and bet sizing buttons are getting a bit of a makeover and there will now be visual representation of "Time to Act," meaning that when you get your first "time warning," a running-down bar will be displayed next to the Time Bank. The Time Bank button will also be different, depending on whether the Time Bank will activate or not.
There's plenty more where those updates came from, but for the sake of being long-winded, we cut it short. You can find information on all of the new software improvements on the PokerStars Blog.
Pot-Limit Omaha on Poker After Dark?
Is Poker After Dark adding pot-limit Omaha to the line up? According to Brian Hastings, it is. In his blog, he reveals that he will be part of "cash game week" on the next season of PAD. He said that he'd be playing against Tom Dwan, Phil Galfond, and Phil Ivey, as well as two players out of Patrik Antonius, Sam Farha, and Brandon Adams, though he's not sure who.
He did, however, say that the game they would be playing would be $300/$600 PLO with a minimum buy-in of $100,000 - a first for Poker After Dark.
PokerKingBlog.com has the story.
Cooperation Pays Off for Schütt
Last March, we told you about Michael Olaf Schütt, the 29-year-old from Florida who was investigated for money laundering of payments he processed for online poker accounts. He faced 30 years in federal prison but after cooperating with the feds was sentenced to 80 days, time already served.
Schütt is expected to be returning to his native Germany soon. If he stays in the U.S., he will have to serve three years of supervised release and won't be able to use credit cards, open credit accounts, or make major purchases without his probation officer's approval.
NaplesNews.com has more.
2010 WSOP Main Event Champion: Jonathan Duhamel
Kristy Arnett caught up with the 2010 World Series of Poker Main Event champion Jonathan Duhamel just after his win Monday night.
Follow us on Twitter and "like" us on Facebook for up-to-the-minute news.