Preparing for the 2011 World Series of Poker November Nine: Anton Makiievskyi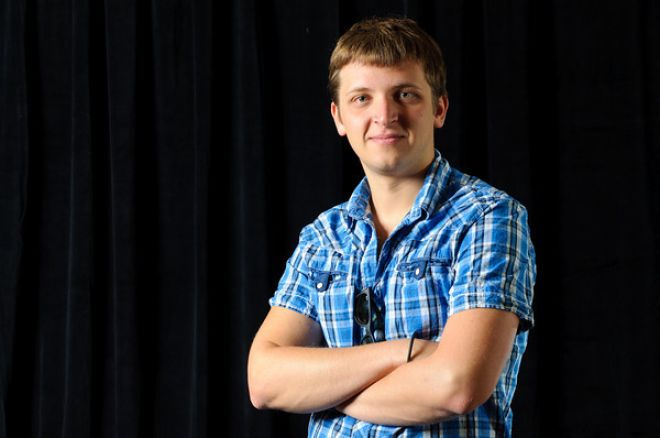 If you've been watching the 2011 World Series of Poker Main Event episodes on ESPN, you've no doubt gotten to know 21-year-old Anton Makiievskyi of Dnipropetrousk, Ukraine. This aspiring pro made waves on Days 7 and 8, ultimately making this year's November Nine as the second shortest stack with 13,825,000.
This summer marked Makiievskyi's first trip to the World Series of Poker in Las Vegas where he became the first Ukrainian player to ever make the Main Event final table. That is not to say Ukrainians haven't found success at the WSOP. In fact, four Ukrainians won bracelets this summer, with Makiievskyi hoping to claim the fifth.
Since making the November Nine, Makiievskyi has been keeping busy traveling and playing a few tournaments. However, aside from a 19th-place finish in the 2011 WSOP Europe Event #4: €3,200 buy-in No-Limit Hold'em Shootout for €6,913, Makiievskyi has been more focused on getting some rest and relaxation in preparation for the biggest final table of his life.
PokerNews recently sat down with Makiievskyi to find out just what he's been up to since July, including his preparations and plan for succeeding in this year's November Nine.
On your way to the final table, was there a big hand that sticks out in your mind as a turning point in the tournament?
Actually, there are two hands. One, the hand with king-jack that was shown on television. For me, a more impressive hand was when I caught the queen on the river. I got all-in preflop with queens against
. That hand is on the TV coverage on ESPN. There was an ace on the flop and I got my one outer on the river. It was a really, really good feeling. I can't even described how I felt when I caught that. I was actually all-in, so I would have bust out if I lost that hand.
Speaking of the ESPN coverage, you've been on quite a bit recently. Are you happy with the way you're being portrayed and how the show has been edited?
Yeah, it's really nice. I like what the commentators say about me. I like the hands they're showing. I'm wondering what will be on the Day 8 coverage, but up to Day 7, they're OK.
What have you been up to since you've made the final table? Have you been traveling? Have you played any other tournaments?
I've traveled a little. I've played EPT, WPT, Partouche Poker Tour, WSOP Europe. Got only one cash, but the main goal was to travel, not to play. I don't want to play a lot now. I've traveled a little, and I'm really happy that I did it.
When you made the final table, what was the reaction from your family and friends back in Ukraine?
Pretty impressive. It was really nice to hear all the congratulations and stuff. It was good, I cannot describe it.
Who will you be bringing to Las Vegas in November to support you and cheer you on?
There will be my friends who've got shares of me, and my family, my sister and my mother. I think it will be like seven to 10 friends and my sister and mother. There are some guys that I don't know really well, but they say that they will come to try and support me. That's all.
How much of your action do you have?
[Laughs] I've got a quarter.
You've already got ninth-place money locked up, have you made any big purchases with that so far?
I think that it's not a good decision to make big purchases now because come November my bankroll could change so much that I'm not sure what purchases I'm able to do, you know. Now I can afford like a cheap car, but if I can get in second place or first place, I can buy a really expensive car. I think it will be better to decide after November.
Tell me your thoughts on the final table. Aside from yourself, who do you think has the best chance of taking down the title?
I'm not sure. Eoghan O'Dea, Phil Collins, Pius Heinz, and Ben Lamb. I think the best chance would be Pius and Ben. They're most likely to win.
What are you doing to prepare for the final table?
I've been studying a little, watching videos of them. I have done nothing to prepare technically, but I just watch and try to take some notes. It's hard to make some big notes. I think I will get much more information on them while we're at the final table because of the hands being revealed online [via the live streaming].
When will you be in Vegas for the final table? Are you going out a little early?
I'm going to be there on Nov. 2.
What's more important to you, the money or the bracelet?
They're different things, but now I think money is more important. I would definitely take third place [money] if someone would propose me that now.
If you make it to heads-up play, who would you want to face off against?
I would like to see Badih Bounahra against me in heads-up, but I think it will be really epic if I get there against Ben Lamb. It'd be much more interesting.
Would you say Badih would be the easiest to defeat while Lamb would be the toughest?
Yeah, probably.
After making the final table, did you go out and celebrate? How long did it take to set in?
Yeah, we got to celebrate a little — drinking and out to a strip club. I was really tired, I wanted to sleep for three days. I was traveling a little to Lake Mead, and going to some shows in Las Vegas, because I just wanted to see Vegas a little. I'd been in Vegas for two weeks and I'd only been in the Rio. I got no chance to see the city. So just seeing the city with my friends.
To learn more on Makiievskyi, check out the following video, which was taken the day after he made the November Nine:
Stay up to date on all the latest news by following us on Twitter and liking us on Facebook.