Play in the Exclusive CasinoGrinder Slot Tournament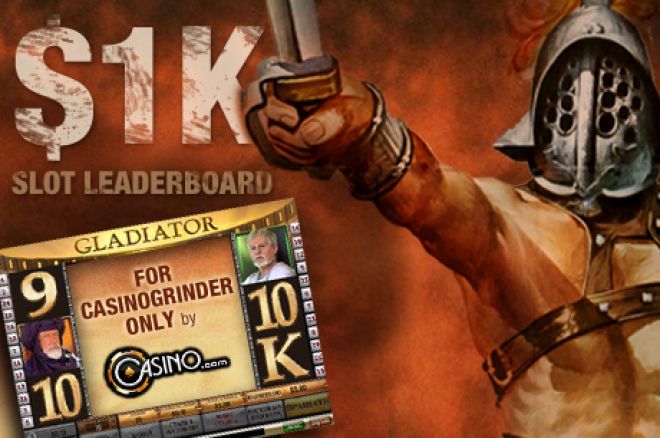 Play in the exclusive CasinoGrinder slot leaderboard on Casino.com for your chance to win a share of a free $1,000 prize pool.
There is nothing quite like the excitement of a slot promotion and CasinoGrinder, together with Casino.com, is offering a fantastic slot promotion that begins on Oct. 14 and will feature a free $1,000 prize pool.
The Exclusive CasinoGrinder Casino.com Slot Tournament
The exclusive Casino.com slot leaderboard will be conducted as a points race where players will compete to see who can collect the most points by playing on any slot game between Oct. 14 at 1800 GMT and Oct. 16 at 2359 GMT.
Players collect points by playing on any of the Casino.com slot games and any points that are earned during the tournament period will go towards a place on the $1,000 freeroll leaderboard. Players will be ranked according to how many points they earned during the set period. Think of it as a race, with the winner of the race being the player who earns the most points!
The winner of the points race will go home with $300 instantly, which can be withdrawn and has no play requirements or strings attached!
Casino.com Slot Tournament Payout Structure

| Place | Prize |
| --- | --- |
| 1 | $300 |
| 2 | $200 |
| 3 | $120 |
| 4 | $100 |
| 5 | $80 |
| 6 | $60 |
| 7 | $50 |
| 8 | $40 |
| 9 | $30 |
| 10 | $20 |
The slot tournament is open to any CasinoGrinder players who have made a deposit at Casino.com, regardless of when the deposit was made. All you need to do to claim your share of the prize pool is hit the slot machines during the tournament period and start earning points!

What: Exclusive CasinoGrinder slot tournament points race!
Where: Casino.com
When: Starting: Oct 14 at 1800 GMT; Ending: October 16 at 2359 GMT
Entry: Freeroll
Prize pool: $1,000
If the fast-paced action of this slot promotion sounds good to you, don't forget that thanks to CasinoGrinder, new customers will be eligible for a £2,000 Welcome Bonus Package on Casino.com.
Also remember that not only are CasinoGrinder players eligible for a slew of bonus offers like the fantastic offer above, but there are also lots of promotions that are exclusive to CasinoGrinder, such as the upcoming no-deposit slot tournament at Spin Palace, taking place on Oct. 28 and featuring a free $1,000 prize pool!