Inside Gaming Crystal Ball Edition: Miami the New Macau? Future of Hooters? MGM Online?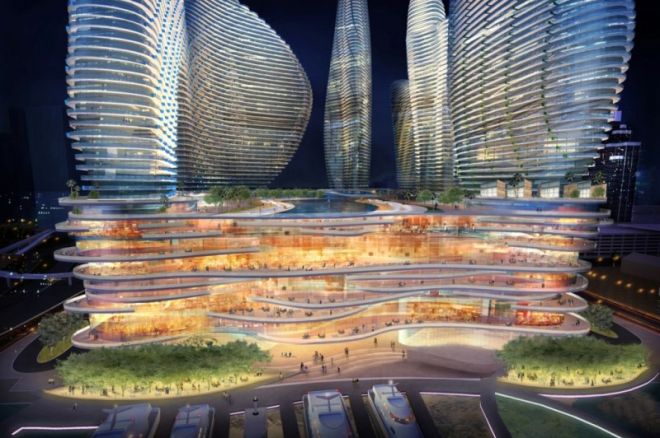 The past week in the gaming industry was all about the future. The Global Gaming Expo in Las Vegas had all sectors of the industry talking about their newest innovations and in which directions they were heading. In the future, it looks like Miami could become a major casino hotspot. Las Vegas Sands is considering a new development in Miami to compete with Genting's $3 billion project. Hooters is still fighting for its future after winning a legal battle against its primary creditor. And MGM shared its future plans to join the Asian and Internet gaming markets in the Global Gaming Expo's keynote address. No need to consult a fortune teller. It's all right here.
Sands Considering Massive Miami Casino, Wants Exclusive Gaming License
The Las Vegas Sands is usually at the forefront when it comes to developing new gaming hotspots. And if the new hotspot is in the United States, the Sands isn't about to let a foreign company get the jump on them. Genting Group, which owns mega-casinos throughout Asia, is planning a $3 billion casino and resort in Miami, Florida. The Sands is now looking to take Genting's place in developing a multibillion-dollar complex there. The Sands is in discussions to work with World Center Group, which owns eight blocks of prime real estate, but says it will only go through with the deal if the Sands gets an exclusive gaming license for Miami-Dade.
Genting, which bought the former Miami Herald building and parking lots several blocks north of the World Center Group's lot, announced its plans for a Miami gaming complex in the middle of September. It didn't take long for the Sands to spring into action to destroy Genting's plan. If the Florida State Legislature grants the Sands an exclusive gaming license, Genting will own some nice land in Biscayne Bay, and that's about it. The company has said it will proceed with the hotel and residential high-rise parts of the project even without a gaming license but will develop them on a much slower timetable.
Of course, the battle for a gaming license assumes that Florida follows through on proposed plans to legalize Vegas-style casinos in the state. Sands Chairman and CEO Sheldon Adelson began pushing for Florida gaming approval last year. He commissioned a study to demonstrate the tax benefits for the state and supported a failed bill to design a license bidding process. The plan under discussion now would make way for casinos in five Florida regions, including Miami-Dade. Residents of each region may also get a chance to vote on a gaming referendum.
The Sands has told legislators that the South Florida market could not support two gaming resorts, which could mean an ugly bidding war for a license. (Insert TwoPlusTwo popcorn reference here.) Genting already has significant investment in a Miami project, and Caesars Entertainment Inc. is rumored to be in negotiations with Gulfstream Park. Little meaningful maneuvering can begin before an actual gaming bill hits the legislature, but the battle lines have been drawn and the lobbyists have their marching orders.
The Miami Herald has more.
Hooters Wins Round 1 of Foreclosure Battle
Hooters Las Vegas came out on top in last week's legal battle with its primary creditor, Canpartners Realty Holding Company IV LLC. Canpartners, which holds $178 million of Hooters' $181 million in debt, was trying to force Hooters to shut down and to accelerate foreclosure, but bankruptcy judge Bruce Markell ruled that Hooters could live to fight another day. Hooters filed for bankruptcy on Aug. 1 to prevent foreclosure by Canpartners.
Markell ruled that Hooters could hire financial adviser Innovation Capital LLC to help find debt/equity investors interested in the property. Innovation Capital's services will cost up to $35,000 a month with a $500,000 fee if it puts together a successful deal. Canpartners tried to stop Hooters from what it calls a waste of time and money, the same money that is Canpartners' cash collateral. Canpartners says no investors could be interested in Hooters Las Vegas because the 696-room hotel and casino is worth $80 million at most and needs $40 to $50 million in renovations, which means foreclosure is inevitable. But the bankruptcy judge declined to rush Hooters to that conclusion.
Innovation Capital's president and managing director, Matthew Sodl, testified that the firm had several inquiries from potential investors even before the judge's ruling allowed Hooters to engage them officially.
Markell also rejected Canpartners request that Hooters be forced to pay in full approximately 300 small creditors and vendors owed $1.2 to $1.4 million. Paying them would have narrowed the bankruptcy case to a dispute between Hooters and Canpartners, giving the primary creditor freedom to accelerate the foreclosure process.
Canpartners claimed in court that Hooters has plenty of cash available to pay its smaller creditors but is hoarding the money to prepare for a legal battle to prevent foreclosure. The casino lost $40,000 in August on $3.6 million in net revenue.
For more of the not-so-sexy arguing over Hooters, check out VegasInc.com.
MGM CEO Outlines Company's Future at G2E
MGM Resorts International's Chairman and CEO Jim Murren gave the keynote address at the Global Gaming Expo (G2E) in Las Vegas last week. Murren told the audience that MGM's future growth will be determined by the success of its expansion into Asia and its foray into Internet gaming. He said the company will announce a new social media-related division shortly, describing it as "MGM Resorts meets Zynga."
He made a strong case in support of online poker legalization, saying it would generate billions of dollars in revenue for MGM, new tax revenue for the government, and thousands of jobs. "We believe that the time for talking is over and that the time for action is right now," he said.
Murren also said that the gaming industry is in a better financial state than investors think. "Wall Street doesn't realize how better off companies are today." Although MGM is valued about the same as it was three years by the market, the company has made great strides. "It's very difficult to reconcile what I see in the papers and what I hear on TV and what I see in stock prices with what we see in our financial statements — where we see growth at almost every level, where we have exceeded our forecasts and those of [Wall] Street for the past two quarters."
Murren went on to discuss MGM's planned Asian expansion, including a non-gaming hotel in China, a hotel-casino in the works in Vietnam, and plans for a Cotai Strip property in Macau. As for Las Vegas, Murren said, "If Las Vegas were a person, it would quote Mark Twain: 'Reports of my death are greatly exaggerated.'"
The Casino City Times and VegasInc.com both have full coverage of Murren's speech.
Follow PokerNews on Twitter for up-to-the-minute news.
*Photo courtesy of LuxGetaway.com.