PokerNews Jet Set: Loutraki, Greece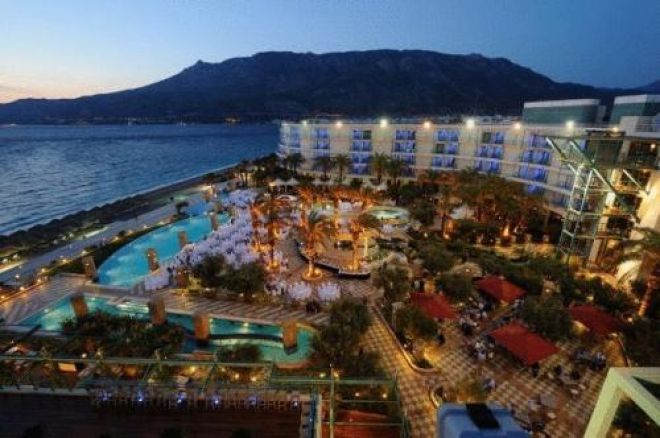 Greece is one of the world's countries that is blessed with beauty scattered among coastal towns on stunning islands in the Mediterranean. One of those coastal towns, known as Loutraki, will welcome hundreds of poker players next month for the next stop on the PokerStars.net European Poker Tour's eighth season. It's the first time the EPT has visited Greece, and what a destination it chose for its debut! Loutraki is one of the country's most popular spa-resort towns and is known for it's therapeutic waters. It is situated on the east coast of the Gulf of Corinth on the Peloponnese peninsula.
The Vitals

Language: Greek is the national language, but English is widely spoken in tourist areas.
Currency: 1 euro = USD $1.38 at time of publication. Please refer to xe.com for current rates.
International dialing code: +30
Weather: November holds a fresh average of 63°F (17°C)
The Journey
Athens Airport, one of the main hubs in Europe, hosts direct flights from almost all European capitals, as well as direct flights from other continents.
The airport is about 85 kilometers from Loutraki, so a taxi will cost approximately €150 for a one-way trip, which you can pre-book on sites like DIY-Taxis. To save on budget with a taxi, it's best to organize a shared ride. With so many poker players arriving at the same time, you may meet someone to share with.
Your budget option is to take the train. From Athens airport, take the Proastiakos suburban railway to Corinth (Korinthos). Trains go every hour, on the 45th minute, and cost €8 for a 75-minute journey. Once you arrive at Corinth, catch a €12 taxi to Loutraki.
Alternatively, if you're spending some time in Athens first, you can take the shuttle service provided by the EPT host venue, Club Hotel Casino Loutraki, from Athens' city center for €15 return including a couple of food and beverage perks when you arrive at the casino. Shuttle buses leave from the city center roughly every two hours, starting at 8:30 a.m. For more information on this shuttle service, call +30 210 5234188.
The EPT
The €4,400 EPT Main Event runs Nov. 15 through 20, at Club Hotel Casino Loutraki, one of the biggest casinos in Europe. Just like in the U.S., the minimum age to participate in this event is 21.
Club Hotel Casino Loutraki

48 Poseidonos Str

20300, Loutraki

+302 744 060 300

info@clubhotelloutraki.gr
When planning your accommodation for this (or any) PokerStars EPT tournament, PokerStars has set up a dedicated website to give players access to special hotel rates such as those listed in the graphic below. To book any of these hotels, visit EPT Hotels.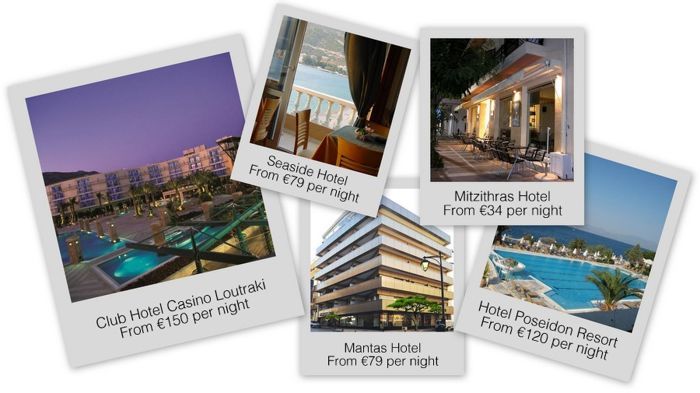 For players lucky enough to have won full prize packages on PokerStars, you will be notified of your hotel details by email so please don't make a hotel reservation. If you have any questions, please email ept@pokerstars.com.
The Zen
When you venture away from the poker tables, it's time to chill out. Being a spa-resort town, this is the place to come for a little Zen. In fact, the name Loutraki is derived from the Greek word loutro, which means bath, bath-house or spa, and was given to this town in direct reference to the thermal spas of the region that first became popular in the 1800s.
If you're staying at the Club Hotel Casino Loutraki, you can probably find that Zen each morning at breakfast, since you'll be right on the beach with what's said to be the best breakfast buffet in town. Of course, if you want a little more, then paying a visit to the Loutraki Thermal Springs is a must. Described as "a true oasis of luxury and rejuvenation," this is a gigantic center with three thermal-water indoor pools equipped with waterfalls and hydrotherapy jets, an outdoor pool, 20 treatment rooms, a fitness center and so much more.
The Food
Greeks specialize in appetizers, so some people suggest that when ordering from a menu of local cuisine you shouldn't even bother ordering from the main courses. Instead, just order a heap of starters for a tapas-style dinner. You can do exactly that at Rigani, which is conveniently located right by the casino.
You'll find some amazing seafood on a budget at Trip Advisor's No. 1 ranked restaurant in Loutraki: Gianni's, which you'll find right by the water.
The Visuals
Until Sarah Grant gives you a special PokerNews guided tour when the Live Reporting team arrives, you can take in some of the stunning views that Loutraki has to offer in the following video:
If you are thinking about heading to the PokerStars EPT, be sure to refer to the PokerStars website for the EPT Tournament Structure and EPT Tournament Rules before registering, and don't forget to follow @PokerNews_Live on Twitter for all the updates.
*Lead photo courtesy of Lodging-World.