Sounding Off: MIA from the WSOP Europe, "Cre8ive" Gold, and the NBCHUPC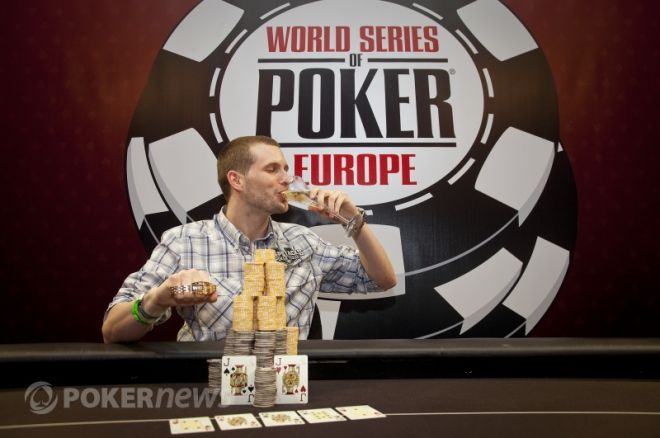 What a week in poker. The 2011 World Series of Poker Europe is in full swing, and plenty of great story lines are flowing out of Cannes about big winners, missing players, and some harsh words for American players from last year's WSOP Europe Main Event Champion, James Bord. Throw in the cancellation of one of my favorite poker shows, and I have plenty to sound off on, so let's not waste any time.
Goodbye, NBCHUPC: One of my favorite events each year has always been NBC's National Heads-Up Poker Championship. Unfortunately, the competition will not return for its eighth installment as Adam Freidfeld, NBC Sports Senior Director of Communications, announced on Thursday that the show had been cancelled.
Although I am extremely disappointed, I can't say I'm at all surprise. With all that has happened surrounding Black Friday, it was only a matter of time before NBCHUPC joined the likes of PokerStars' Big Game and Poker After Dark in the trash bin. All of these shows were either sponsored or associated with various online sites, and when those sites pulled out of the U.S. market, it wasn't a question of if, but rather when the TV shows would go under.
I thoroughly enjoyed the NBCHUPC, especially because it occurred at a time of the year when poker events were scarce. With the vast majority of poker's elite in attendance, I was always excited to see which superstars would be chosen to do battle at the annual Draw Party. What will I miss most about the NBCHUPC? That's easy. I'm going to miss creating a vested interest in the event by filling out a bracket, which had become akin to filling out a March Madness bracket.
With the NBCHUPC gone, the door is open for some other outlet to host a major heads-up championship. In my opinion, this is the perfect time for either the World Series of Poker, Epic Poker, or some other establishment to step up and create a heads-up spectacle.
MIA at the WSOPE: This year's WSOP Europe has proved to be quite the success in Cannes, France. The numbers are up and players really seem to be enjoying the events, especially the newly added No-Limit Hold'em Split Format. The only thing missing from the shindig are some big-name pros. Don't get me wrong, there are plenty of superstars in attendance like Jason Mercier, Daniel Negreanu, and Erik Seidel, but there are also quite a few who are missing.
Phil Ivey's absence, while disappointing, was expected, but he is not the only pro who didn't make the trip. Doyle Brunson, who had traveled to the European Poker Tour London and had originally planned to play the WSOP Europe, decided to forgo the stop and returned home. Likewise, former WSOP Europe Main Event Champ John Juanda opted to stay home to care for his newborn. Throw in absentees Eric Baldwin, Ali Eslami, Phil Laak, and William Reynolds (all of whom chose to play the Festa al Lago at the Bellagio), not to mention all the former Full Tilt pros laying low, and there just seems to be something missing this year.
I'd certainly like to see the aforementioned players competing for WSOP gold, but I suppose their absence opens the door for other players to make a name for themselves.
Speaking of which...
Tristan Wade Gets "Cre8ive" at the WSOP Europe: On Thursday night, the Twitterverse seemed to be trending for Tristan "Cre8ive" Wade who won a bracelet in the WSOP Europe Event #4: €3,200 No-Limit Hold'em Shootout. I wasn't there to witness it, but I've been told that Wade played a great game. According to our recap of the event, he "truly excelled and gave his opponents a lesson in controlled aggression — was relentless in position and a joy to watch."
Wade overcame a stacked final table that included Bertrand "ElkY" Grospellier, James Dempsey, Taylor Paur, Emil Patel, Steve O'Dwyer, and Richard Toth. When Wade entered heads-up play, he was at a 1,378,000 to 985,000 chip disadvantage againstMike "SirWatts" Watson. Nonetheless, that didn't stop him from capturing his first bracelet.
Even though I know the Deepstacks Live instructor from the circuit, I don't know him personally. From what I could piece together via Twitter, Wade is a very popular player, known for his kindness and professionalism. Here are some of the kind sentiments sent Wade's way:
@TristanCre8ive congrats! Always good to have one for the good guys

— Matthew Affleck (@mcmattopoker)
congrats to my good friend and fellow @LIVEdeepstacks teacher @TristanCre8ive for winning his first wsop bracelet! #weeeeeeeeeeee

— Mike Matusow (@themouthmatusow)
I'll join the laundry list of players and poker media to extend their congratulations to Wade. Job well done.
Bord Putting His Money Where His Mouth Is: Last year's WSOP Europe Main Event champ, James Bord, had some harsh words for American poker players this past week. "I don't think an American can win the bracelet; Europeans are now far superior," Bord said. "We used to look up to the U.S. players back in the day, but those days are now long gone. I'm prepared to put my money where my mouth is and refund any losing bets up $500 if an American wins."
Sure enough, if you make a bet on Matchbook.com and an American wins the Main Event, Bord will refund you up to $500. While this is an entertaining freeroll opportunity, I can't help but wonder whether this is some sort of concoction by Matchbook to bring attention to their outfit or Bord just being Bord.
I do know the Englishman has a history of being outspoken and belligerent, as evidenced by his outburst against John Junada at this year's WSOP, so it wouldn't surprise me if he was running his mouth on his own accord and Matchbook took advantage of the situation. Only time will tell whether an American will win, and if Bord actually pays up if one does, but with as much success as the American contingent has been having in Cannes, I wouldn't bet against them — well I guess I would, up to $500 on Matchbook, if this is indeed the real deal.
On a side note, shouldn't the Caesars Cup resolve the debate of who is better: the United States or Europe? Interestingly, Bord is not a part of the European team for that event.
Stay up to date on all the latest news by following us on Twitter and liking us on Facebook.