Preparing for the 2011 World Series of Poker November Nine: Ben Lamb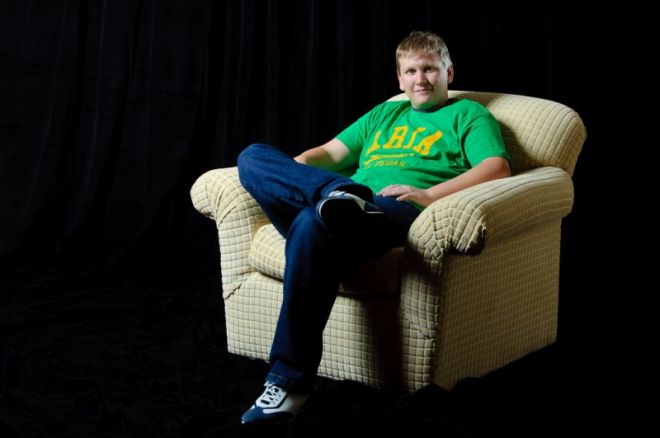 Before this year's World Series of Poker, Ben Lamb was probably one of the best players you'd never heard of. Playing since 2006, Lamb hit his stride this year as he found success unlike any other: earning his first bracelet, final-tabling the $50,000 Poker Player's Championship and working his way to the coveted November Nine. For his impressive performance, he earned the title of 2011 WSOP Player of the Year and could very well cap it off by being crowned the Main Event champion.
Lamb, known online as "Benba," has $2,157,249 in career WSOP tournament earnings, not including this year's Main Event. His first cash came in 2006, but Lamb didn't show up people's radar until finishing 156th in the 2007 WSOP Main Event, cashing for $58,570. Two years later, an even deeper run in the Main brought him in just shy of the 2009 November Nine in 14th place for a healthy $633,022. After notching three cashes in 2010, Lamb returned in 2011 and caught fire:
Ben Lamb's 2011 WSOP
| Event | Place | Prize |
| --- | --- | --- |
| Event #31 $3,000 PLO | 2nd | $259,918 |
| Event #42 $10,000 PLO Championship | 1st | $814,436 |
| Event #46 $10,000 NLHE Six-Handed Championship | 12th | $56,140 |
| Event #55 $50,000 Poker Player's Championship | 8th | $201,338 |
| Event #58 $10,000 NLHE Championship | ??? | ??? |
To make it to the 2011 November Nine, Lamb topped 985 players on Day 1b of the Main Event to finish as the chip leader and played a solid eight days before finishing in the top nine, concluding each day toward the top of the chip counts. He begins the final table on Nov. 6 in mid pack, fifth in chips with 20,875,000.
PokerNews had the chance to sit down with Lamb before the recommencement of the final table to find out what he's been up to since July, his thoughts on being Player of the Year, and what he's been doing to prepare for the biggest final table of his life.
Can you describe the moment you made the November Nine? We had the chance to see it on the ESPN broadcast, but what was it like from your perspective?
It was a lot more exciting than I ever thought it was going to be. When I was playing, I was in the moment. Once I hit 25 million, I felt pretty confident that unless something drastic happened, that I was gonna make it [to the November Nine]. In my mind, I had made the final table with like twelve left, and in my mind I was just trying to play the best I could and really try to chip up going into the final table.
When I made the final table, all my friends were there and they were all happy and started chanting. That was pretty exciting to have all my friends there, having them be a part of it.
How did this run differ from your 14th-place finish in 2009? Do you feel that gave you the necessary experience you needed to succeed?
I definitely felt a lot more experienced and a better poker player. I understood terms a lot more. In 2008, I had a bad World Series, from there I kind of took away that I need to refocus on tournaments a little bit, because I'd just been playing pot-limit Omaha cash. I didn't like the sour taste of not really doing well in any of the tournaments, so after that I really refocused on playing tournaments online and trying to improve my game. I also played live for two years after that.
After making the November Nine, did you and your friends do anything to celebrate?
I was so tired. Not only had I played that tournament for eight days, there were a bunch of other tournaments I did well in [throughout the summer]. So I was just really tired. We had a suite at the Aria, we went there and hung out, but I didn't really do much that night. A couple of days later I went to the Bahamas with my girlfriend and a few friends. We had a good time there.
Who will you be bringing to Las Vegas to support you?
There's definitely going to be like 80 to 100 people here to support me. It should be a whole lot of fun, especially if I can get top three. I think it'll be a lot of fun for everyone involved.
You've already locked up the Player of the Year. How do you feel about owning that title?
I'm excited and happy that I won, to see my picture up when you walk through the hallways, it'll be something I'll remember for many years to come. It's nice to have that, but much more important is winning this tournament.
Do you think you would have felt any extra pressure if you needed to catch Phil Hellmuth, Chris Moorman, or Shawn Buchanan headed into the November Nine?
I don't think it would have changed the way I play at all . . . I don't see me playing any differently with a million dollars [between pay jumps], you've got to think the million dollars means much more to me than Player of the Year. There's a value on the Player of the Year, but it's less than a million dollars to me, so I don't think that would have affected anything.
It's rare to see someone finish their starting day as the chip leader and then to make it to the November Nine, all the while finishing with a big chip stack. Can you talk about that a little bit?
I had a lot of good table draws, up until Day 7 when it got a little tougher. If you have a good table draw in this tournament, with a lot of weak players, you can really chip up. Fortunately for me, I always had a big stack. It seemed easy, but I'm sure in a lot of ways that I ran really amazing and my bluffs worked more than they should have maybe, or me dodging some coolers.
Like that hand with Badih Bounahra where he folded queens and Matt Giannetti had jacks on the final table bubble. It's amazing how well you run in that spot because when I three bet
, if I don't three bet there, Giannetti's out of the tournament. I think I only three bet
there like 10 percent of the time maybe. So, you know, how lucky is that, that the one time I three bet, it saves Giannetti from going broke. There's a lot of different ways to running good and running bad.
Did you know that Bounahra had laid down queens prior to the broadcast on ESPN?
I knew after we made the November Nine. Matt came over to me and discussed it. So that was pretty crazy.
Have you been doing anything to prepare for the final table, such as studying the videos?
Yeah, I've been watching videos every day.
If you make it to heads-up play, whom would you want to be up against?
If you take out who I think the weakest player is, which I'm not going to comment on, obviously I'd like to be against the weakest player, but as far as getting heads-up with someone I like, it'd have to be either Phil Collins or Matt [Giannetti]. Anton [Makiievskyi] is a pretty nice guy as well, any one of those three heads-up would be a lot of fun.
Do you have any big plans for the money that you'll win in the Main Event?
There's a car I want to buy. Hopefully, I'll get top three and then I'll probably buy it. Nothing too crazy other than the car.
Do you care to share what kind of car you're eyeing?
[Laughs] No, I don't want to jinx it. I'll just show up in it. Maybe I'll go buy it in the day off between nine-handed and three-handed.
Don't forget to follow us on Twitter and like us on Facebook.