Preparing for the 2011 World Series of Poker November Nine: Phil Collins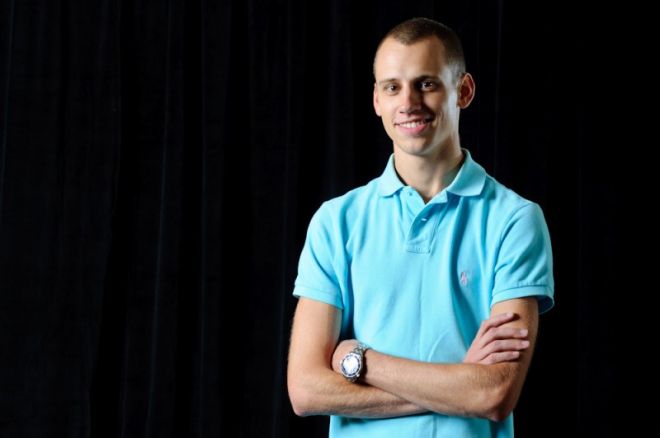 Every year, the World Series of Poker Main Event is full of amateurs, hopefuls and dreamers. It's also filled with poker's brightest stars, both young and old. Phil Collins has often been considered one of the best tournament players in the world and one of the game's brightest young stars. He now has a chance to earn his dream of becoming the ultimate champion and earn a lot of money in the process, all before age 27.
Originally from South Carolina, Collins now lives in Las Vegas. Before this year's big November Nine splash, Collins had $125,700 in live tournament earnings. His largest live score before this summer was a $29,196 prize for sixth place at the Borgata Spring Poker Open $7,200 East Coast Championship. He also had eight WSOP cashes before the 2011 Main Event.
Although those accolades might not be too impressive, Collins was primarily an online poker player. So what, you may say, but in the online realm, Collins has earned over $3 million in career tournament winnings, regularly playing under the moniker "USCphildo."
His largest score on the virtual felt was $89,750, so his WSOP Main Event Final Table is his first six-figure score. There's no better event to save that for, and Collins could turn it into a lot more if he can advance up the pay ladder a few spots. When Nov. 6 rolls around, Collins will be fourth in chips with 23.875 million.
Collins is a graduate of the University of South Carolina with a degree in business administration. College is where he began playing poker, starting during his freshman year with some friends. He hopes in a few weeks, he can achieve two of his long-term poker goals of having a $1 million live cash and winning a WSOP gold bracelet all in one shot.
PokerNews recently sat down with Collins to discuss the November Nine, what he's been up to during the hiatus and, how the delay has affected him.
What was the one hand or situation that was most responsible for your deep run?
One hand that really stood out was on Day 5. I came in with about a million chips and after about a couple of levels, I was still at a million. I raised in late position with ace-king and a guy three-bet me. He had already had aces twice and doubled up twice and I knew he was a pretty good player as well. I just didn't believe him, I thought it was a good spot for him to rep a big hand. I ended up four-betting him, he five-bet me and I went all-in. He had kings, but I made a straight on the river and that put me at 1.8 million.
I had him covered, so I wouldn't have been out of the tournament, but I went from potentially having a fourth of the average or a third of the average to having twice the average. In most of the tournaments I've won, I can kind of remember that one big suckout that I had; that one pot that went my way.
I got it in good most of the tournament, but that one hand, once I sucked out there, I was kind of like, 'Hey, that might've been the one hand that I really needed to go my way.'
After the final table was set, what did you do the rest of the night? Was there any partying and celebration?
No, not really. Ben Lamb invited us to go drink at his suite at Aria, but by the time we had gotten all of our paperwork signed, it was getting pretty late. He had already left and I didn't have his number. Katie and I just went back home. I had had two beers at the Rio.
We actually re-watched the coverage. We put it on, we had recorded it. It was kind of a way to relive the moment; just watch some of the big hands that I played and laid on the couch until she fell asleep.
How long did it take for the fact that you made the November Nine to sink in? Has it yet?
It was sinking in as it was happening. I wasn't taking anything for granted and it didn't feel like too much of a fantasy. It was very surreal, but I was staying pretty grounded. The whole time I thought that it was going to happen. On Day 4 or Day 5, I was really feeling that I had a good shot to get there.
I had seen a couple of my good friends get close and I knew that if you just play well, it's just a tournament; it's just poker. It is the biggest one of the year, but I thought I had a good shot.
What was the reaction of your family and friends?
It's been pretty cool. My friends are really excited about it. I have a bunch of poker friends who were down at the Rio every day. I said before, it's a really cool experience for me to get there, but just from my friends' perspective, it's really, really cool to watch one of your good poker buddies go deep and be on television.
We had actually fantasized about what it'd be like if one of us went deep in the Main Event because we knew there was going to be live television coverage. One of my friends, his name is Brian Lamanna, and I were going to get banana costumes and be Lamanna's bananas. Just little stuff like that. We knew if I made it, Phil Collins songs would be sang and what not. It's been really cool.
Have there been any old friends from the past or any acquaintances who have come out of the woodwork now that you're a November Niner?
Just a couple, not too much. For the most part, I've had some texts and 'Hey, congratulations.' A lot of my college friends that don't really play poker, but have always kind of kept up with me playing professionally, told me just how happy they were for me and said it was pretty cool to watch.
What have you been up to since the WSOP has been on hiatus?
The first three or four weeks I really didn't do much of anything. Just played some videos games, golfed and relaxed.
I've been in Europe for the last two months playing basically every poker tournament I could, trying to prepare. I didn't have any results, which is disappointing, but I've had a lot of really good practice and I've played some really tough tables.
I played EPT Barcelona, WPT Paris, the Partouche Poker Tour and a couple of side events at each. And then, Katie and I actually had our one-year anniversary during the World Series of Poker Europe Main Event, so I flew her out here and we actually met after the Partouche event in Berlin, Germany.
We saw Germany for five or six days, did Octoberfest in Munich and saw Austria, as well. Then she's been with me for the last few stops; EPT London, WSOPE and [EPT San Remo]. We were able to have a nice dinner and hang out in Cannes after I busted out of the tournaments.
Besides playing as many events as you can leading up to the November Nine, are you doing anything else to prepare? Are you watching the tapes or getting any coaching?
Yeah, I've been watching all of the coverage I can see on ESPN and I'll be going over some of my game plan and my thoughts with some of my friends. I've been chatting about some final table stuff with people like Jason Mercier and others.
For the most part, I know how a lot of the guys play and I know where they're coming from. Playing five or six hours of ten-handed poker, I got a pretty good feel of the flow of the table.
What's more important to you: the money or the Main Event bracelet?
The money; $8.7 million is so much. Winning a bracelet would be nice, and I guess this bracelet is unlike anything else, it's not just a bracelet. You get to call yourself world champion. For a year, actually, you're always a world champion. You get your picture up in the Rio. That part about it, I don't take for granted, it isn't just some random bracelet, but the $8.7 million is what we're going after.
As part of making the November Nine, you've already taken home the ninth-place prize of $782,115. Have you made any big purchases so far?
No, not really. I didn't want to buy anything, then win more and want nicer things.
I immediately went out and bought a new set of golf clubs, got a snowboard, I got Katie a really nice D-SLR camera and spent a lot of the money on this traveling and vacation.
Other than yourself, who do you feel has the best chance to win?
There are a few people who have a really good shot. I really like how [Eoghan] O'Dea is playing and I'm glad that he's on my right. And then Ben Lamb. I think he's a little shorter [stacked], but if he gets on chips he's going to be playing for the win. Hopefully, he's not someone I have to play three or four-handed against.
Who would you want to be heads-up with for the bracelet in November? Who would you least like to face?
Ben Lamb would probably be the worst of things. He'd have all the confidence in the world. He's probably the best player remaining and he's reigning Player of the Year and has had a sick series.
And you want me to say who I'd want to face heads-up? [Laughs] I just want to have all the chips and just go in and it's a piece of cake. Doesn't matter who it is. If I've got an eight-to-one chip lead, wouldn't feel too stressed.
At the WSOP Europe, we noticed that you played a little bit with Matt Giannetti. Have you played with any other November Niners during this hiatus?
Yeah. Ben Lamb actually got moved to that table, but he was pretty short and was only there for a little bit.
I played with Anton Makiievskyi in Paris. We were playing a cash game and he got moved to my direct left. It was a €10/20 game. I had been playing a couple nights and had done well. He sat on my direct left just like he's going to be in November and I was just like, 'All right, just play your game and maybe he'll get some respect for you.' I ended up winning a couple thousand euros and he lost about a thousand.
Do you feel as though playing with these guys is going to help you going into the final table or is it something that you're not going to put too much weight on?
I felt like it could help me or it could hurt me depending on what they saw and how I played. I gave away some of how I was playing when I played against Giannetti. I was three-betting a lot and showed that I had three-bet a hand like king-jack. I mean, that's something that he gets to see now. I can use that to my advantage and maybe get paid if I have a bigger hand, or it will be harder to reraise with nothing.
You just have to take it how it was. I tried to just play my game in each of the scenarios where I was playing with someone and know that what they saw they're going to know come November.
Have you become close with any of the other November Niners and are you still going to be going out for blood when it comes time?
Oh, I'm definitely going out for blood, it doesn't matter. I mean, I felt like I made friends with a lot of people I played with and especially the guys that have made this November Nine. I think for the rest of my life, or the next few years while we're playing poker, whenever we see each other it's always going to be, 'Hey, how you doing?' and going to get drinks, etc.
Ben Lamb and I have talked about golfing and stuff like that. I would say that I've made friends with quite a few of them. I played with Pius Heinz quite a bit leading up to the final table and we were sitting next to each other chatting. And Makiievskyi, I played with him a couple of times, and Giannetti, as well. They're good guys and they're good players. It's going to be fun to battle with them.
After this is over, I would consider most of them friends, but that's not going to get in the way of how they play at all.
What's your feeling or reaction to the November Nine delay? Do you like it or would you have rather played the final table the following day?
I liked the delay a lot. I think, for me in particular, it's really, really good for me and my poker career. If I had gone out eighth or ninth, I might not have gotten that much coverage, but now I get three and a half months of coverage and interviews. There's a lot of monetary value in becoming a well-known player in the poker world; sponsorship opportunities are bigger.
From that perspective it's good, but I like that everyday I wake up and I'm still in [the event]. It's a moment that I get to enjoy even longer. Tournaments are very quick. It's an eight-day, nine-day tournament, which is a long tournament, but it's just a week and a half of your life. It's there and then it's gone. Now I get to enjoy it for three and a half months. Everyday I wake up, I'm still in and I really like the break.
I know that I'm going to be stressed waiting, especially for these last few days for it to come around so we can play, but I like the break a lot.
To learn more on the November Nine and everything else poker related, be sure to follow us on Twitter and like us on Facebook.