Preparing for the 2011 World Series of Poker November Nine: Eoghan O'Dea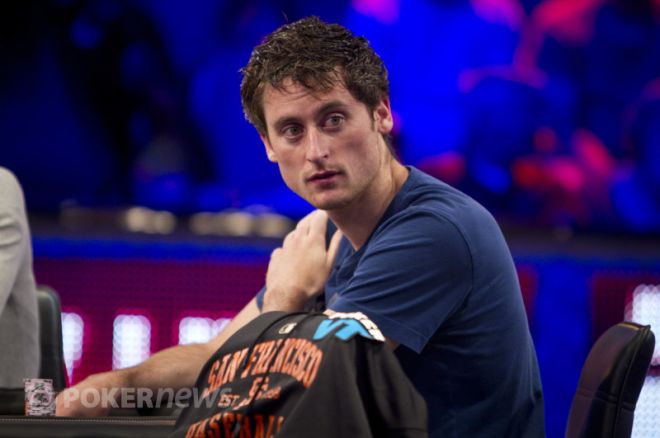 Although it seems like an eternity, it was only in July when the 2011 World Series of Poker November Nine was set, igniting a nearly four-month hiatus. During this time, the 2011 November Niners have been traveling, playing tournaments, and preparing for the biggest final table of their lives.
In anticipation of the final table, PokerNews is touching base with the November Nine to get the lowdown on what they've been up to the past couple of months. We've already talked to the chip leader, Martin Staszko, and the short stack, Sam Holden, so this week we thought we'd catch up with Eoghan O'Dea, who begins the final table second in chips.
If the name O'Dea sounds familiar to you, it should. The 26-year-old poker pro from Dublin, Ireland, is the son of poker veteran Donnacha O'Dea, who is regarded as one of the most popular Irish poker players after making two WSOP Main Event Final Tables and winning a bracelet in a preliminary event in 1998. Eoghan obviously comes from good poker stock, evidenced by six WSOP cashes of his own, including four this summer.
His biggest score, aside from this year's Main Event, came in the 2007 WSOP Event #33 $1,500 Pot Limit Omaha w/Rebuys, where he finished in 26th place for $16,001. While the younger O'Dea may have flown beneath the radar, his performance in the Main Event has brought him out of his father's shadow and into his own poker prime. Interestingly, 20 years after his father last made a final table (1991), Eoghan made his own to make him and his dad the first father-son duo to final table the WSOP Main Event (though Barry and Jeff Shulman final-tabled the WSOP-Europe and WSOP Main Events respectively).
What was the one hand that was most responsible for your deep run?
There's one good hand on Day 3 where I was all-in with
. It was kind of a funny hand because I didn't have many chips and I check-raised under the gun. There was a few limpers and I called. Somebody raised, and a few people called, then I check-raised. The initial raiser called and the small blind, who had loads of chips, moved in and it was back to me. I thought for a long time. I just didn't really see him, at the time he was playing pretty solid and he announced to the table that he wasn't getting involved in any big hands and stuff.
So I called and the other guy folded with queens I think, and [the small blind] turned over pocket fives, and it came
. I doubled through, or more than doubled through. I think the other guy might have knocked me out in that hand. I never expected the guy to turn over fives. After that, he blew up.
After the final table was set, what did you do the rest of the night? We understand you went out and celebrated hard, subsequently missing the WSOP interview the following day, is that true
Yeah, we finished pretty late at 4 a.m. At this time I was really low on sleep, but I really wanted to go out and have a few drinks. One of my Irish friends was still around, so we had a few drinks in the Rio. [Then we] headed out to a club and bumped into some friends. We were there quite awhile I think. [Laughs] Yeah, there was no chance I was ever gonna make the interviews the next day, I mean they're at twelve, and once I had a few drinks, you know, I was pretty tired. I'm surprised everybody else made.
Did you get in any trouble with the WSOP for missing the interviews?
No, I don't think there really were. I mean, I think they should do it a bit later than 12 o'clock, because you finish 4 a.m. and you go have a few drinks, considering a lot of people haven't gotten much sleep over the last few days, I think it's pretty hard to make that time.
How long did it take for the fact that you made the November Nine to sink in? Has it yet?
Yeah, it has. Maybe like, oh I don't know, maybe like a week I suppose.
What was the reaction of your family and friends?
I received loads of really good comments, and obviously my parents, sister, and everybody was really happy, delighted it seemed like.
What have you been up to since the WSOP has been on hiatus?
I haven't been playing any poker really. Well, I played a little bit. I started playing maybe the last couple weeks a bit again, but for August I didn't play at all really, just a couple of times. I'm kind of taking it easy, I was playing a little bit of tennis, and I did a triathlon at the start of September with two other friends. So, there wasn't too much poker.
I just arrived in London this week, there's an EPT on Friday, so I'm going play that, and then I go to Cannes after the EPT. For the next three weeks I'll be playing a bit more poker.
Who will you be bringing to Las Vegas in November to support you? Will your father be in attendance?
I think quite a lot of people. I imagine like 60 people coming. He'll be there, yeah.
As someone with final table experience, has your dad given you any words of wisdom?
No, he hasn't. He said to me, you know, if you'd like any advice you can ask me whatever, that kind of thing, but we really haven't talked about it much at all. I haven't really brought it up too much.
What's more important: money or the Main Event bracelet?
I'd probably have to say the money. I think years ago it was a different story, you know, it was more prestigious to win 15 to 20 years ago. It's kind of changed, because there are 7,000 people in it and not necessarily the best player in the world wins the thing, like in the old days with Doyle [Brunson] and [Johnny] Chan. There's a lot more luck in the tournament, and [winning] wasn't as big as it was 20 years ago. Obviously it's still massive, and it's a huge amount of money, but I don't think it's as prestigious as it was back in the day.
As part of making the November Nine, you've already taken home the ninth-place prize of $782,115. Have you made any big purchases with that money? If not, what do you plan to do with the money after the final table?
No, I haven't. Probably change my car. Not sure what I'll get, but if I win it I'll definitely get a new car.
Other than yourself, who do you feel has the best chance of taking down the title?
The guys who are pretty close in chips to me, like behind me, Phil [Collins], Ben [Lamb], and Matt [Giannetti], they all have a very good chance, and of course the chip leader [Martin Staszko], as well. Obviously a little tougher for the guys around 14 to 16 million, but Ben Lamb is probably the most confident player, you know what I mean. He's like Player of the Year and running and playing really well, so he's going to be the most confident going in. All the American guys have a very good chance. Matt Giannetti just won a WPT in Malta...it's always nice to win a big title.
Who would you want to be heads-up with for the bracelet in November? Who would you least like to face?
Yeah [laughs], I'm not going to mention that. Least, probably Ben. Apart from playing so well, he's running well, as well.
What are you doing to prepare? Are you getting lessons or advice from anyone notable?
I don't really think I'll do that. I'll go through the videos. I think I'm back home for two weeks before I go back to Vegas. I'll have two weeks to go through the videos and just prepare. Not much apart from playing a lot of tournaments and going through a few videos. I'm not really going to get any coaching, I don't think.
Does that include looking at your opponent's weaknesses? Are you scavenging all the information you can get about your opponents?
Yeah, maybe myself as well to see if I do anything strange or whatever.
Did you have the chance to become close with any other November Niners?
I would have preferred to play it straight through, but I mean it's fun this way, as well. If I had the option, I would have preferred to go straight through. I think my chances would have been better if we played it straight through.
Did you have the chance to develop relationships with any of the other November Niners?
No, I haven't. I haven't bumped into any of them yet. I think they've been playing a few tournaments in Europe and stuff, I think all of them, but I didn't play any tournaments during all of this, so I haven't bumped into any of them.
Do you have your entrance music picked out yet for the final table?
[Laughs] No, I haven't thought about that at all actually.
Don't forget to follow us on Twitter and like us on Facebook.