Five Thanks: A Holiday Special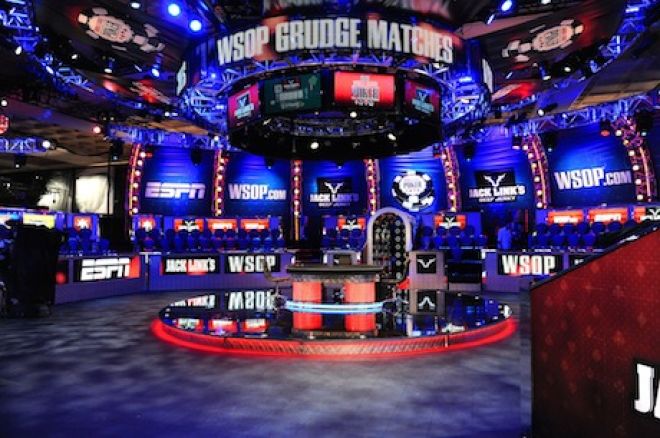 Thanksgiving is Thursday, but before we get together with family and overdose on tryptophan, we wanted to give thanks. So, rather than give you our usual Five Thoughts, we thought it would be appropriate to offer Five Thanks from 2011.
1. The World Series of Poker
In the wake of Black Friday, the general forecast for the 2011 WSOP was doom and gloom. Players had millions of dollars frozen online, and there was some speculation that the public might turn its back on the game. Well, the 58 bracelet events attracted 75,672 players and generated an overall prize pool of $191,999,010 — the largest in WSOP history. The Main Event, which was deemed a litmus test for the industry going forward, had 6,865 entrants, making it the third-largest Main Even field ever. Not too shabby.
We should all be thankful for the WSOP because, like Thanksgiving, it brings us all together. It's our month-and-a-half long poker summer camp. It attracts players and media from all around the world. It attracts professionals and home-game heroes. Sure it means long days and late nights, but it also means bracelet bets, fantasy sweats, and the greatest tournament in the world — the Main Event.
Poker was meant to be, and still is a social game — its general purpose is to bring people together. And while there's no family as dysfunctional as the poker industry, there's no social gathering quite like the WSOP. For that, we give thanks.
2. Tom Dwan
(Cue the fanboy hate). This has nothing to do with Dwan's superior poker skills, his paralyzing stare, his fearlessness, or his dashing good looks. We are thankful for Durrrr because he truly cares about the poker industry. In the game's darkest hour, he did everything he could legally do help the players — he even guaranteed $1 million if Full Tilt Poker failed to pay back its customers by Hanukkah 2012. During the WSOP, Dwan was one of the first FTP Team Pros to stop wearing a patch, and after the Department of Justice amended the original complaint, he could finally speak out.
"I thought many times about what to say, when to say it, what to do," he told us on the PokerNews Podcast. "And I tried to do it in whatever way I thought was best for the chances of the players getting re-paid…I probably helped get more players to Full Tilt, which effectively cost them money and I shouldn't be rewarded for that."
Poker is not a selfless man's game — even Dwan would tell you that you have to have a killer instinct at the table. But Black Friday was bigger than the game, and Dwan recognized that. Only a select few have such a good, honest conscious, and for that, we give thanks.
3. PokerStars
PokerStars, thank you for paying back your players. Thank you for holding yourselves accountable. Thank you for self-auditing. Thank you for keeping the players' money in a separate account. Thank you for 10 years of excellent service. And thank you for whatever wonderful things you have planned for the future.
PokerStars handled Black Friday perfectly, paying back its American players almost immediately. Since April, the company has helped numerous players who've emigrated from the United States get back on the virtual felt, and re-adjusted the schedule to better accommodate its European customers. All FTP did in the last few months is lose its license to the Alderney Gaming Control Commission.
Beyond their first-rate service, PokerStars runs numerous poker tours that have expanded the game globally, it hosts the Sunday Million and put Chris Moneymaker into the 2003 Main Event, changing the game forever. It is truly a top-notch organization, and for all of the above, we give thanks.
4. You
We'd like to thank every reader, commenter, liker, viewer, listener, emailer, shoutboxer, player, Twitterer, Facebooker, and any other "er" that's contributed to the site this year. Without you, your love for the game, and your passion for the industry, we wouldn't exist.
If you aren't one of the above, then get involved. Send us a tweet if there's someone you'd like to hear on the podcast. Comment on debate pieces and give your opinion. Get in the shoutbox if you're railing a player. And don't be afraid to click the "like" button in every article written by Rich Ryan.
Just kidding about that last one. But seriously. Do it.
Perhaps we become overly sensitive during the holiday season, but it's better than acting like a curmudgeon. Poker is only a game — it's the environment that attracts us. People who truly love the game always seemed to have played pinochle with their grandma, follow the queen with their high school friends, or some version of drunken blindman's bluff in college. It wasn't always about stacking donks in a no-limit game, rather it was about having fun and enjoying yourself with friends.
Thanks for always being with us here at PokerNews, for you, we are grateful.
5. Great video content
Check out the latest PokerStars documentary on Team Online Pro Adrienne "talonchick" Rowsome. It's really clean and visually appealing.
Happy Thanksgiving!
Follow PokerNews on Twitter for up-to-the-minute news.