Five Thoughts: Coup d'Tapie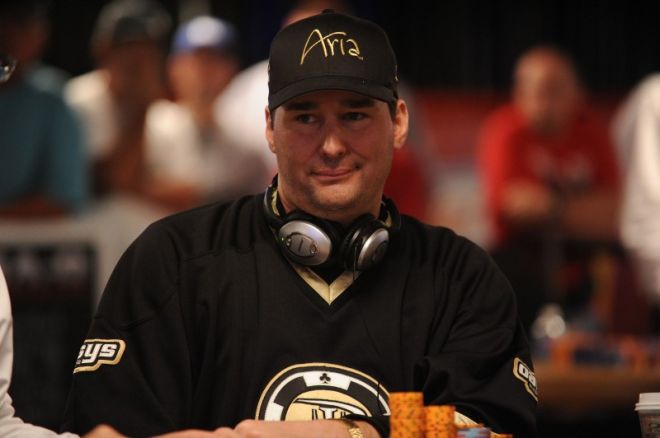 Last week, we learned that there may be a (legitimate) potential buyer for Full Tilt Poker, the biggest poker event ever will be on May 10, 2012, Phil Hellmuth is the worst drafter in history, and there will be a dealer's choice tournament at the PCA.
As Buddha teaches, "We think, we become." Or something like that.
1. All day I dream about venture capitalists
On Friday, we learned that Full Tilt Poker signed an acquisition agreement with Groupe Bernard Tapie. The announcement was made by Laurent Tapie, Bernard Tapie's son, who told iGaming France, "We have shown that we have the funds necessary to repay player debts. We want to find ways where we don't have to put in all the money and will be talking to the U.S. Department of Justice next week."
Party time.
If this is true, then the Tapies will be crowned as heroes of online poker. Unfortunately, there are dozens of obstacles to overcome before the deal is finalized, most notably the DOJ, and Bernard Tapie has a bit of a shady past. In the 1990s, he was accused and convicted of fixing football football matches with his club Olympique Marseilles and was incarcerated. He is very business savvy, however, and has a very good track record rebuilding broken, or failing companies. Tapie's biggest success is the sports apparel company Adidas, which he bought in 1989 and sold in the early 1990s for nearly double the price.
We're only concerned with one thing though: getting the players paid. The longevity of Full Tilt Poker is a secondary thought. If Tapie is able to repay the players, then who cares about his checkered past? Don't play on his site (if he chooses to relaunch it), take your money and run. This is by far the best news we've received since Black Friday, and if it all holds true, then it may positively affect the poker landscape forever.
2. The International Stadiums Poker Tour video is tantalizing
Wow. Go ahead and slam the play button a few more times on that beauty.
This International Stadiums Poker Tour (ISPT) ad popped up on TwoPlusTwo last week, and if it doesn't send a tingle down your spine then you're not human. Ironically, the aforementioned Groupe Bernard Tapie is involved again — it owns a 30 percent stake of ISPT.
Coincidence?
The title "biggest poker event ever" is a bit dramatic. For example, if the buy in is $10,000, like your typical main event, to reach the $30 million guarantee (why is it in U.S. dollars?) the field would only have to be 3,000 runners. The World Series of Poker Main Event has eclipsed 3,000 runners seven times and more than doubled it six times. The only way this will be the "biggest poker event ever" is if Wembley Stadium is filled to capacity with spectators, which isn't likely unless Wayne Rooney is bending screamers from the 18.
We'll believe it when we see it (May 10th, 2012), but until then somebody should hire whoever produced this video to make a Super Bowl commercial.
3. Phil Hellmuth is the worst drafter in history
Phil Hellmuth and Bertrand "ElkY" Grospellier were chosen to captain two teams for the Caesars Cup — a Ryder Cup-style poker event to be held at the World Series of Poker Europe in Cannes, France. Hellmuth and Grospellier had to chose four players from the Americas and Europe respectively, and Hellmuth couldn't have drafted more poorly.
According to the WSOP.com staff, "The Caesars Cup will feature the game no-limit hold'em with two teams of five doing battle over a series of unique partner and heads-up formats, with points awarded for each victory." Seeing that it was a short-handed, heads-up format, Grospellier chose young, aggressive players: Jake Cody (United Kingdom), Gus Hansen (Denmark), Dario Minieri (Italy) and Maxim Lykov (Russia). Hellmuth, who plans to, "show them that decades of experience are much more valuable," countered with Doyle Brunson (USA), Johnny Chan (????), Daniel Negreanu (Canada), and Huck Seed (USA).
Is Brunson going to even show up to Cannes? He only played a handful of events at the WSOP, which is in his backyard, not thousands of miles away, and had to be coaxed into playing the Main Event. Also, can Chan really be considered a member of Team Americas? Didn't he represent Team China in the World Team Poker tournament last year? Negreanu and Seed are obviously great picks, but Brunson and Chan are weak, even for a made-for-TV event.
C'mon Phil, don't hold a constant grudge against the young, Internet idiots. We all know how much they frustrate you, but you're putting yourself at a great disadvantage. Besides, it's criminal not to include Tom Dwan on the team. We're guessing it might have something to do with this.
4. Paradise beckons
The 2012 PokerStars Caribbean Adventure schedule was released late last week, and the tournament series just keeps getting better year after year. Paradise Island will be buzzing come Jan. 5 when the PCA will kick off with another $100,000 Super High Roller event. The $10,000 Main Event will begin on Jan. 7, the $25,000 8-Max High Roller will begin Jan. 12, and in-between there are a myriad of events featuring basically every game you can think of.
We've got our eyes on two events in particular. First, there's the $1,000 6-Max 6 Pack, which features no-limit hold'em, pot-limit Omaha, pot-limit Omaha eight-or-better, pot-limit Pineapple, pot-limit Krazy Pineapple eight-or-better, and pot-limit 2-7 triple draw. We love rhyming and pineapple, so this seems like a perfect fit. The second event on our radar is the $1,000 No-Limit Hold'em/Pot-Limit Omaha Dealer's Choice event. The strategy in this one will be great, because you'll not only have to adjust for what game you're better at, you'll also have to adjust for your table.
PokerStars always hits a home run with the PCA, and, even though it's only October, we're ready to hop on a flight and get down to the Bahamas right now.
5. When I say Jason, you say…
Sarah Grant caught up with Jason Mercier over the pond at EPT London. He's wearing an awfully ugly shirt but is entertaining as always.
Follow PokerNews on Twitter for up-to-the-minute news.