"Kozlicek_x" Wins PokerStars' 72 Billionth Hand Promotion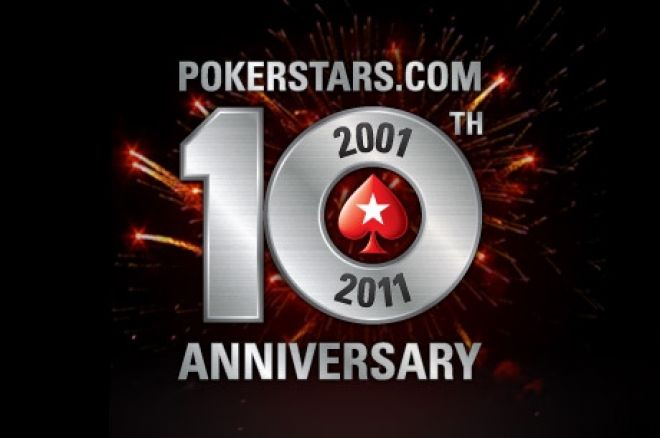 In any other year, the 72 billionth hand dealt at PokerStars would fly under the radar. However, in celebration of its 10th Anniversary, PokerStars graciously gave away more than $100,000 to players dealt into the Mega Milestone hand on Sunday, Dec. 11, with the big winner taking home nearly $25,000.
With more than 400,000 players logged into the site, six lucky players at a $.02/$.05 ring game were told that they were being dealt into hand No. 72 billion. Every player was guaranteed at least $10,000, with the winner of the hand getting their prize money doubled. After all six players had moved in preflop, "Kozlicek_x" from the Czech Republic flopped a set of sevens to win a $27 pot plus another $24,300 in prize money. Each of the other five players received a minimum of $12,100.
According to the PokerStars Blog, "Kozlicek_x" responded to his win by saying "Holy goat."
Traditionally, PokerStars only runs the milestone hands promotion for every 5 billion hands, but more than 1,000 players earned cash prizes leading up to hand No. 72 billion this month. In addition to the players dealt into the 72 billionth hand, winners were awarded cash every millionth hand from 71,770,000,000 through 72,000,000,000.
PokerStars' 10th Anniversary celebration continues next Sunday with a momentous $10 Million Sunday Million at 1430 EST (1930 GMT). The winner of the $215 tournament will take home a minimum of $2 million. There will also be a $10,000 High Roller event kicking off an hour later. Thirteen players have already registered for that event, including Team PokerStars pros Humberto Brenes, Randy "nanonoko" Lew and Mickey "mement_mori" Petersen, and recent World Series of Poker Europe champ Elio "smokrokflock" Fox.
Read more about the 72 Billionth Hand winners at the PokerStars Blog.
Follow PokerNews on Twitter for up-to-the-minute news.