The Nightly Turbo: Spain Delays Regulated Market, Duthie Leaves PokerStars, and More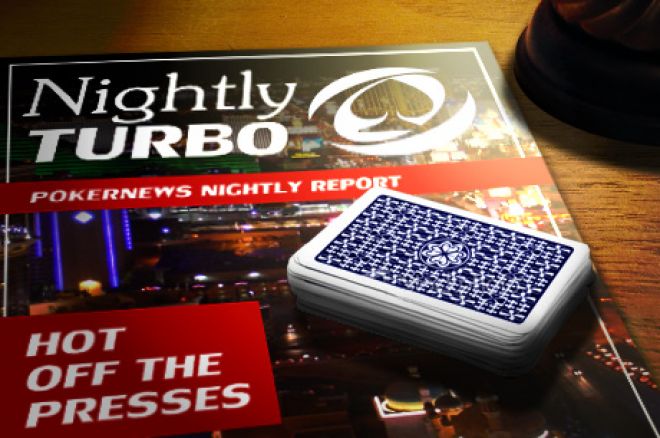 If you're looking for the latest news news around the poker world, you've come to the right place. Online poker regulation is heating up in Europe with Belgium awarding licenses to a select group of operators. In other news, Spain has delayed the timetable on its new online gambling market. We'll cover those stories and more in this edition of the Nightly Turbo.
In Case You Missed It
In December, Ilari Sahamies battled Rafi Amit and Viktor Blom for the honor of being the biggest cash-game winner on PokerStars in 2011. We tell you who finished on top and break down the year's biggest winners and losers.
What can we expect to happen in the poker world this year? Rich Ryan makes his 12 Predictions for 2012.
Spain Delays Regulated Online Gambling Market
The new regulated online gambling market in Spain has been delayed six months to allow regulators time to review license applications. The setback will allow Spanish gamblers to continue playing on international sites until June 30, 2012.
Spain introduced a new gaming law in February 2011 with hopes of adopting a licensing system by the end of the year, but the process stalled in December. Poker-Red reported that 61 operators submitted applications before the Dec. 14, 2011 deadline, including Groupe Bernard Tapie, which is in the process of purchasing the assets of Full Tilt Poker.
The official list of applicants has yet to be revealed, but PokerStars, bwin.party, 888 and Ladbrokes all showed interest in the market.
For more, check out the Spanish Association of Online Gamblers website (Google Translate is your friend).
PokerStars, John Duthie Part Ways
U.K. poker pro John Duthie, perhaps best known as the creator of the European Poker Tour, is no longer a member of Team PokerStars. Duthie, 53, decided not to renew his contract when it expired at the end of December.
Duthie announced his departure on TwoPlusTwo on Monday, and a representative at PokerStars confirmed the news to PokerNews on Tuesday morning.
Duthie worked in the television industry becoming one of the most important figures on the European poker circuit. He gained fame as a player in 2000 by winning the inaugural Poker Million for more than $1.4 million. In 2004, Duthie made his biggest mark on the poker world by creating the EPT.
Together with PokerStars, Duthie helped turn it into the premier tour in Europe. Now in its eighth season, the EPT features 12 stops in ten countries, including the popular PokerStars Caribbean Adventure, which kicks off on Jan. 7, 2012 in the Bahamas.
Read more about Duthie's split with PokerStars at PokerNews.com.
PokerStars Approved for Real-Money Poker in Belgium
According to a report by iGamingBusiness.com, the Belgian Gaming Commission approved three operators for real-money poker and will block all other unauthorized sites from providing games to residents inside the country. Going forward, Belgian poker players can play online at PokerStars.be, Partouche.be and Casino777.be. Four casino websites and two sportsbooks were also given licenses.
Among the blacklisted sites were PartyPoker and iPoker, two of the three largest online poker operators in the world. The two sites are still allowing Belgians to play on their networks, calling the new laws "unenforceable."
Unlike regulations set in other European nations like France and Italy, the Belgian player pool is not segregated, meaning online poker players won't be restricted to playing against others located within the country. Belgians on PokerStars and Casino777 will play on the international sites, and Partouche players will be permitted to play on the site operated within the French regulated market.
Read more at PokerNews.com.
Matt Glantz Calls for Responsibility
How much responsibility should poker players take for their actions? And how far is too far? Those are just a few of the questions poker pro Matt Glantz tackled in his most recent blog titled Responsibility in Poker.
Glantz, who is on the Epic Poker League Standards and Conduct Committee, feels that poker players should present themselves as role models, especially in front of television cameras. The way poker players act or speak in a public forum trickles down to the professional and amateur players around the world.
"The things you say and do reflect on all of us," Glantz wrote. "Regardless of your intentions, your actions shine a light not just on you, but on all professional poker players. That light will shine dark or bright for all of us. When any one of us acts poorly in the spotlight, the ripple effect is typically immeasurable."
The blog is definitely worth a read. You can find it at mattglantzpoker.com.
Online Poker Traffic Report
On Monday, PokerScout.com released the first online poker traffic rankings of 2012. Worldwide traffic held steady over the previous week, declining by just .01 percent during the traditionally slow holiday season.
PokerStars saw a drop of 2 percent of the previous week, but the world's leading online poker room continued its dominance over the market. The iPoker Network held a slim margin over PartyPoker for the second slot in the rankings, and 888poker and the Ongame Network rounded out the top five, respectively.
One shift in the top 10 came between two sister sites. PokerStars.it surged past PokerStars.fr to move into sixth place in the rankings. In addition, Winamax.fr moved up one spot to eighth, shifting the Merge Gaming Network into ninth.
As for year-over-year numbers, PokerScout's ACES indicator reports that online poker traffic (with the exception of Italy) has decreased by 30 percent in the past year. Full Tilt Poker and the CEREUS Network are responsible for much of that decline, but the Entraction Network (down 51 percent) and the International Poker Network (down 42 percent) have seen significant drops since last year. The biggest climbers since January 2011 are the Merge Network (up 90 percent), 888poker (up 86 percent) and Bodog (up 57 percent).
Read the full report at PokerScout.com.
Preview of PartyPoker Mixed Game Championship
The PartyPoker Premier League Mixed Game Championship is set to premiere on Sky Sports on Tuesday, Jan. 10. PartyPoker unveiled a sneak peek on Tuesday that looks a bit more like Flavor of Love than a poker tournament, but we still look forward to watching for the entertainment value. Here's a look:
Follow PokerNews on Twitter for up-to-the-minute news.