An Epic Letdown?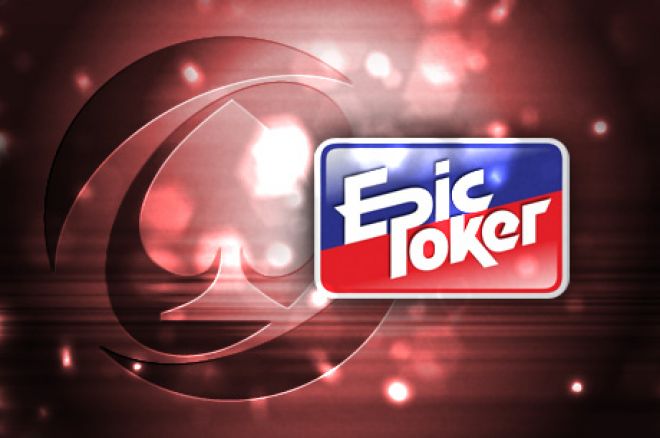 Failure, according to the Merriam-Webster Dictionary, is "a lack of success." Well, the Epic Poker League hosted three very successful events — just ask the players, the staff, and the media members present — prior to Wednesday's news that Federated Sports + Gaming filed for Chapter 11 bankruptcy. Do those three events alone make the venture successful? No, two events are still to be played, but we shouldn't label the EPL a failure just yet.
While the vast majority of the poker world is certain that the EPL will never run another event, Matt Glantz — who recently told players with money on Full Tilt Poker to "move on as if their funds are gone" — is cautiously optimistic. In his latest blog post titled Epic — 3rd and long, he details the difference between Chapter 11 bankruptcy (used for rehabilitation) and Chapter 7 bankruptcy (used for liquidation). Glantz explains that companies that file for Chapter 11 can reorganize debt and pay it off with future earnings, rather than sell off their assets and go under. For example, companies like Delta, General Motors, and the Los Angeles Dodgers have filed Chapter 11, and have persevered.
If FS+G is unable to manage its debt, then they will be forced to file for Chapter 7. The pessimist will say that this move was done to delay the inevitable, but it's obviously in FS+G's best interest to find investors and run both Event 4 and the million-dollar freeroll.
If the EPL never runs another event again, then the biggest issue will be the $650,000 of equity ($400,000 for Event 4 + one fourth of the million-dollar freeroll) left on the table. The EPL deserves credit for injecting the poker economy with $1.2 million in overlays — you can't say that about any other poker tour — but if it is unable to meet its goal of $2.6 million in overlays, then this will indeed be a failure and FS+G deserves to be crushed by the poker world. I can guarantee that several players would've skipped some or all of the first three EPL events had there not been an end-of-the-tunnel million-dollar freeroll that was increasing the equity exponentially in each event.
Annie Duke is clearly one of the most polarizing figures in poker — and the fact that Howard Lederer is her brother doesn't help much — but before we start bashing her because she was on Celebrity Apprentice or because she has a beef with Daniel Negreanu, let's ask ourselves this: Did she and Jeffrey Pollack form the EPL with malicious intent?
If you answered "yes," then you're trolling yourself.
We should be rooting for the EPL, not against it. Was the business plan flawed? Absolutely. Guaranteeing $2.6 million in overlays is insane, but, outside of the dealer fees, there wasn't a single cent taken in rake. If the EPL succeeds, then we get to see the best of the best battle in high buy-in events. If the EPL succeeds, then televised poker in the U.S. gets the jolt it needs. If the EPL succeeds, poker will finally have a regulatory body comprised of well-thought people. If the EPL succeeds, then players will be motivated to grind on the circuit and become cardholders. And, most importantly, if the EPL succeeds nobody loses.
Seriously, besides Negreanu's ego, who is negatively affected if the EPL produces a high-quality product for the players and fans? Nobody. We all gain something, whether it's prize money, news, exposure, or entertainment. That's a fact.
Conversely, if the EPL fails, we all lose. When the public sees that another poker company has filed for bankruptcy, they become wearier of accepting our game. When network officials see that another poker show has been cancelled, they become wearier of airing our game. When players see that less than half of a guaranteed overlay is met, they become wearier of trusting executives in poker. We lose interest, we lose stories, we lose talking points, and we miss out in $2.6 million in overlays being injected into the poker economy.
What part of that paragraph should be celebrated?
This isn't a defense of Duke or defense of FS+G. Despite PokerNews' involvement with FS+G and the GPI, no editor or executive has contacted me to try and influence what I write. This is a commentary about the negativity in the poker industry, and how destructive it can be, especially now in poker's darkest days.
The EPL is likely a dog to resume its initial schedule — it's going to be very hard to find investors willing to offer $1.4 million in overlays to a company worth less than a high roller buy-in — but until the last two events are actually cancelled, it's wrong to call the EPL a failure — and it's even worse to root for failure.
Personally, I think that the worst news isn't that poker players who can afford five-figure buy-ins may lose equity, rather it's that countless staff and media members are now floating in limbo. It's easy to forget, but it takes all hands on deck to run a successful poker tournament, and now the same people who received great praise from cardholders during the first three events are without income that was initially delayed and is now postponed indefinitely.
My sympathy goes out to those hit the hardest by this announcement. I truly hope it all works out in the end.
Follow PokerNews on Twitter for up-to-the-minute news.