The Nightly Turbo: PokerStars' Zoom Poker Launch, Jen Tilly's Simpsons Cameo, and More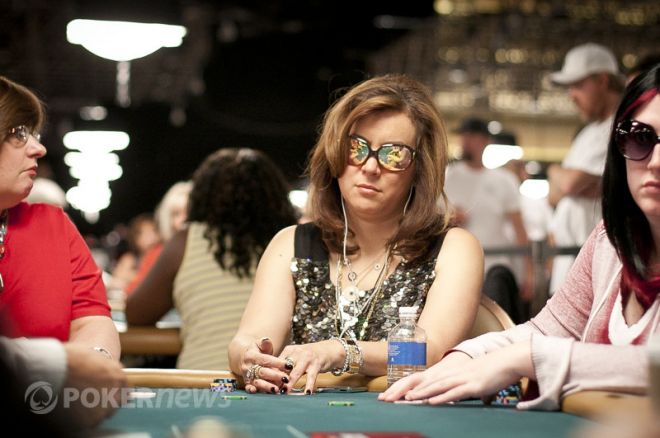 The day has arrived. PokerStars has launched the real-money beta version of Zoom Poker, and just in time for the weekend! We'll cover that story, as well as Jennifer Tilly's poker cameo on The Simpsons, in this edition of the Nightly Turbo.
In Case You Missed It
How was the high-stakes action at the PokerStars tables this week? Read the Online Railbird Report to find out the week's biggest winners and losers.
A final table was reached at the PokerStars.com European Poker Tour Madrid Main Event on Friday. Find out which players are in contention for the €545,000 top prize in our daily EPT recap.
Earlier this week, CardPlayer published a story about the Chapter 11 bankruptcy filing by Federated Sports + Gaming (FS+G). On Friday, FS+G responded to the story with a statement and gave an exclusive interview with PokerNews.
Will online poker be up and running in New Jersey by the end of the year? Sen. Ray Lesniak seems to think so. Matthew Kredell explains the steps that still need to be taken.
The first day of voting for the PokerNews Fan Bracket is in the books. For a look at Rich Ryan's predictions, check out his story in The Muck.
How do you get over a huge loss at the poker table? Alec Torelli talks about recovering from downswings in his latest Pro Blog.
What does @AsianSpa think about the Epic Poker League and Erick Lindgren's debts? Head over to The Muck to find out.
Did you miss anything from the past week? Don't worry, we've got you covered. Kristy Arnett and Laura Cornelius break down all the big stories in the PokerNews Weekly.
Zoom Poker Launches
On Friday, to the delight of high-volume poker junkies, PokerStars launched the real-money beta version of Zoom Poker, a fast-paced poker format that allows players to play hundreds of hands per hour and (potentially) increase profits. The game plays exactly the same way as any other online cash game except for one huge difference — as soon as you fold, you are removed from the table you were seated at and placed at a new table with different players.
For now, the beta release is only offering a few tables of micro-limit hold'em and Omaha games, but PokerStars says that more games and limits are on the way in the coming weeks. The client is allowing 1,500 players at a time to partake in the beta games while the kinks (if any) are identified and resolved. After that, PokerStars will unveil bigger stakes, other game types, and possibly even Zoom tournaments in the future.
Check out our Zoom Poker review here at PokerNews.com. You can also find more info at the Zoom Poker page.
Jen Tilly Teaching Lisa Simpson How to Hold'em
Jennifer Tilly has used her voice in a number of cartoons during her career, perhaps most notably as Bonnie Swanson on Family Guy. But now, according to reports, Tilly will get to see herself in cartoon form in an upcoming episode of The Simpsons.
Inside TV reports that the actress and World Series of Poker bracelet winner is set to make a cameo during the next season of the seemingly immortal television series. Tilly, the ex-wife of the show's co-creator, Sam Simon, will appear in a poker instructional video that Lisa Simpson watches to hone her poker skills.
Tilly has been dating a cartoon character for years, so it's about time she became one herself.
(Just kidding, Phil)
Read more at InsideTV.com.
Learn from Jungleman
Private poker lessons from the game's top pros can often be pricey. In fact, Dan "Jungleman" Cates normally charges up to $2,000 an hour for his coaching services.
Next month, however, Cates and poker pro Johannes Strassman will be holding a three-day seminar at the King's Casino in the Czech Republic for €2,499 per student. The seminar will run from April 1 through 3, placing it directly between EPT Campione and WPT Vienna. It will focus on advanced topics like three- and four-betting optimally, board textures, assigning ranges, and plenty more.
"We will coach you for three intensive days if you are interested in moving your poker game to a much higher level," Strassman says. "This is a unique opportunity for you to get in contact with other advanced players and to learn from the player who is considered by many as the best online player of the world, Daniel Cates."
Visit the Card Coaches website for more information.
PokerStars Juices Up UKIPT Nottingham
Poker players love the words "million" and "guarantee." Tournament organizers have learned through the years that if you push the words together, players will flock to the tables in droves.
That's exactly what PokerStars and the Dusk Till Dawn poker club did this week, slapping a £1 million guaranteed prize pool to the PokerStars UK & Ireland Poker Tour event in Nottingham next month. The £700 + £70 buy-in tournament will take place at Dusk Till Dawn from April 11 through 16, featuring three Day 1 flights that will need to draw around 1,460 players to hit the guarantee.
"We are delighted to guarantee a £1 million prize pool for the UKIPT Nottingham Event," UKIPT President Kirsty Thompson said. "The UKIPT has seen huge growth year on year, and the £1 million guarantee cements our position as the premium live poker tour in the UK & Ireland."
Read more at UK.PokerNews.com
Nut Blockers
High-stakes cash game players Andreas "Skjervoy" Torbergsen and Tom "LearnedfromTV" Chambers have collaborated on a new digital magazine for pot-limit Omaha and mixed-games enthusiasts.
The first issue, released earlier this week, includes strategy articles with WSOP bracelet winners Barry Greenstein and Eric Rodawig, as well as pieces from many of the contributing writes for the magazine.
Among the players offering their expertise for the project are Torbergsen, Mike "Gordo16" Gorodinsky, Phil "Jackal" Shaw, Mike "Schneids" Schneider, and Gavin "gavz101" Cochrane.
"I thought an all-PLO community was long awaited with the first NutBlocker launch, now I think they just nailed it, and threw in some great mixed games stuff for good measure," said Jim "Lefty2506" Egere. "I'll be writing for NB as much as I can; so nice not to have to temper the depth to make it accessible to inexperienced players, you'll get the best stuff I have here."
For a preview of the magazine from Torbergsen himself, check out NutBlocker.com.
Join PokerNews!
Would you like to join Team PokerNews for the 2012 World Series of Poker?
Why wouldn't you? We're awesome.
PokerNews is taking applications for bloggers and interns for the duration of the 2012 WSOP in Las Vegas. We're searching for experienced bloggers and first-timers looking to get their feet wet in the industry, and what better place than the biggest tournament series in the world?
Check out the PokerNews Career page for more information. If you think you're qualified, send an application to [email protected] with a resume, cover letter and two writing samples. We look forward to hearing from you!
Who's Got Moves Like Ronaldo?
Kristy Arnett is a big fan of Real Madrid striker Cristiano Ronaldo. During the PokerStars European Poker Tour Main Event, Arnett scoured the poker room to see if any poker players had soccer skills like Ronaldo.
Follow PokerNews on Twitter for up-to-the-minute news.