The Nightly Turbo: Pros on the Move, Letter to the AGCC, and More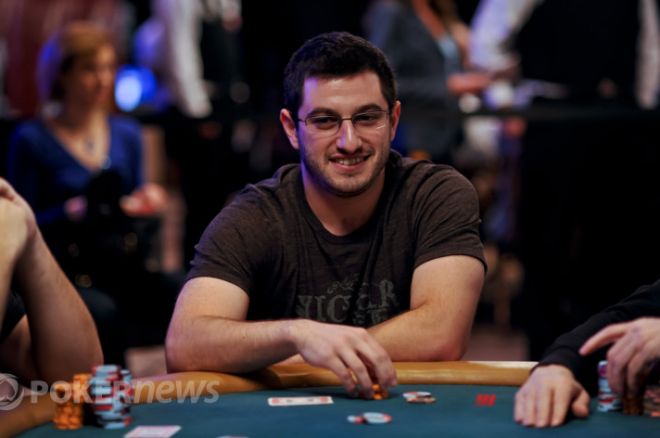 When we were looking for news today, Google decided that because Lady Gaga sang a song called Poker Face, her appearance on So You Think You Can Dance was relevant to us. It wasn't. Luckily, you won't find any of that here. What you will find is an update on two players who moved north to play online poker, who wrote a letter to the Alderney Gambling Control Commission, and more.
In Case You Missed It
The PokerStars Asia Pacific Poker Tour kicks off its fifth season in Melbourne, Australia, at Crown Casino on July 29. In the latest Around the World with Lynn Gilmartin, we take a look at some highlights from Season Four of the APPT.
Throughout the summer, we brought you a photographic look at the 2011 World Series of Poker. In the third installment, we take a look at the first few days of the Main Event.
Jerry Yang's new book, All In, brings you a look at both his life in Laos and his road to winning the most prestigious event in poker. We grabbed a copy of the book to check it out and give you our thoughts, and sat down with Yang to find out more.
The Global Poker Index rankings are out for the week and Bertrand "ElkY" Grospellier is at the top of the list again. Here's a look at the top 10, as well as other players making splashes this week.
On the Move, Eh?
With the 2011 World Series of Poker summer in the books, a number of players are left with a decision to make about their online poker playing future ― to move or not to move.
Over the summer, Olivier Busquet was on the PokerNews Podcast and discussed his move, and Daniel Negreanu tweeted that he had established residency in Canada just in time for the PokerStars WCOOP.
Last Saturday, Phil Galfond tweeted, "Hey Twitter. I'm in Canada." Shortly thereafter, he tweeted his plan, saying that he would stay in Canada "for three to six months and then re-evaluate." He also said he would have the Canadian version of his slide done soon. Then on Wednesday he tweeted: "After three months off of online poker, I'd forgotten about downswings. Oh well. Still happy to be playing. I love the game."
Another player who has attempted to make the move is Daniel "junleman12" Cates. He's having a rough go at it though. On Tuesday, Cates tweeted, "Leaving for Vancouver tomorrow. Time to crush online again." However Thursday morning, Cates was turned away from Canada. He was denied entry and is in the process of attempting to obtain a visa to get his online poker grind on.
These are just a few of the players that have made the move to continue playing online poker. We're pretty sure there will be plenty more after the post-WSOP daze goes away.
Dear AGCC
On Tuesday, the Alderney Gambling Control Commission held a hearing regarding Full Tilt Poker. During the hearing, Full Tilt Poker representatives requested that the hearing be held in private. When the AGCC commissioners agreed, according to PokerNews' Barry Carter, professional poker player Harry Demetriou "stood up and stormed out, shouting "What about the interests of the players? Why are you protecting this corrupt company?" He was then escorted out.
Demetriou is still looking for answers and sent the AGCC a letter in an attempt to get them. He posted the letter on The Hendon Mob, as well as the reply he received from the AGCC.
In the letter, Demetriou points out, "If there is a shortfall of player funds which means Full Tilt Poker cannot pay their players and they haven't generated any money from any activities for the past four weeks (nor will they do so for the foreseeable future) where is the money coming from to pay their lawyers and your license fee?" And requests for an assurance that, "should players lose money from their accounts at Full Tilt Poker that you will return this money to future administrators to lessen the shortfall in those player account funds?"
Of course, the AGCC's reply was short and to the point ― and without any information. "Thank you for your email. Unfortunately, Alderney Gambling Control Commission is unable to comment further at this time. Please note that further details will be published on our website when they are available."
For more, check out the thread on TheHendonMob.com.
Online Poker Traffic
Another week, another look at the online poker traffic report from PokerScout. According to its traffic report, PokerScout says that online poker traffic saw an 8 percent increase last week, possibly because of the PokerStars Milestone Hand promotion and says its monitoring system recorded "a maximum of 99,300 cash game players before the 65 billionth hand hit." PokerStars traffic rose 24 percent from the previous week.
Six of the top 10 ranked sites on PokerScout saw increases in traffic for the week and the top three sites, PokerStars, PartyPoker, and iPoker remained in their spots for the fourth consecutive week.
As for year-over-year numbers, 888poker has seen the biggest gain, up 140 percent. The Merge Gaming Network and Bodog have seen increases of 87 percent and 76 percent respectively.
If you want to check out all the numbers, head on over to PokerScout.com.
Necessary Roughness
We're football fans, so when USA began advertising its new show, Necessary Roughness, we were sort of intrigued. But then we forgot to set our DVRs and that was that.
Apparently the show isn't just about the psyches of football players. Wednesday night, the show tackled poker players. The episode, entitled "Poker Face" (surprise surprise) focused on "Jason" a poker player who isn't used to winning. We'd tell you to go check out the show on Hulu, but it's not there for another 30 days. We're sure you guys are crafty enough to figure out another way to watch it, we're just not that technologically savvy. In any case, here's a sneak peek at the episode. And if you're into more reading, here's a recap on Gather.com.
Hitting the Nuts
Over the summer, Kristy Arnett was able to escape the Rio and head over to the Las Vegas Hilton for the Las Vegas Film Festival. She caught up with Hitting the Nuts director Joe Boyd to find out more about the outrageous poker comedy that's winning awards in every movie festival it enters.
Follow us on Twitter for up-to-the-minute news.