The Nightly Turbo: Roberto Romanello Wins WPT Bratislava, Poker After Dark Peek, and More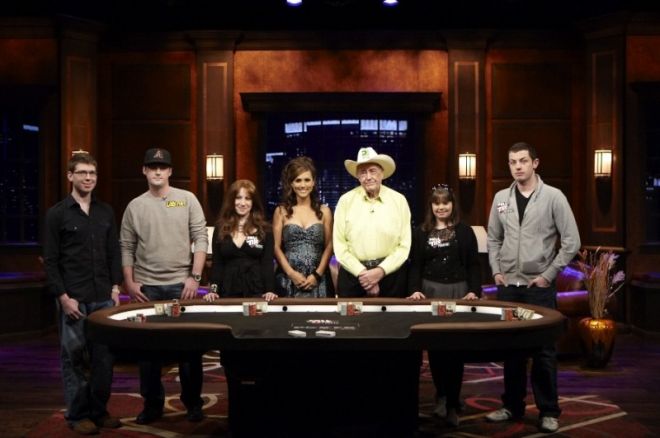 We hope you had as awesome a weekend as we did, and that you still have a chance to win your March Madness bracket pool (who are we kidding, most of your brackets were busted a long time ago). In any case, Roberto Romanello had a pretty good weekend winning the WPT Bratislava. We'll bring you the action from that final table, a preview of the newest Poker After Dark, and more in this edition of the Nightly Turbo.
In Case You Missed It
Last week, we brought you the first part of the Sunday Grind where Kevin "ImaLuckSac" MacPhee showed us his on-the-road grind station. In part two, he gives us his list of things he can't live without while on the road.
Sunday's tournaments saw 18 players add six-figure scores to their bankrolls. Find out who notched the biggest score on Sunday by checking out the Sunday Briefing.
Viktor "Isildur1" Blom and Scott "urnotindangr" Palmer battled on Sunday in the latest installment of the PokerStars SuperStar Showdown. Miss it? Check out the Showdown recap to find out who came out on top in part one of this two-part match.
FSN aired part two of the World Poker Tour Festa al Lago coverage Sunday night. If you didn't watch it, catch up on what you missed in our WPT recap.
In the latest episode of High Stakes Poker, a new group of players took their seats at the felt, including 2010 World Series of Poker Main Event champion, Jonathan Duhamel. How'd he do? You know we're going to send you to the High Stakes Poker recap to find out.
Romanello Wins WPT Bratislava
On Sunday, the final nine players of the World Poker Tour Bratislava converged on the Golden Vegas casino poker room to play down to a winner and fight it out for the title and €140,685 first-place prize. Full Tilt Poker Red Pro Roberto Romanello began the final table with the chip lead, and when all was said and done, he was the man who had all the chips in front of him.
The first player to be eliminated with Lubomir Kudlicka, followed by Marek Tatar in eighth. Then, PartyPoker Pro Bodo Sbrzesny made his exit in seventh place, leaving the table six-handed.
Not long after Chris Williamson was eliminated at the hands of Romanello, when his ace-king was no match for Romanello's queens. Less than an hour later, Jesper Hoog took his walk to the pay-out cage in fifth, and shortly after, Frank Dollinger followed suit in fourth.
Just before the dinner break, Alexander Jager was eliminated in third place, leaving Romanello and Mayu Roca heads-up for the title. In just a couple of hours, Romanello had dispatched Roca to the rail. In the final hand, all the chips went in the middle preflop and Romanello's fives bested the ace-king of Roca when the board rolled out
. Romanello is now one step away from achieving poker's coveted Triple Crown — all he's missing is a World Series of Poker bracelet.

WPT Bratislava Results
1. Roberto Romanello - €140,685
2. Mayu Roca - €71,000
3. Alexander Jager - €42,000
4. Frank Dollinger - €33,000
5. Jesper Hoog - €26,000
6. Chris Williamson - €21,000
7. Bodo Sbrzesny - €17,000
8. Marek Tatar - €14,000
9. Lubomir Kudlicka - €11,000
Head on over to the PartyPoker Blog for more action from the WPT Bratislava final table and a video interview with the newest WPT champion.
Taking on a Legend
New episodes of Poker After Dark are making their way to your television sets this week. The theme for the week is Idol (no, not American Idol), but five young guns of poker will be taking on the godfather of poker himself, Doyle Brunson.
The buy-in was $50,000 and the winner will take home $300,000. The lineup includes Annette Obrestad, Andrew Lichtenberger, Eric Baldwin, Melanie Weisner, and Tom Dwan.
Lichtenberger, Baldwin, and Weisner, will all be making their PAD debuts, while Obrestad will be gracing the PAD felt for the second time. Dwan is a fixture on the PAD cash games, and Brunson will be making his 13th appearance on Poker After Dark.
The action begins Monday night at 2:05 a.m. on NBC and continues five nights in a row. Be sure to check your local listings, and you can PokerAfterDark.com for bios on the players.
WPT Super High Roller
Remember last month when we confirmed the World Poker Tour $100,000 event, but not all the specifics were nailed down? They are now. Thanks to the presser we received in our inbox this morning, we can tell you that the $100,000 buy-in World Poker Tour Super High Roller will run from May 18 to 19 at the Bellagio.
"Hosting a hundred thousand dollar buy-in event within the WPT World Championship series means the world's elite players have a chance to show their mettle as they battle for one of the year's most coveted titles and one of the highest buy-in titles, all within a single week," Steve Heller, CEO of the World Poker Tour said.
Already confirmed for the event are Erik Seidel, Dan Shak, and Justin "BoostedJ" Smith. (Hey guys, save your $100k, Seidel's in this one and we all know how his year is going.)
Check out the press release at the World Poker Tour's website.
Parting Ways
On Sunday, we were checking our Twitter feed and came across a tweet from Maria "Maridu" Mayrinck.
"After 5 great years with @PokerStars I've decided to leave the team, & will have pretty big news in about 2 weeks for all Brazil Poker!"
Followed by:
"I leave @PokerStars w/ nothing but the best things to say of them & am very happy w/ my decision. This will be huge for Brazilian Poker!"
Now we're not really sure what her new project is, and she could even be tweeting it, but we'd never know - most of her tweets have been in Portuguese.
Whatever it is, we'll be sure to let you know the news as soon as it becomes available.
You know what else is great for Brazilian poker, the BSOP — and you can be a part of it by signing up for a ROX Poker account and playing in our PokerNews BSOP events for a chance to win a BSOP package.
Game of Your Life
On Monday, PokerStars launched the Game of Your Life promotion. It's being touted as one of the site's "biggest and most exciting promotions ever."
What's at stake? A $100,000 package to the sporting event of your choice, anywhere in the world. And if that wasn't enough, there's more than $1 million in freerolls for players.
This promotion runs for the next six weeks. Players will need to qualify for the weekly freeroll through the daily freerolls that will run on the online poker site. The first five finals will have a guaranteed $100,000 prizepool, while the sixth is the freeroll where the Game of Your Life package will be awarded.
Game of Your Life package winners will be able to choose the event they want to go to, anywhere in the world, take as many friends as they want, and have all travel and accommodation included.
The first step in winning this awesome prize is signing up for a PokerStars account through PokerNews. And we hope that if you take down this event, you don't forget who brought you the news of the promotion. (Hint, hint.)
If you aren't following us on Twitter, we don't know what to say, except follow us on Twitter. How else are you planning on getting up-to-the-minute news?