World Poker Tour on FSN: Festa Al Lago — Part II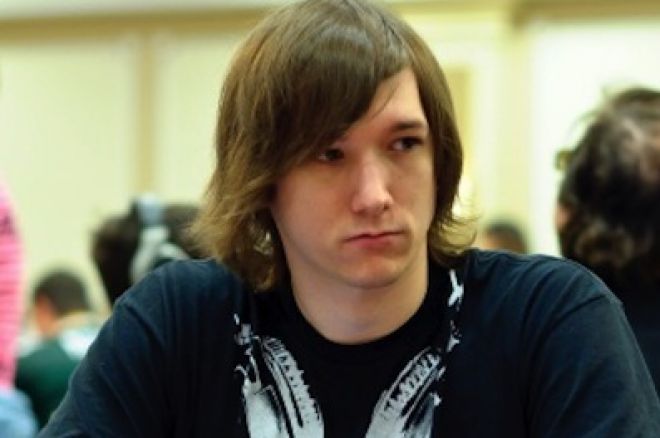 On Sunday night, FSN's coverage of the World Poker Tour's ninth season continued with Part II of the Festa al Lago from the Bellagio. If you recall, last week showcased the final six players of a 335-player field who were all competing for their share of the $3,249,500 prize pool, $831,500 of which was reserved for first place. Skip Wilson and Andy Frankenberger were eliminated in sixth and fifth places respectively, leaving just four players in contention for the Festa al Lago title.
Here is how the final table looked at the top of the broadcast.
Final Table
Seat 1: -empty-
Seat 2: Michael Benvenuti (2,510,000)
Seat 3: Jason Koon (4,245,000)
Seat 4: Noah Schwartz (2,785,000)
Seat 5: Randal Flowers (3,890,000)
Seat 6: -empty-
First Hand: Jason Koon raised to 275,000 under the gun holding the
and was reraised to 675,000 by Randal Flowers who held a mediocre
in the small blind. Koon quickly folded and Flowers took down the first pot of the broadcast, much to the amusement of his supporters on the rail.
Koon Eliminated in Shocking Fashion: Jason Koon raised to 250,000 on the button with the
and was called by Flowers'
in the big blind. When the flop fell
, Flowers checked and Koon put out a continuation bet of 250,000. Much to the surprise of host of Mike Sexton, Flowers called behind and floated the turn. Needless to say, Sexton was quite excited when the
hit the turn and gave Flowers an open-ended straight flush draw. Again he checked, Koon fired out 575,000, and Flowers made the call.
The
spiked on the river and gave both players a straight. Flowers set the trap with yet another check and Koon took the bait, betting 1.5 million. Flowers stared down his opponent, swallowed hard, and moved all-in. A clearly frustrated Koon, who only had about a million back, reluctantly made the call and discovered the bad news. Just like that, Koon was eliminated from the Festa al Lago in fourth place ($225,680).
The Raw Deal: Koon's elimination was nothing if not spectacular and obviously worthy of further analysis in Tony Dunst's Raw Deal segment. "I really like both Jason and Randal and I believe both players made smart decisions in this hand," Dunst said.
Small One for Benvenuti: Michael Benvenuti raised to 280,000 holding
and was called by Flowers in the big blind, who held the inferior
. When the flop came down
, both players checked and the
was put out on the turn. Flowers checked, Benvenuti bet 300,000, and Flowers gave it up. On a side note, the Festa al Lago tournament was Benvenuti's sixth WPT event, second cash, and first final table.
Schwartz Doubles Through Flowers: Action folded to Noah Schwartz who moved all-in for his last 1,345,000 and received a call from Randal Flowers in the small blind.
Flowers:

Schwartz:
Schwartz was a 79 percent favorite in the pair-versus-pair confrontation, a lead which extended to more than 99 percent when the flop came down
and gave him a full house. The
turn and
river changed nothing and Schwartz doubled to 2,895,000.
Schwartz Eliminated in Fourth Place: In the very next hand, Flowers was first to act, raising to 320,000 with
. Action folded to Noah Schwartz in the big blind and he moved all-in for 2,595,000 holding
. Flowers snap-called and discovered he was a 3-1 favorite. Schwartz smiled as the board ran out
and he was sent to the rail in third place ($344,968).
Two Remain: Heads-up action saw Flowers enter with 9,845,000 to Benvenuti's 3,585,000 with the blinds at 80,000/160,000 with a 15,000 ante. In their first hand, Flowers raised to 320,000 with the
and Benvenuti simply moved all-in with the
. Flowers quickly folded and Benvenuti drew first blood.
One for Flowers: Benvenuti raised to 320,000 in the small blind with the
and was called by Flowers'
in the big. When the flop came down
, Flowers took the initiative and fired out 360,000, which appeared to be the right move at the right time as Benvenuti opted to fold.
Last Hand: Flowers raised to 330,000 on the button with the less-than-spectacular
and received a call from Benvenuti, who held the
. The
flop gave both players a little something, and Benvenuti checked. Flowers, who had hit top pair, bet 420,000, and Benvenuti responded by moving all-in for a total of 3,750,000. Flowers made the call and had a big draw to fade; in fact, even though he had the best hand, he was not the mathematical favorite.
Nonetheless, the
turn and
river provided Benvenuti no help and he finished as runner-up ($564,200). Meanwhile, Flowers took down his second WPT title and became the Season IX Festa al Lago Champion, taking home the $831,500 first-place prize.
Past Festa Al Lago Champions
| Season | Player | Earnings |
| --- | --- | --- |
| 3 | Carlos Mortensen | $1,000,000 |
| 5 | Andreas Walnum | $1,090,025 |
| 7 | Bertrand "ElkY" Grospellier | $1,411,015 |
| 8 | Tommy Vedes | $1,218,255 |
| 9 | Randal Flowers | $831,500 |
If you love poker, be sure to follow us on Twitter and like us on Facebook for up-to-the-minute poker news.