PokerNews Book Review: All In by Jerry Yang w/ Interview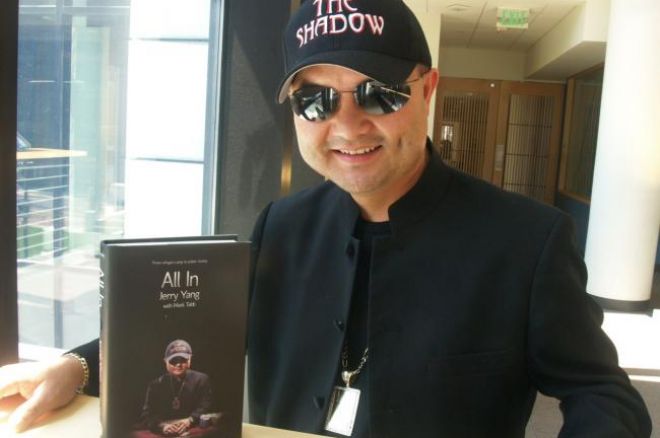 The poker world is full of books of every kind, from strategy manuals to history texts. It seems as though new ones are hitting the shelves or electronic readers every week, continuously saturating the market. Some are treasures; others are pure trash. To help you sift through which books are worth your time, PokerNews has decided to offer some no-holds-barred book reviews, starting with Jerry Yang's new book, All In. In addition, we also had a chance to speak with the former World Champ about his new book and recent charity work.
Jerry Yang enlisted the help of established author Mark Tabb to write the book. I'd be lying if I said I didn't let out a bit of a chuckle when I first heard about the book; nonetheless, I'm a sucker for poker narratives, so I thought I'd give it the benefit of the doubt, especially since I managed to score an advanced copy in June. After a read during the World Series of Poker, I'll admit that I was pleasantly surprised. All In turned out to be a page turner, proving that I greatly underestimated Mr. Yang, both in his writing ability and the story he had to tell.
More accurately, there are two stories in the book: Yang's journey from the killing fields of Laos to the safety of the United States, and his unlikely run in the 2007 WSOP Main Event to win $8.2 million. As a poker fan, I was familiar with the latter, but it was the former that packed a punch. Before reading All In, I knew very little about Yang. Aside from thinking of Yang as an amateur from California with a big family, I thought of him as a former Main Event champ who got lucky to win the "Big One" in what was simply a fluke. I couldn't have been more wrong.
Now that I've had the opportunity to get to know Yang through his book, my opinion has changed completely. Whether you love him or hate him, there is hardly a more deserving champ. I never thought I'd be saying that, but after reading All In, I firmly believe it. I became entranced by Yang's description of his origins in Southeast Asia. The hardships, culture, and danger he experienced as a child were unfamiliar to me and dramatic. I found myself more intrigued with his harrowing escape from the Communists than his poker ventures. In fact, the book really served as a reminder that poker is just a game, one that should be enjoyed as a retreat from life's hardships. To see a man come from so little to sit atop the poker world was truly inspiring.
While much of the book was all business, Yang managed to infuse some well-timed humor, shock value, and amusing dialogue in his memoir. Without spoiling too much, here are some of the more entertaining/captivating/disgusting moments.
Jerry stands up to grandpa
Discovering American TV and Jell-O
Hmong discrimination
Jerry gets worms
Jerry's father steals the show as a resourceful, resilient, witty, and highly entertaining character
One of the concerns I had when reading the book was that Yang would use it as a platform to defend his poker skills and justify his religious beliefs, which caused a polarizing debate when he prayed at the 2007 final table. I was pleased to see that he did not take such an approach. Instead, he addressed both topics in a very tactful and respectful manner. He doesn't attempt to defend his play, which he admits is open to interpretation, but rather he describes his thought process as he navigated the massive field. Right or wrong, Yang allows readers to develop their own opinions. Likewise, when it comes to his continuous prayers on the road to victory, he offers a personal explanation with no expectation of acceptance, just understanding. Going in, I was weary of overzealous preaching, but when all was said and done, I was impressed with Yang's reserved stance on such sensitive topics.
All In Details
Title: All In
Author(s): Jerry Yang with Mark Tabb
Published: 2011
Publisher: Medallion Press, Inc.
Cover Price: $24.95
Pages: 323
PokerNews actually had a chance to sit down with Yang to discuss his new book and ask a few questions. Here is what he had to say.
How did the idea for this book come about?
First of all, after I won the Main Event in 2007, I went around the country doing charity work and basically hosting charity events. I was approached by so many people [who said], "We heard about your story, we think you have a very inspirational story. Have you ever thought of writing a book?" Initially I never thought about writing a book, but the more I talked to people, the more they approached me, that really motivated me to put this book together.
How was it working with Mark Tabb? How did you come to know him?
I actually met him through Stephen Baldwin and Alec Baldwin. He wrote their books also. So I went to the Sundance Film Festival in Utah, and Stephen and I went together. He picked me up from the airport and I spent the whole week with him, and that's how I got to meet Mark.
What has the reception for the book been like so far?
So far so good, so far so good. I'm very pleased. I think that despite the economy I have been getting a lot of support from the poker community and also the community in general. We did a book signing in Fresno and the turnout was great. We sold out every book that we had, and there were people that wanted the book that we didn't even have enough copies for them. I will be doing a few more and, you know, I guess I just have to hope for the best.
Is this book available in just hardback? Is it available online or for the Kindle?
I believe it's online right now; I think it's available for Kindle, also, but it's only available [as far as a physical copy] in hardback at this point.
In the book, you tell your life story and intertwine it with your Main Event victory back in 2007. What was your inspiration to write the book in such a way?
I think my life, in a way, is very similar to my run in 2007. It was up and down, mostly all-in situations, and my life story, same thing. I can give you an example. Almost every situation in my life, especially the major ones, involved life and death, involved an all-in moment, so I wanted to kind of tie the two together so that the reader can also understand what poker is all about but at the same time it's related to my life experiences too. I believe they go hand-in-hand, and hopefully readers will find it more fascinating, and also they can follow the story a little bit better.
Another topic you touch on in the book is your nickname, "The Shadow." What can you tell us about that?
When I first started playing poker, like any amateur, I would play too many hands; however, in those situations I would get very lucky in the beginning. A few of the players were very angry because I kept giving them bad beats. I remember one particular gentleman just kept cursing at me. He was very angry, very mad and said, "You're just like my f**king shadow that just keeps following me and beating me." The more I thought about the name, the more I liked it, so I decided to adopt as my poker persona.
Instead of hitting the poker circuit after your win, you've opted to focus more on raising awareness and funds for various charities. Can you elaborate on that choice?
You've read the book already and you know I went through many, many hardships in my life. I went through many hungry days, no food, no water, no hope, and I was very sick many times. At one point, my family was picturing my funeral basically, and for some reason I came back. I think I owe it, not only to God, but to the community and especially underprivileged children. That is why I am traveling, at times at my own expense, because I really want to make a difference in the community.
I want to raise money to give to these poor children who are sick, the Ronald McDonald House, or a young boy or young girl who is waiting for a wish before dying. Those moments really change my life . . . that is why I want to focus on that. Obviously I want to play more poker, but I feel like my responsibility and my window of opportunity to do good is narrowing, and I want to take advantage of that right now.
Conclusion: Whether you're a fan or critic of Jerry Yang, you'd be coldhearted not to sympathize with his downtrodden childhood and the incredible hardships he survived to make it to the United States. Sure, Yang's road to victory in the 2007 Main Event is open to interpretation, but what is clear is that he used poker as a vehicle to capture the American dream. For that reason alone, All In is among poker's elite memoirs, capturing the inspiring account of the poker's unlikeliest hero, a small-statured immigrant who went on to become a champion both in poker and in life.
PokerNews Evaluation (out of 100): 85% (Highly recommended)
For more on All In, and to order your copy, visit the Medallion Press website.
*Photo courtesy of Minnesota Public Radio (MPR photo/Euan Kerr)
Have you read All In by Jerry Yang? If so, give us your thoughts in the comments section below. In the meantime, be sure to follow us on Twitter and like us on Facebook.
Executive Editor US, PokerNews Podcast co-host & 2013 WSOP Bracelet Winner.