The Nightly Turbo: World Poker Tour Barcelona Live Stream, Cates' Gift, and More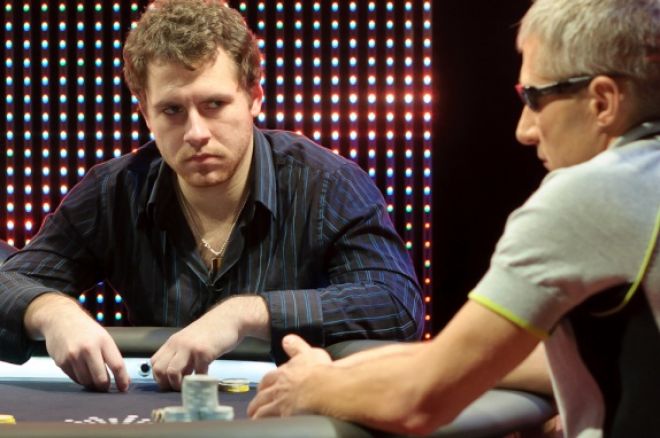 The World Poker Tour is live streaming the WPT Spanish Championship. We'll tell you more about it, what Daniel Cates' is giving away, and more in this edition of the Nightly Turbo.
In Case You Missed It
Sometimes you don't want to read. We get it. That's why, once a week, we bring you something to listen to. Here's the latest PokerNews Podcast for your listening pleasure.
The unofficial final table was set at the World Series of Poker Circuit in New Orleans. Wondering who made it? Check out the WSOP-C recap.
Will David Williams be able to defend his World Poker Tour World Championship title? Find out what his chip stack looks like at the end of Day 4 in this WPT recap.
While one casino shut its doors this week, another opened its own. Stay up-to-date with all things gaming in the latest edition of Inside Gaming.
Watching Live
The World Poker Tour Spanish Championship presented by PartyPoker will kick off on May 25 at Casino Barcelona. The final table of the €3,500 Main Event will be live-streamed with hole cards and commentary on the PartyPoker Blog.
"The live streams of recent events such as WPT Vienna and the Big Game V have proved to be extremely popular so we look forward to offering a service on the PartyPoker.com/blog for Barcelona. As before, there will also be written live reporting, exclusive freerolls and bonuses for viewers," a PartyPoker spokesperson said.
Last year, 326 players entered the event and Ali Tekintamgac, a man at the center of quite a bit of controversy lately, emerged as the winner. The WPT Spanish Championship is the first stop of Season X of the WPT and on top of the prize money and title, the winner will receive a $25,500 entry into the 2012 WPT World Championship event.
Find out more about the event at WorldPokerTour.com.
Here's a Seat
On Wednesday, Kevin "Kevmath" Mathers started a thread on TwoPlusTwo regarding a message he received in his inbox.
"I wanted to let you know that Daniel Cates decided to do something really nice. He is buying one person into the Main Event. He will be tweeting (@junglemandan) his location around Vegas at least once per week starting next week and running through June 25. People will pick up a ticket from him at each location and a winner will be drawn. It's free to join, no sign-ups or anything and the only stipulation is that they can't have played in the Main Event before. He is also throwing in lessons and best of all, not taking a percent from any of the winnings."
The sender of the message was not made public, but according to Kevmath, Cates and mindset coach Sam Chauhan were discussing this giveaway on the QuadJacks Radio Show earlier this week.
Check out the TwoPlusTwo thread for more.
SCOOP Update
Three more events crowned winners since our last PokerStars SCOOP update. That means nine shiny new watches will be sent out to grace the winners' wrists.
Event #24 was a triple-draw 2-7 affair and in the $11 Low installment, 2,440 players entered, creating a prize pool of $24,400. A three-way deal was made at the final table, and "Moondog711" was crowned champion and took home $3,019 for the win. The $109 Medium event saw 405 players try their hands at adding a SCOOP title to their resumes. At the final table, a six-way deal was made, leaving an extra $500 for the eventual winner, who's screen name happens to be "RectalRash." His $4,122 prize wasn't the biggest handed out at that final table; however, "sleepy_seven", who finished fourth, banked $5,713. In the High installment of Event #24, 81 players ended up forking over the $1,050 buy-in. "Lance84" bested that field, pocketing $24,300.
In Event #25, stud hi/lo, the Low version attracted 2,012 players, creating a $40,240 prize pool - doubling the guarantee. Top honors, along with $5,934 and the SCOOP watch went to "magic_maniac." The Medium installment drew 340 players. In the end, it was "cal42688" who bested the field, adding $13,090 to his bankroll and a SCOOP watch to complement the WCOOP bracelet he already has. In the $2,100 High version of Event #25, "skalexjung" emerged as the winner of the 54-player field, winning $33,583.
Event #26 brought us a no-limit hold'em turbo tournament. The $11 Low installment attracted 20,522 players. There was $20,538 set aside for the winner, but 3,150 players made the money. Taking home the top prize was "ironyorick." The Medium event had a buy-in of $109 and saw a field of 4,345 players create a $434,500 prize pool. In the end, "dean23price" of the U.K. topped the field taking home $68,217 and a new SCOOP watch. Event #26 High saw a much smaller field than its lower buy-in counterparts, but the buy-in was $1,050 so that was to be expected. A $715,000 prize pool was created from the 715 entrants, smashing the $300,000 guarantee. The player with all the chips at the end of play was "le kork." For the win, le kork pocketed $134,420.

This was the turbo version of the SCOOP results. For more detailed action, check out all the recaps from every event on the PokerStars Blog.
Tony Tweets
We're sure you've all listened to or read Tony G's stance on Full Tilt Poker's cash-out issues. On Wednesday, Tony G tweeted some promising news and asked everyone to "give Full Tilt Poker two weeks of grace to sort out the situation."
While he didn't elaborate too much on the news, he did tweet that he has information that leads him to believe that Full Tilt and Team Full Tilt are "working harder than ever to ensure all players get paid," and that Team Full Tilt's "personal assets are on the line." In regards to the personal assets of Team Full Tilt, the G said that "they [Team Full Tilt] will liquidate [their] own assets to pay the players out."
Be sure to follow us on Twitter for up-to-the-minute news, and why don't you like us on Facebook while you're at it.