Stuart McDonald Finds Success on the Latin American Poker Tour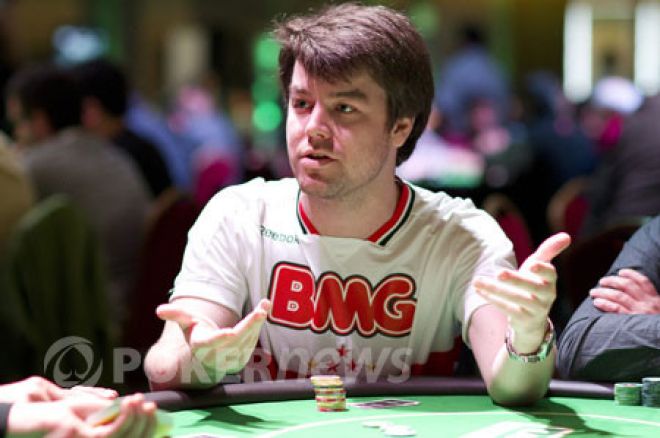 In October 2011, PokerNews first met Stuart McDonald at the Latin American Poker Tour in Medellin, Colombia. The brash, young Australian was making a deep run in the 681-player field, the largest in LAPT history. Eventually McDonald made the final table and spearheaded a six-way chop. Because he was the chip leader, McDonald walked away with $87,129, nearly $16,000 more than his closest opponent; nonetheless, McDonald finished in sixth place.
What happened to facilitate his untimely demise? Well, with most of the money locked, McDonald pushed the action. It was a "go big or go home" strategy, and as fate would have it, McDonald was rewarded with the latter. His downfall came when he raised to 280,000 from the hijack and received a call from Victor Forero in the small blind. When the flop fell
, Forero checked, McDonald moved all in, and Forero called off for 1,305,000.
Showdown
McDonald picked up a little help on the
turn, but the
river gave the pot to Forero, who took the chip lead with over 3.3 million. After that, McDonald was left with just 900,000 in chips, but it was no consolation — he soon lost it.
Despite not capturing the title, McDonald was more than satisfied with the score as he had qualified on PokerStars for $20 in a $4 rebuy satellite. After his score, McDonald returned to his native land for the 2012 Aussie Millions Poker Championship, while continuing to use PokerStars as a platform to enter events in South America.
PokerNews recently caught up with McDonald at the LAPT Season 5 kick-off event in Vina del Mar, Chile, to find out what the young pro has been up to since his big score and what keeps him coming back to the LAPT.
The last time we saw you was in October in Medellin. What have you been up to since then?
After Colombia, I went to Sao Paulo and then went back to Australia to take care of some stuff. Then I played the Aussie Millions; played about six events and nothing. I only planned on playing two events, but then I just couldn't help myself. I decided to gamble off a bit of cash, as well. Now I've come back [to South America].
Are you calling yourself a degen?
Once I start, yeah, I'll go play roulette and put it out on everything. I was playing the machines and stuff, but that's it, I'm done for life. I've quit for life once, so this is the second quit.
You play a lot online. Is that how you go about qualifying for these land-based events?
Yeah, I qualified for this one for $200. Colombia I only played a $4 rebuy to a $200, which cost me $20, so I had all of my action. However, I stupidly bought in directly to an EPT out of my PokerStars [account]. I shouldn't have played it because I told myself that when I play live from now on, I'm only going to play if I qualify.
What is it about the LAPT that you like? Is it an easier field than most?
Yeah, definitely. I think it's because a lot of people satellite into it. Any tournament that someone satellites into, you don't want the entire field to be loose, aggressive and passive because they're going to get you at some stage. Here I've got an easy table and I've set up a good image. I won a big hand with
. It was sick and no action, I even bet half pot. I thought one of them had a jack. I guess they can fold top pair as they're playing pretty tight and they're not complete idiots. I was actually a bit sickened about that one.
*Here's the hand in question as reported by the PokerNews Live Reporting Team:
With 2,200 in the pot and a board reading , Stuart McDonald bet 750 and was quickly raised to 1,500 by his opponent in the hijack. McDonald called and the was put out on the river. McDonald took his time counting out some chips before sliding out a bet of 3,750. The hijack snap-folded while showing , and McDonald raked in the pot. The Australian is holding steady around 22K.
At the LAPT Colombia final table, you were chip leader when the six-handed deal was struck but then finished in sixth. What happened? Did you even care at that point?
I cared, but it was a combination of reasons why I got out like I did. To be honest, at the time, I was really just thinking about how much money I had and I wasn't thinking about the side benefits of winning a title. It's good to have the title and a bit of glory, you get a bit more recognized, but I think it was because I knew if I came in fifth through second, I wouldn't get anything extra.
I did make a crucial mistakes because I miscounted when I raised with six-three off. I actually thought he started the hand with a million, but he actually started the hand with 1.5 million. So I intended to put in a pot-sized shove in, but it ended up being an over shove and that screwed me. I was playing three days, ten hours a day. I had a "go-big-or-go-home" attitude, but I still wanted to win.
Did you do anything fun with the money you won? Have you made any big purchases? Did you go and celebrate?
No, I actually didn't do anything because my other mate was too tired, so I just crashed a couple of hours later. I hung out in Colombia for a couple of weeks, it was a lot of fun. I spent a shit load of money. The next time I get a decent cash, I'm not going to do it again.
I'm always trying to be good with bankroll management, but in my opinion it's never good enough unless you're a real top pro with a deep bankroll. I only play cash 2 percent of the time. I like playing cash, but I'm a bit susceptible to tilting. You've got to patient, and I still play my tournament style a little too much, and I know it.
Unfortunately McDonald busted on Day 1a of the LAPT Chile, but not before Kristy Arnett caught up with him during a break.
Stay up to date on all the latest news by following us on Twitter and liking us on Facebook.