2011 WCOOP: Mike "goleafsgoeh" Leah Talks Bracelet Wins and Main Event Chops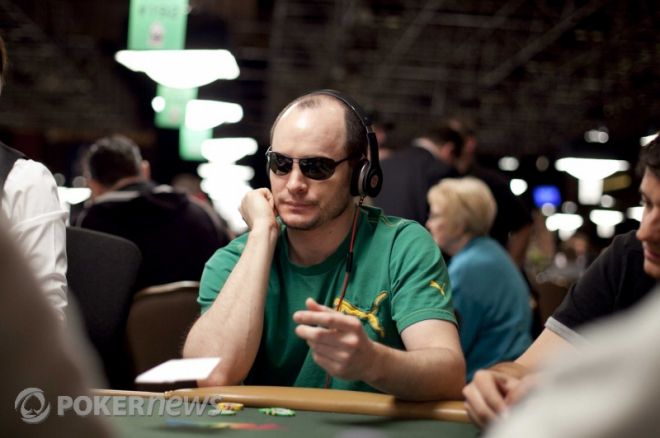 Mike "goleafsgoeh" Leah had an unforgettable month at the 2011 PokerStars World Championship of Online Poker. The poker pro from Canada won his first WCOOP bracelet in the $300 Badugi event and then collected $560,000 after a five-way chop in the Main Event — his biggest score to date.
PokerNews caught up with Leah to discuss his WCOOP success and even a little hockey.
Before we get into your massive score in the Main Event, let's hear about the bracelet you won earlier in the series. Your first WCOOP title came in the badugi event. How experienced are you in draw games?
I enjoy draw games a lot; it's a really cool form of poker with no community cards and no up cards. The only information players get is from you. But I'm not that experienced really. I almost never play cash and there aren't that many draw-game tournaments. I played the 2-7 events at this year's WSOP and in the last couple of WCOOP, SCOOP, and FTOPS. I think it was probably my third or fourth strictly badugi event but have also played it in 10-game events and such.
That victory was for just over $17,000. You locked up $560,000 by chopping the Main Event. Is it a huge shock when you take down a big score like that or is it something you get used to as a poker pro?
I'd like to get used to it! I have been deep in some pretty big events but this was my biggest final table prize pool so it was pretty intense. Especially as the short stack, being forced to go all-in so many times, you kinda hold your breath and my heart was beating pretty fast every time. The score isn't a shock as I have been working for scores like this for a few years now and have always had confidence that they would come, but it is awesome!
You mentioned being short stacked. We noticed you didn't crack the top 10 on the leaderboard until there were two tables left. Was that frustrating or were you comfortable just coasting along?
I would have definitely preferred to have more chips and it wasn't comfortable being short stacked most of the time as my tournament life was on the line every hand I played. That said, I am very comfortable and confident with a "shove stack" of 10 to 20 big blinds. And with the 30-minute levels, it gave me more time to be more patient and pick my spots to shove. It would have been very nice to have a larger stack so I could have taken advantage of some players with the big pay jumps.
What were your thoughts on the players at the final table? It lacked some of the huge names we've seen in recent years; how did it rank talent-wise compared to other major final tables you've played in the past?
I thought from the last few tables down, the play was very strong. There weren't very many weak spots that I could see; you could tell with all of the three, four, five, and six-bets that there were a lot of advanced and fearless players. It didn't make it easy as a short stack as most pots were three-bet before they got to me but the aggressiveness helped my move up pay jumps pretty quickly. A lot of the bigger names busted out in the last few tables but I felt the quality of play and players was very high.
You got down to five players and began discussing a deal, which took nearly an hour. Talk us through that process a little bit. Was your backer in your ear or were you mostly handling the negotiations yourself?
The process took long but it seemed like from the beginning that the deal was going to be easy to make — just a question of working out the numbers. I definitely talked things over in detail with my backer as we wanted to make sure it was a deal we were both happy with and would have no regrets.
Do you really have an ICM calculator on your phone?
I do have a Poker ICM app on my iPhone. It's handy for live tournaments and sit-n-gos.
You made attempts to get more money but "Kalllle" wasn't budging. Did you consider just rejecting their proposal and playing on?
I don't like to chop as I love playing short-handed and going for the win but my backer has a say and a finance degree [laughs]. It was obviously a lot of money that we were talking about. I was of course trying to get the best possible deal for myself and feel that my real equity was a little higher than the number I got due to my experience in these situations.
But in the end it was a fair deal and it was just too much money to turn down. If you took a zero off of all the numbers I might have decided to risk it and try to win more; it was a unique situation due to the amount of money on the line. ... Locking up the extra $231K made sense and I'm happy and have no regrets.
Now that you've secured your biggest career score, what are your plans for the next few months?
Well, I was grinding for 23 straight days for WCOOP, so going to take it easy for a week and prepare for fantasy hockey season [laughs]. Next week, I will most likely be heading to WSOP Europe and will make one poker trip a month for the next few months, as well as a nice vacation or two.
I will also be doing a hand history review video of my Main Event run on TournamentPokerEdge.com
We know you're a huge Toronto Maple Leafs fan. Thoughts on the upcoming season?
I think the Leafs are in a group of about six teams that will be fighting for sixth through 11th (in the Eastern Conference). They have a shot at the playoffs and are building a decent young core for the first time in a long time so I'm happy with the direction anyway.
Any Stanley Cup predictions?
Yeah the Leafs will not win [laughs]. If I was picking two teams right now I would go with Washington and Chicago in the final.
Follow PokerNews on Twitter for up-to-the-minute news.