The Nightly Turbo: Rettenmaier Enters GPI POY Race, Online Poker in California, and More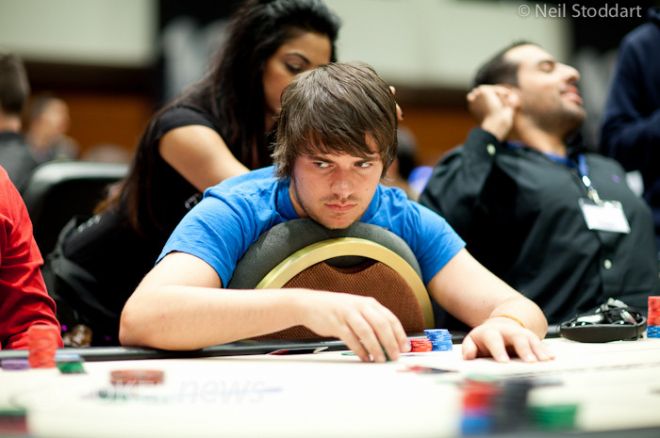 The summer tournament scene in Las Vegas will have a major impact on the Player of the Year races. Is Jonathan Duhamel already in danger of losing his lead in the GPI Player of the Year? We'll cover that story plus a survey about online poker in California, in the latest edition of the Nightly Turbo.
In Case You Missed It
What effect does music have on your mood at the poker table? Lynn Gilmartin takes a look at some tracks that might help players stay focused in the latest Stay Stacked.
Some big-name players made Day 3 of the WSOP $1,500 no-limit hold'em Event #2. Find out which pros are vying for a bracelet in our daily WSOP recap.
Which story lines should you be watching for at the WSOP on Wednesday? Read about them in the latest WSOP What to Watch For.
Looking for a fun, behind-the-scenes perspective of life at the WSOP? The Muck will offer several daily stories from inside the Rio, so check it out!
Rettenmaier, O'Dwyer Enter GPI Player of the Year Top 10
Jonathan Duhamal topped the 2012 Global Poker Index Player of the Year rankings for the 14th straight week, but a couple contenders have entered the race following impressive performances in Las Vegas last week.
Marvin Rettenmaier and Steve O'Dwyer vaulted into the top 10 after making the final table of the $25,000 buy-in World Poker Tour World Championship at the Bellagio. Rettenmaier won the event, collecting nearly $1.2 million in the process, and jumped 50 spots in the rankings to No. 6 in the GPI Player of the Year race. O'Dwyer finished fifth in the WPT Championship and improved 12 spots to No. 4.
Frenchman Phillippe Ktorza finished runner-up to Rettemaier in the event and jumped 130 spots to No. 23 in this week's standings. Other big movers this week were Moon Kim (up 137 spots to No. 45), Tom Marchese (up 199 spots to No. 54) and Matt Juttelstad (up 135 spots to No. 73). Marchese bested a tough field of 34 players to win the $100,000 buy-in WPT High Roller for more than $1.3 million.
Here's a look at the Top 10 of the Global Poker Index Player of the Year standings:
GPI Player of the Year Top 10
| Place | Player | Total Score | Change in Rank from Last Week |
| --- | --- | --- | --- |
| 1 | Jonathan Duhamel | 595.68 | -- |
| 2 | Dan Smith | 534.42 | -- |
| 3 | Andrew Badecker | 511.97 | -- |
| 4 | Steve O'Dwyer | 489.13 | +12 |
| 5 | Samuel Chartier | 478.70 | -1 |
| 6 | Marvin Rettenmaier | 463.06 | +50 |
| 7 | Bertrand Grospellier | 454.83 | -2 |
| 8 | Noah Schwartz | 444.21 | -2 |
| 9 | Martin Jacobson | 412.22 | -2 |
| 10 | Vyacheslav Igin | 382.19 | -2 |
The Global Poker Index Player of the Year, presented by PokerNews, honors the player who has the strongest performance in live tournaments during the calendar year, according to the USA Today Global Poker Index point system.
For the full GPI Player of the Year standings, head on over to EpicPoker.com.
California Divided on Internet Poker
A new survey conducted by USC Dornsife/Los Angeles Times shows that California voters are nearly split on the prospect of legalized intrastate online poker.
More than 1,000 registered voters were questioned between May 17 and 21 about online poker and other forms of gambling. The poll showed that 47 percent of voters would favor legalization of online poker if the activity could raise money toward education, public safety and other government services for the cash-strapped state.
The Los Angeles Times reports that many of the polled voters were concerned about problem gamblers setting a bad example for young people.
In February, California Sen. Darrell Steinberg (D-Sacramento) and Sen. Roderick Wright (D-Inglewood) introduced a bill that would allow online poker to be played within the state. The Internet Gambling Consumer Protection and Public-Private Partnership Act of 2012, also known as SB 1463, seeks to generate hundreds of millions of dollars for the state in the fiscal year 2012-13.
Read more at the Los Angeles Times.
Bwin.Party Launches Social Gaming Strategy
Online gambling giant bwin.party has launched strategy that will see the company invest up to $50 million over the next two years in a new social gaming platform.
This week, bwin.party broadened its reach into social gaming by acquiring gaming developers Velasco and Orneon. Bwin.party says that the $23 million purchase for the companies covered several existing business-to-business social gaming contracts and significant software engineering resources.
The investment will include the establishment of a social games studio called Win, which will develop and launch social games, as well as a dedicated social gaming technology platform.
Bwin.party's first social gaming product will be a poker-based product followed by a casino and sportsbook application by the end of the year.
Commenting on Wednesday's announcement, bwin.party co-CEOs Jim Ryan and Norbert Teufelberger said: "We have chosen a 'build and partner' strategy, one that provides us with both the resources and additional management expertise to execute our planned extension into social gaming — an exciting and fast growing area of digital entertainment that is the latest addition to our business strategy."
Read more at bwin.party.com.
Perfect Match
Matchbook.com doesn't have an online poker room, but the betting company has loaded up with high-profile pros to sponsor during the 2012 World Series of Poker.
The site, which is striving to become the top destination for all poker betting, has put together a team of ten poker pros during the two-month poker festival in Las Vegas. The team is starred by Sam Trickett and Dan "Jungleman" Cates, both of whom are considered among the toughest cash-game players in the world. Trickett also has a striking tournament résumé and will be playing in the $1 million buy-in Big One for One Drop tournament during this summer's WSOP.
"It was an easy choice partnering with Matchbook for the WSOP," Trickett said. "Not only are all the players extremely talented but the majority of the team is also very good friends. It's a unique environment to have as a poker team but provides us all with added support. I'm sure we are all going to have a fun and profitable summer together."
Other members of Team Matchbook are WSOP bracelet winners JP Kelly and Matt Perrins, Roberto Romanello, James Akenhead, Martins Adeniya, Ben Vinon, Jarred Solomon and John Hewitt.
Read more right here at PokerNews.com.
Explain This: Shaun Deeb
After his quick exit from WSOP Event #4, Shaun Deeb sat down with PokerNews' Sarah Grant for the latest edition of Explain This.
Follow PokerNews on Twitter for up-to-the-minute news.