The Weekly Turbo: Jungleman's WSOP Giveaway, Legalized Poker in Australia, and More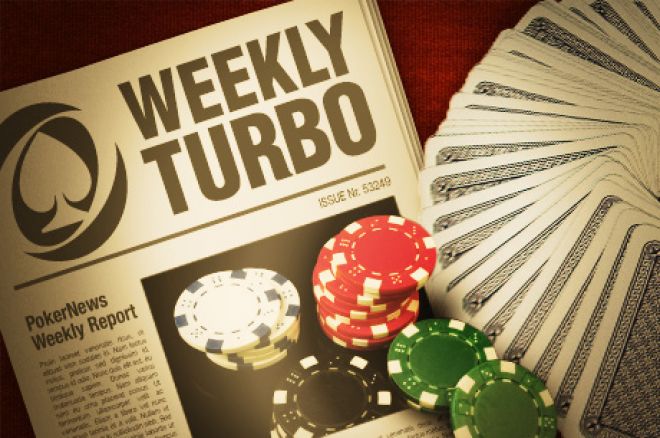 Did you miss any of the top poker news stories this week? Well you've come to the right place to get caught up. We're covering Dan "Jungleman" Cates' WSOP Main Event challenge, Australia's move toward legalized online poker, and more.
Poker Players
The Generous Jungleman
For the second straight year, high-stakes superstar Dan "Jungleman" Cates is buying one lucky player into the World Series of Poker Main Event.
Cates, 22, is giving away a Main Event seat to a person who performs a good deed and records it on video. All applicants must upload the video to YouTube and then Tweet the video to Cates. There is no limit to the number of entries per person, but all videos must be submitted by June 20.
The winner will receive a seat to the WSOP Main Event, free air travel and a free room at the Rio. Cates will also throw in a free poker lesson.
"I will never forget when I was playing low stakes in college and I don't take for granted any success I have had," says Cates, who played in his first WSOP last year." I want to give something back to those who are just falling in love with the game or haven't had the opportunities I am lucky to have had."
Last year, Cates held a raffle for the WSOP Main Event seat. He tweeted his location around Vegas leading up to the event and gave away tickets for the random drawing.
The full set of rules for this year's contest can be found at the PartyPoker Blog.
Daniel's Weekly Rant
As usual, Daniel released his Weekly Rant on Wednesday. This week, Negreanu announces a WSOP contest for his fans where he's giving the first place winner the opportunity to win 1 percent of what he cashes for during the WSOP. There are other prizes up for grabs too. He also plugs the $25,000 fantasy poker draft, then breaks down a hand he played at the WPT World Championship.
Big One for One Drop Gets Tougher
High-stakes online cash player Jens "Jeans89" Kyllönen is the latest poker pro to throw his hat in the ring for the $1 million buy-in Big One for One Drop at this summer's World Series of Poker.
Kyllönen, one of the biggest winners on PokerStars this year, told Pokerisivut.com that he intends to put up the entire buy-in himself but may sell some shares as the event gets closer. Players are required to post a $50,000 deposit upon registering for the event, after which the complete buy-in fee must be settled two weeks before the day of the event.
"Basically I had a good amount of winnings from this year, and I decided to go for this once in a lifetime opportunity, said Kyllönen."The list of players seems very nice, and the charity aspect brings a nice extra value to the tournament. The most important reason for me to play this tournament is, however, the chance to take the lead from Juha Helppi in the Finnish all-time money list."
In addition to the 30 players who have confirmed their participation for the event, players like Phil Hellmuth, Antonio Esfandiari, Sam Trickett and Andrew Robl have expressed interest putting up the seven-figure buy-in. Unfortunately, the World Series of Poker says it will not release an updated list of confirmations until next month. During the May 9 conference call with the media, WSOP Executive Director Ty Stewart said the total number of confirmed participants was around 40. The event will be capped at 48 players with no exceptions.
Read more at HighStakesDB.com.
Poker Legislation
Good News, Mate
Efforts to legalize online poker in Australia are reportedly in the works, according to several news reports from Down Under this week.
According to the Daily Telegraph, the Australian government has informed the gaming industry that legislation to allow online poker and sports betting could be applied in the next six to 12 months. From there, sources believe that online poker will be introduced on a five-year trial period.
The newspaper said it has obtained documents showing that the government had briefed the Australian gaming industry. The Telegraph also published an email sent by Merrill Lynch gaming analyst Mark Bryan to his clients which briefed them about the government's plans.
"In-play live online betting: Many in the industry indicated that they expect this to be legalized alongside poker in the next six-12 months following overseas precedents," Bryan wrote. "It seems (Communications Minister) Stephen Conroy's department recently provided a brief on draft legislation."
Online gambling has been illegal in Australia since the activity first burst onto the scene in the mid-1990s, but offshore sites have been able to work around Australian legislation. Companies providing online real-money online gambling could face a fine of more than a million dollars under the 2001 Interactive Gambling Act, but no charges have been made in more than a decade since the law was enforced.
Read more at the Daily Telegraph.
Operators Settle with Spain
Spain has now raised more than €60 million in back taxes from online gambling companies seeking licenses to operate in Spain when the new market opens next month.
Betfair announced Wednesday that it "has satisfied all requirements set out by the tax authorities and will be making a payment of not more than €10 million." Paying off the retroactive taxes puts Betfair near the front of the line when Spanish licenses are granted.
"Betfair expects to be awarded a license covering its sportsbook and certain casino products and intends to apply for a poker license shortly thereafter," the company said in a statement. "Under the terms of the licences, operators will pay a Gross Gaming Revenue tax of 25% on Spanish operations — a tax that Betfair has already been paying since May 2011 when Spain's new gambling act was introduced.
On Monday, bwin.party agreed to pay up to €33.6 million in back taxes to the Spanish Tax Ministry. Sportingbet announced one day later that it will make a payment of €14 million plus surcharges and interest of up to €3.2 million. PokerStars, 888 and bet365 are expected to follow before the new market opens.
Read more at Betfair.com.
Online Gambling Bill Advances in Delaware
A bill that would allow Delaware residents to gamble online was passed by a committee last week and is headed to the House for a vote.
The Associated Press reports that the House Gaming and Parimutuels Committee cleared House Bill 333 after hearing testimony from industry experts about the security of Internet wagering. The bill would allow sites to offer games such as poker, blackjack, digital slot machines.
HB 333 calls for a centralized online gambling platform to be regulated by the state Lottery Office. Delaware casinos have been struggling to compete against casinos on the East Coast, and the Department of Finance estimates HB 333 would generate $7.75 million in revenue for the state next fiscal year.
The Associated Press has more.
Poker Business
Gold Star to PokerStars
PokerStars has been selected as one of the United Kingdom's Best Workplaces by The Great Place to Work® Institute, a consultancy company specializing in workplace assessment and enhancement.
The institute, which has given the awards annually in the U.K. since 2000, assesses the practices of more than 5,500 companies around the world on set of criteria to identify the very best in leadership, people management and positive workplace culture.
PokerStars was ranked No. 22 among the large companies in 2012. The world's leading online poker room employs 1,200 people worldwide, with half in the U.K. and the company's headquarters in the Isle of Man. The company says it is distinguished by its "robust employee benefits and rewards, strong professional development opportunities and a diverse workforce."
"As a fast-growing company, attracting and retaining talented people is critical to our business, so we are dedicated to ensuring our employees are well supported, nurtured and rewarded," said Lynn Hunter, director of HR at PokerStars. "This is the first time we've participated in the Great Place to Work survey, so it's especially gratifying to know that our efforts are contributing to the success of our business, and that employees consider PokerStars to be a Great Place to Work."
Other companies listed among the U.K.'s Best 25 Workplaces were Admiral Group, Capital One, McDonalds, Microsoft, Volkswagon, Starbucks, Nike and Ikea.
The full list can be found at the Great Place to Work website.
The Lost Episodes
The NBC Sports Network, formerly Versus, will air two weeks of a never-before-seen Poker After Dark in June, a source close to the show told PokerNews this week.
The $200,000 buy-in cash game will begin airing Monday, June 4 at 12 a.m. EDT. The lineup of pros includes David "Viffer" Peat, Eli Elezra, David Oppenheim, Patrik Antonius, Phil Ivey, and Tom Dwan. Footage of the game was shot in 2010 and was scheduled to air last year, but the show was cancelled by NBC in the aftermath of Black Friday.
Earlier this year, Mori Eskandani of POKER PROductions told PokerNews that he feels like there will be a "bunch of [poker] shows coming back" in the next year or so. Eskandani added that there was a "90 percent chance" that the NBC National Head Up Championship will return next year after taking a one-year hiatus in 2012.
Judge Delays Black Friday Defendant Sentence
According to Pokerati.com, the sentencing for Black Friday principal Brent Beckley has hit a snag because of a court order filed by District Judge Lewis A. Kaplan.
Beckley, the co-founder of Absolute Poker who was indicted by the Department of Justice on April 15, 2011, pleaded guilty last December to violation of the Unlawful Internet Gaming Enforcement Act (UIGEA) and bank fraud. Under the plea agreement, Beckley was expected to spend up to 18 months behind bars, well below the maximum prison sentence of 30 years he faced for the original charges.
Kaplan, however, has indicated that the court will consider taking harsher action against Beckley on the ground of "aggravating circumstance." Kaplan's order states that Beckley "deliberately and unlawfully conspired to circumvent, and circumvented, governing laws of the United States in order to conduct or facilitate an unlawful business or businesses involving billions of dollars from which those businesses gained many millions of dollars."
Beckley's sentencing hearing was scheduled for Monday but has been pushed back to June 28. Read Pokerati.com for more.
Follow PokerNews on Twitter for up-to-the-minute news.