The Nightly Turbo: Jungleman's WSOP Challenge, $1 Million One Drop Satellite, and More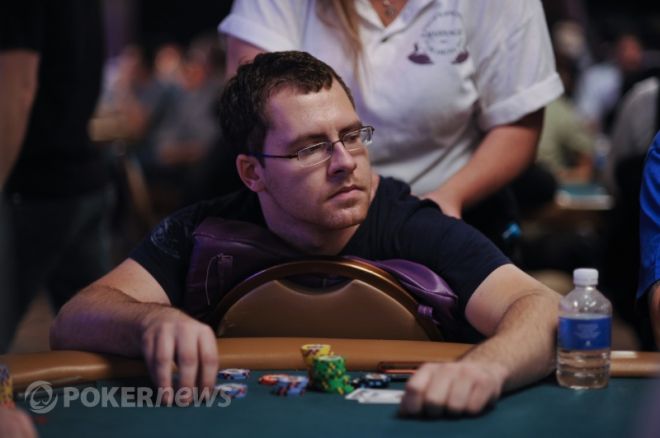 What's the best gift a friend ever gave to you? It's probably not as rewarding as the present given to one poker player over the weekend. We'll cover that story, plus Dan "Jungleman" Cates' World Series of Poker challenge, in this edition of the Nightly Turbo.
In Case You Missed It
Nick "GripDsNutz" Grippo won the 2012 PokerStars Spring Championship of Online Poker Main Event on Monday. Get all the details from the final table in our Day 16 SCOOP recap.
Grippo showed off his deal-making skills at the SCOOP Main Event final table. Rich Ryan discusses the art of negotiating in his latest Five Thoughts piece.
Oliver Speidel burst onto the poker scene this year with a win at the Aussie Millions Main Event. Speidel is the latest player showcased in the 2012 WSOP Rookie Roundup.
Day 3 of the WPT World Championship wrapped up on Monday. Curt Kohlberg led the way, but many of the game's top pros were still in contention.
Justin Truesdell won the World Series of Poker Circuit Harrah's New Orleans $1,600 Main Event on Monday. Read about the final table in our WSOPC recap.
Phil Hellmuth launched a new website on Tuesday. Take a look at his introduction video over at The Muck.
The Generous Jungleman
For the second straight year, high-stakes superstar Dan "Jungleman" Cates is buying one lucky player into the World Series of Poker Main Event.
Cates, 22, is giving away a Main Event seat to a person who performs a good deed and records it on video. All applicants must upload the video to YouTube and then Tweet the video to Cates. There is no limit to the number of entries per person, but all videos must be submitted by June 20.
The winner will receive a seat to the WSOP Main Event, free air travel and a free room at the Rio. Cates will also throw in a free poker lesson.
"I will never forget when I was playing low stakes in college and I don't take for granted any success I have had," says Cates, who played in his first WSOP last year." I want to give something back to those who are just falling in love with the game or haven't had the opportunities I am lucky to have had."
Last year, Cates held a raffle for the WSOP Main Event seat. He tweeted his location around Vegas leading up to the event and gave away tickets for the random drawing.
The full set of rules for this year's contest can be found at the PartyPoker Blog.
Carlos Nahas Gifted Seat to One Drop
A seat to the $1 million WSOP Big One for One Drop event was up for grabs in Montreal over the weekend as 57 players put up $25,000 to enter the Grand Tournoi de Poker Loto-Quebec satellite tournament.
One Drop charity and Cirque du Soleil founder Guy Laliberté and Caesars Interactive Entertainment CEO Mitch Garber were on hand to kick off the event, which drew poker pros like Mike McDonald, Scott Montgomery, Steven Paul-Ambrose, Chris McClung, and Laurence Grondin.
In the end it was a pair of unknowns who were battling for the $1 million seat. Carlos Nahas and JC Ferreira played an intense six-hour heads-up match, and it was Nahas who walked away with the $1 million seat after his pocket kings bested Ferreira's A-3.
Amazingly, Nahas only played in the One Drop qualifier because a friend won the seat through a slot machine. His friend knew very little about poker and offered the seat to Nahas, who will now get a chance to win millions in Las Vegas from July 1 through 3 at the Rio in Las Vegas.
Read the full recap at WSOP.com.
One Drop Becomes Official WSOP Charity
In addition to the Big One for One Drop this summer, Caesars has announced that One Drop has been selected as an official charity for the World Series of Poker.
Going forward, the WSOP will work with ONE DROP to help educate, raise awareness and direct funds towards the organization that helps provide access to clean water around the world.
"ONE DROP is doing important and impactful work and we intend to do what we can to help their efforts," said Caesars Interactive Entertainment CEO Mitch Garber. "The water crisis is a worldwide issue and with the WSOP's global reach, we believe this is a great fit for our company."
The $1 million buy-in Big One for One Drop kicks off on July 1. More than 30 players have already confirmed their participation for the event. With $111,111 out of every buy-in going to the One Drop foundation, more than $3.3 million will be raised in that event alone.
In addition, all players who cash in any WSOP event will be asked to go All In for One Drop by donating one percent of their winnings the charity.
More information can be found at WSOP.com.
Online Gambling Bill Advances in Delaware
A bill that would allow Delaware residents to gamble online was passed by a committee last week and is headed to the House for a vote.
The Associated Press reports that the House Gaming and Parimutuels Committee cleared House Bill 333 after hearing testimony from industry experts about the security of Internet wagering. The bill would allow sites to offer games such as poker, blackjack, digital slot machines.
HB 333 calls for a centralized online gambling platform to be regulated by the state Lottery Office. Delaware casinos have been struggling to compete against casinos on the East Coast, and the Department of Finance estimates HB 333 would generate $7.75 million in revenue for the state next fiscal year.
The Associated Press has more.
More Movement in Spain
The Spanish tax ministry is collecting millions in back taxes from online gaming operators that offered their services in the country since 2008.
One day after bwin.party agreed to pay up to €33.6 million, Sportingbet announced Tuesday that it has completed self-assessment tax returns and will make a payment of €14 million plus surcharges and interest of up to €3.2 million. The move likely places Sportingbet near the front of the line when Spain issues online gambling licenses at the beginning of June.
"Obtaining a Spanish eGaming license will mark the next step in the Company's stated strategy of increasing the proportion of the Group's gaming revenue from regulated markets," Sportingbet said in a statement on Tuesday.
eGaming Review also reports that 888, Betfair and PokerStars all in talks with the Spanish tax ministry to repay back-tax. PokerStars is rumored to owe as much as €200 million in retroactive taxes.
For more, read the press release at StockMarketWire.