2012 World Series of Poker Rookie Roundup: Oliver Speidel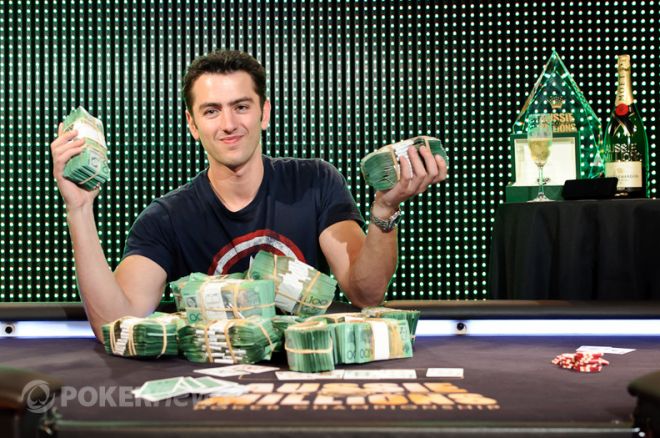 Sometimes it's easy picking someone for PokerNews' Rookie Roundup prior to the World Series of Poker, especially when they've just proved themselves in a major tournament. That's exactly the case with Oliver Speidel, who conquered a 659-player field in January to capture the 2012 Aussie Millions for AUD$1.6 million.
Since 2007, the Melbourne local has proven himself throughout the Asia-Pacific region. Prior to jumping into the poker spotlight earlier this year, Speidel took down a AUD$1,000 No-Limit Hold'em event at the 2011 Aussie Millions for AUD$100,595; won the 2011 Manny Pacquiao World Poker Event in Manila for $50,405; and placed second in the 2012 Aussie Millions AUD$1,000 NLHE Shootout for AUD$24,750. Throw in various other scores throughout Australia and Macau, and Speidel had earned $224,459 before striking it big in the Aussie Millions Main Event.
"It's really . . . words can't describe it. People say that a lot, but it's true," Speidel said in an interview immediately after his win. "The feeling you get from it, it's a mixture of exhilaration and relief a little bit, but mainly exhilaration. It's crazy. You can't help but think about the money and everything, what sort of freedom that can give me. I feel just amazing."
Not only did Speidel conquer the final table in what seemed like record time, a modest seven hours, he went through one of the world's best players to make it there in Phil Ivey. You see, the eight-time WSOP bracelet winner made his presence known at this year's Aussie Millions by winning the $250,000 Super High Roller, but prior to that he also notched a 12th-place finish in the Main Event. It was in that tournament, with just a few tables remaining, Speidel and Ivey tangled.
"I made a pretty big mistake against Phil Ivey in one hand," Speidel admitted to PokerNews. "I made a call on the river after he raised me, and I think it was just because it was Phil Ivey, because he makes you do that, so I made a bad call against him. I was feeling pretty stupid after that, but I thought 'Alright, I'm kind of short stacked and I know how to play the short stack.' It's all automatic when you're short and the decisions are easier. I got it in with pocket jacks, tripled up, and from then on it started to go a lot better."
The aforementioned triple happened when Patrick Healy opened the action to 27,000 from under the gun and Ivey made the call on his direct left. The play was then on Speidel on the button and he shoved all-in for 190,000 more. Healy and Ivey both opted to flat call and then checked down the
board. Speidel, who was one of the shortest stacks in the room at the time, tabled his
and it was good enough for the triple. From there, it was on to victory.
Patience, determination and consistency were just a few of the qualities we saw Speidel exhibit on his way to capturing the most prestigious title in the Southern Hemisphere. If he brings those same qualities north of the equator and demonstrates them on poker's biggest stage, there's no telling what he might accomplish.
While he told PokerNews he'll be in Vegas to play the Main Event, Speidel may not play too many events. "The tax issue for Aussies has been a big turn off," Speidel explained. Nonetheless, we expect the WSOP bug will bite him and he'll mix it up, but even if the Main Event is the only tournament he plays, at least we know he has what it takes to come out on top.
Get all the latest PokerNews updates on your social media outlets. Follow us on Twitter and like us on Facebook now!